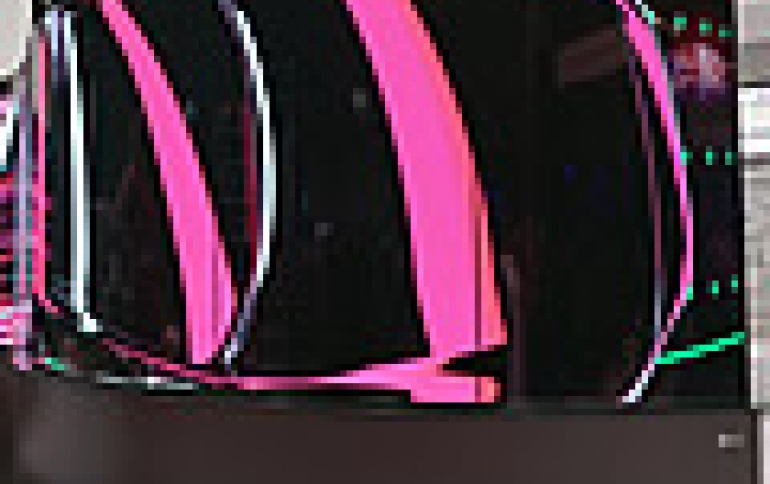 Samsung, LG Battle With Flagship QLED And OLED Displays At ISE
Samsung Electronics and LG Electronics are met on the battleground for high-end display panels with their flagship QLED and OLED panels, respectively.
At the Integrated Systems Europe 2017 that kicked off in Amsterdam on Tuesday, Samsung unveiled the quantum dot light-emitting diode Signage and light-emitting diode Signage IF series for the first time while LG responded with its organic light-emitting diode brand.
While Samsung's QLED display is known for outstanding brightness, color volume and cost effectiveness, it falls behind the OLED display in darkness.
On the other hand, the OLED display features full color volume and thinness. But it is still costly to mass produce.
Samsung's New QLED Signage at ISE 2017
The QLED technology-powered display has 1 billion colors with greater accuracy, which the company says enables viewers to experience more detailed content delivered with deeper blacks, sharper whites and precise color hues.
Samsung has reportedly failed to mass produce OLED panels for TVs while LG succeeded with the development of white OLED technology.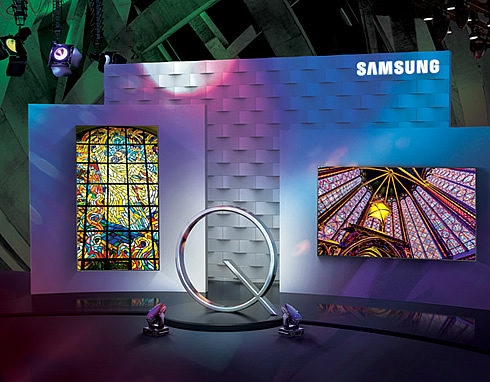 Through quantum dot picture refinement technology, Samsung's QLED Signage UHD displays (55- and 65-inch models) achieve 100 percent color volume, and can emphasize subtle visual details at varying levels of brightness while maintaining precision and integrity for one billion different colors. "When combined with optimized contrast and distortion-free picture quality, the QLED Signage displays are further equipped to showcase a range of color hues and previously undetected content features,"according to Samsung.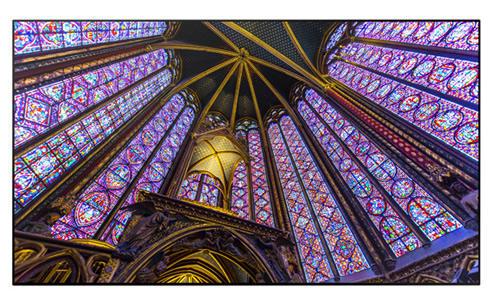 Samsung says its new QLED Signage "balance light and dark brightness and preserve gradation for a presentation that is deeper and more realistic than that offered by conventional alternatives."
Beyond an enhanced presentation, the QLED Signage displays offer business users flexibility to share content in accordance with their branding and operational needs. Configurable in both landscape and portrait orientations, the QLED Signage displays provide a wide viewing angle capable.
Samsung's fine pixel pitch IF Series LED displays (P1.5, P2.0 and P2.5 models) provide a combination of picture quality and management. Scheduled for full release in early 2017, the IF Series LED displays combine Samsung's video processing and picture tuning technologies to add clarity to business-ready content - all within a compact, low-maintenance design.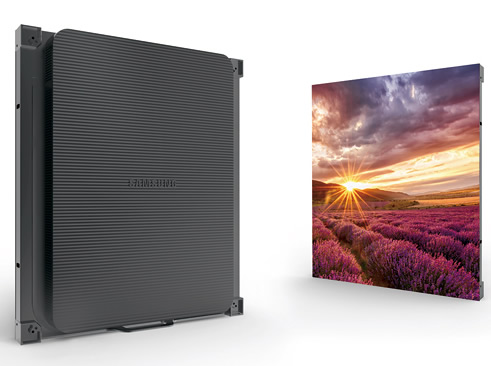 Samsung's IF Series LED displays incorporate a host of customized features. Through specialized scene adaptation, each IF Series LED display analyzes and fine-tunes grayscale levels within each frame to maximize contrast, and remove glare and visual distortion. A complementary dynamic peaking setting enables displays to achieve peak brightness levels up to two times higher than that of standard LED maximum brightness specifications.
The IF Series LED displays employ a minimalistic design that offers both full-front and rear access. A cabinet structure further drives smoother implementation, and eliminates the LED module and catwalk space gaps that tend to accompany more challenging frontal layouts.
Samsung's complementary LED Signage Box (S-Box) transmits UHD content across multiple screens without requiring splitters or external conversion boxes.
LG OLED Signage series
LG introduced a lineup of OLED Signage series, featuring various types of OLED display panel at the event.
Highlighting the thinness of the OLED panel, LG showed off the flexible model that can be folded in any forms that users want. The company displayed a structure made of eight 55-inch (140 centimeters) flexible OLED Signage panels.
The ultra-stretch LCD panel can be useful for public advertisement boards at airports, transportation systems and banks, enabling users to extend the panel's width or length on their own, according to the company.
LG's stand at ISE 2017 featured a Flexible Open Frame OLED signage display. OLED technology allows screens to emit light without the need of backlighting, while providing wider viewing angles than conventional backlit displays. The curvature of the screen can be changed even after installation.
LG's 65-inch Dual-View Curved Tiling OLED signage consists of eight connected double-sided, flexible OLED panels. Each panel offers 4K Ultra HD image quality with 3,840 x 2,160 individual pixels while system on a chip (SoC) and 128GB of internal memory work together to deliver UHD playback without the need for a separate PC or media player.
Designed with dual-sided ultra-slim OLED panels in a glass pane, LG's In-Glass Wallpaper OLED signage has been designed for boutiques, art galleries and other businesses. It is available in both standing and hanging versions.
On display at ISE are LG's 1 x 4 OLED Video Wall unit which can be connected with other units to create signs of various configurations.
At LG's ISE booth there was a video wall comprised of twelve 55-inch LCD display panels. With thin bezels, the video wall units can be linked together to form even larger commercial displays. LG will also unveil its split-screen capable 86-inch Ultra Stretch digital solution, ultra-wide 58:9 signage with minimal bezels capable of displaying up to four simultaneous images.
LG's largest 88-inch Ultra Stretch digital signage handles 32:9 aspect ratio images and are split-screen. Equivalent to two 49-inch panels connected side-by-side, this display can render fine details and is the perfect signage solution for kiosk displays, financial institutions and dining establishments, among others.
Other LG LED digital signage technologies include the company's large 173-inch Ultra HD LED digital signage with 1mm diodes uniformly arranged to provide consistent backlighting. Another unique technology making its debut at the show incorporates LED diodes in a transparent film which can be installed over windows to expand installation options. The film will be incorporated into new digital signage solutions set to roll out in early 2017.