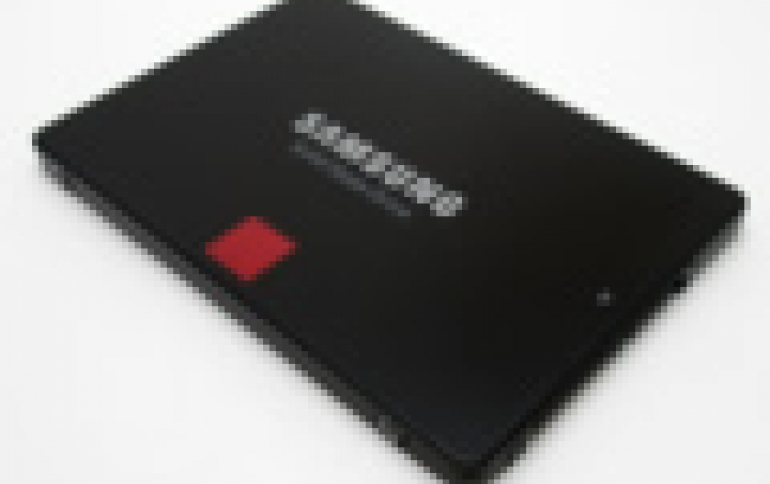 Samsung Releases the 860 PRO and 860 EVO Solid State Drives
Samsung Electronic today introduced the 860 PRO and 860 EVO solid state drives (SSDs), the most up-to-date additions to the company's SATA interface lineup.
Building on the launch of the 850 PRO and 850 EVO - the industry's first consumer SSDs with V-NAND technology - the 860 PRO and 860 EVO promise to achieve high performance for SATA SSDs, offering enhancements in speed, reliability, compatibility and capacity.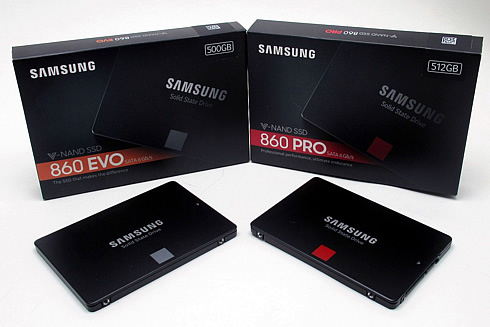 The technological changes the 860 series brings are no bigger than what the 850 series has already undergone. The NAND flash memory is updated once again, this time to Samsung's 64-layer 3D NAND. The whole product line is moving over to the latest MJX SSD controller, and the DRAM used will now be LPDDR4.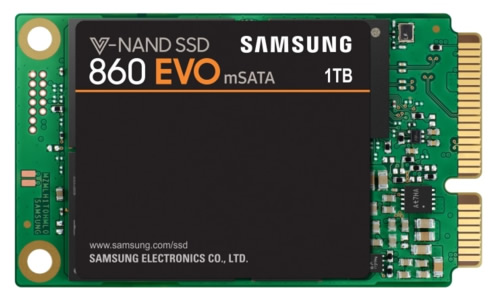 Looking at the numbers, the performance specifications have not changed from the 850 series, and this is because the SATA interface hasn't gotten any faster since the 850 was introduced.
 
860 PRO
860 EVO
Interface
SATA 6 Gbps
Form Factor
2.5-inch
2.5-inch, mSATA, M.2
Storage Memory
Samsung V-NAND 2bit MLC
Samsung V-NAND 3bit MLC
Controller
Samsung MJX Controller
Cache Memory
4GB LPDDR4 (4TB)
4GB LPDDR4 (4TB)
2GB LPDDR4 (2TB)
2GB LPDDR4 (2TB)
1GB LPDDR4 (1TB)
1GB LPDDR4 (1TB)
512MB LPDDR4 (256/512GB)
512MB LPDDR4 (250/500GB)
Capacity
4TB, 2TB, 1TB, 512GB, 256GB
[2.5-inch] 4TB, 2TB,1TB,500GB, 250GB
[M.2] 2TB, 1TB, 500GB, 250GB [mSATA] 1TB, 500GB, 250GB
Seq.Read/Write Speed
Up to 560/530 MB/s
Up to 550/520 MB/s
Ran.Read/Write Speed (QD32)
Max. 100K IOPS / 90K IOPS
Max. 98K IOPS / 90K IOPS
Device Sleep
2.5 mW for 1TB
2.6 mW for 1TB
(Up to 7 mW for 4TB)
(Up to 8 mW for 4TB)
Management SW
Magician Software for SSD management
Total Byte Written
4TB: 4,800TB
4TB: 2,400TB
2TB: 2,400TB
2TB: 1,200TB
1TB: 1,200TB
1TB: 600TB
512GB: 600TB
500GB: 300TB
256GB: 300TB
250GB: 150TB
Warranty
5 years or up to 4,800 TBW9
5 years or up to 2,400 TBW

Samsung's 860 PRO and 860 EVO support up to 560 MB/s read and 530 MB/s write speeds and offer reliability with an upgraded five-year limited warranty, or up to 4,800 terabytes written (TBW) for the 860 PRO and up to 2,400 TBW for the 860 EVO. The new MJX controller also enables faster communication with the host system. According to Samsung, the controller is powerful enough to handle workstation storage, while improving Linux operating system compatibility.
The 860 PRO is available in 256GB, 512GB, 1TB, 2TB and 4TB capacities. The 860 PRO is available in a widely compatible 2.5-inch form factor.
The 860 EVO comes in 250GB, 500GB, 1TB, 2TB and 4TB capacities, in a 2.5-inch for PCs and laptops, as well as mSATA and M.2 form factors for ultra-slim computing applications. The 860 EVO has up to six times longer sustained performance than its predecessor due to enhanced Intelligent TurboWrite technology, with read and write speeds of up to 550 MB/s and 520 MB/s respectively.
The 860 PRO and 860 EVO SSDs are available from this month with manufacturer's suggested retail prices starting at $139.99 and $94.99 USD, respectively.
Quick benchmarks
We had the chance to run some quick benchmarks with the 1TB 860 EVO SSD. For your reference, we used the following system:
Motherboard: MSI Z97A GAMING 6
CPU: Core i7-4770K
Memory: 14GB DDR3-1600
System storage: Samsung SSD 840 PRO 256GB
OS: Windows 10 Pro 64bit
Below you see the relusts returned by CrystalDiskMark 6.0.0, ATTO Disk Benchmark V3.05, the the PCMark 8 v2.8.704 Storage test.
The 860 EVO 1TB SSD hit the 563.7MB/s in the sequential read tests, and a record 533.9MB/s in the corresponding write test. It was also sufficiently fast in the random read/write tasks.