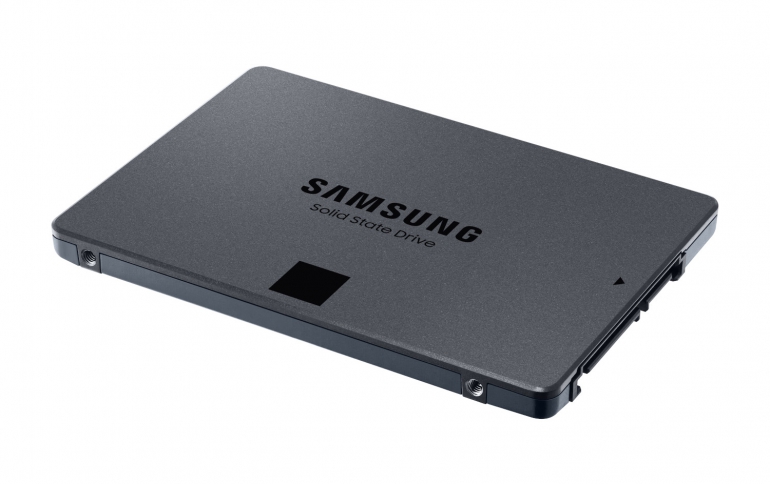 Samsung Releases The 860 QVO SSD
Samsung Electronics today officially unveiled its new consumer solid state drive (SSD) lineup — the Samsung 860 QVO SSD — featuring up to four terabytes (TB) of storage capacity.
Built on the company's high-density 4-bit multi-level cell (MLC) NAND flash architecture (QLC or quad-level cell flash), the 860 QVO makes has been designed to replace the hard disk drive as a secondary storage option - mainly for users who already use an SSD for their OS and a hard disk drive for storing files. That becasue the 2.5-inch SATA 860 QVO offers fast enough sequential read speeds (up to 550 MB/s). Sequential write speeds hit the 520 MB/s mark, according to Samsung. Random performance is a claimed 96,000 IOPS read for the 1TB and moves to 97,000 IOPS for the 2TB and 4TB models. Random write performance is a claimed 89,000 IOPS for the series. The 860 QVO has a claimed random read QD1 read speed of 7,500.
The drive uses Samsung's latest 4-bit V-NAND and the proven MJX controller. It is also integrated with Intelligent TurboWrite technology, which helps to accelerate speeds while maintaining high performance for longer periods of time.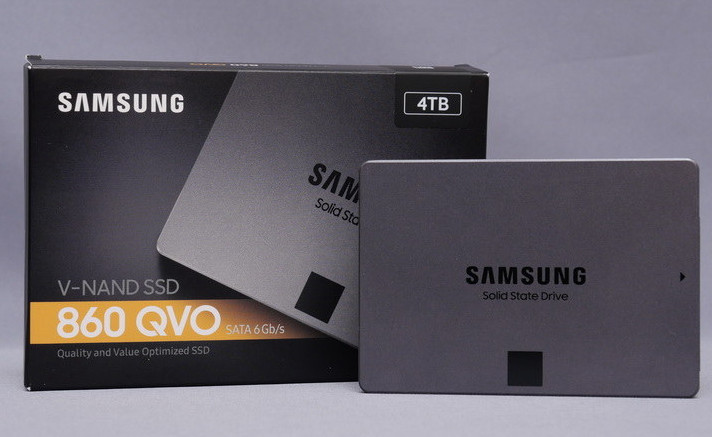 The QVO uses a dedicated 6GB TurboWrite 1-bit area. That extends out with a dynamic area that increases and decreases with the amount of data stored on the drive. The 1TB can grow to 42GB total. That moves to 78GB for the 2TB and 4TB models. Native QLC sequential write performance is a claimed 80 MB/s for the 1TB QVO and 160 MB/s for the 2TB and 4TB drives.
Samsung provides a total byte written based on a thorough analysis of consumers' SSD usage patterns: a three-year limited warranty or up to 1,440 terabytes written (TBW) for the 4TB version, and 720 TBW and 360 TBW for the 2TB and 1TB versions, respectively.
The 860 QVO will be available globally from December 2018, with a manufacturer's suggested retail price (MSRP) starting at $149.99 for the 1TB model - more than
the 860 EVO currently sells for. The 2TB 860 QVO suggested price is $299, while the 4TB 860 QVO is the only model we can't find a better EVO price on.
The drive is obviously designed for those who concider that the sequential data performance is more important than random data performance.
Specifications
Interface
SATA 6 Gbps
Form Factor
2.5-inch
Storage Memory
Samsung V-NAND 4-bit MLC
Controller
Samsung MJX Controller
DRAM
4GB LPDDR4 for 4TB
2GB LPDDR4 for 2TB
1GB LPDDR4 for 1TB
Capacity
4TB, 2TB, 1TB4
Sequential Read/Write Speed
Up to 550/520 MB/s
Random Read/Write Speed
Up to 97K/89K IOPS
Management Software
Magician Software for SSD management
Total Bytes Written
1,440TB (4TB)
720TB (2TB)
360TB (1TB)
Warranty
Three (3) Year Limited Warranty