1. Introduction

Samsung recently released their new DVD±R DL external burner, the SE-W164C. The maximum speed for +R DL is 8X, while -R DL writing speed is 4X. Apart from this, the drive also offers 8X DVD+RW and 6X DVD-RW media burning speeds. It can also write +R and -R media at the maximum speed of 16X.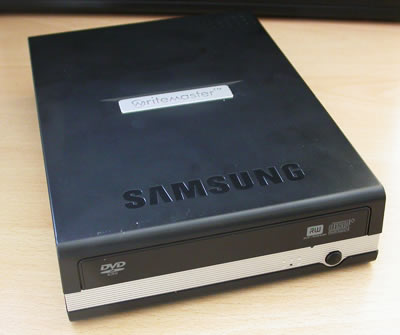 - Drive Features
Lets have a look at the drive's features as given by Samsung.
Speed Adjustment Technology
Intelligent detection of media type. Error-free reading of all media types, increases life of drive.
Double O.P.C. Technology
Provides reliable, zero-error recording.
Tilt Actuator Compensation Technology
Improves recording capability on deformed media.
Magic Speed
Enables flexibility of drive operation, low noise mode, high-speed mode.
Buffer Under Run Free Technology
Prevents Buffer Under Run error, enabling high-speed writing of media.
Automatic Ball Balancing System
Vibration control for unbalanced discs.
Eco-Product
Minimal Usage of drive operation, low noise mode, high-speed mode.
Firmware Live Update
Automatically upgrades the latest firmware version through Internet by continued support of newer media.
Specifications
Model
Samsung SE-W164C
Data Transfer
Media Type
Write
Read
DVD+R
16X (21.6MB/sec)
12X (16.2MB/sec)
DVD+R DL
8X (10.8MB/sec)
8X (10.8MB/sec)
DVD+RW
8X (10.8MB/sec)
8X (10.8MB/sec)
DVD-R
16X (21.6MB/sec)
12X (16.2MB/sec)
DVD-R DL
4X (5.4MB/sec)
8X (10.8MB/sec)
DVD-RW
6X (8.1MB/sec)
8X (10.8MB/sec)
DVD ROM
-
16X (21.6MB/sec)
CD ROM
-
48X (7.2MB/sec)
CD-R
48X (7.2MB/sec)
40X (6.0MB/sec)
CD-RW
32X (4.8MB/sec)
40X (6.0MB/sec)
Interface
USB 2.0
Average Seek Time
DVD : 130ms
CD : 110ms
Supported Disc
DVD+R, DVD+R DL, DVD+RW, DVD-R, DVD-R DL, DVD-RW, DVD-Video, DVD-ROM, CD-R, CD-RW, CD-ROM, CD-ROM/XA, CD-Audio, Video-CD, Photo CD, CD-I(FMV), CD-Extra, CD-TEXT
Buffer Memory
2MB
- Installation
The drive was installed under WindowsXP and was recognized as "TSSTcorp CD/DVDW SH-W162C". The drive came with firmware revision TS10 which at the time of the review, was the latest available. Despite the fact that the drive was recognized by Nero under a different name, we will continue to refer to the drive in this review as the SE-W164C.
Below are the specs for the drive as given by NeroInfoTool and DVDInfoPro:
- Nero InfoTool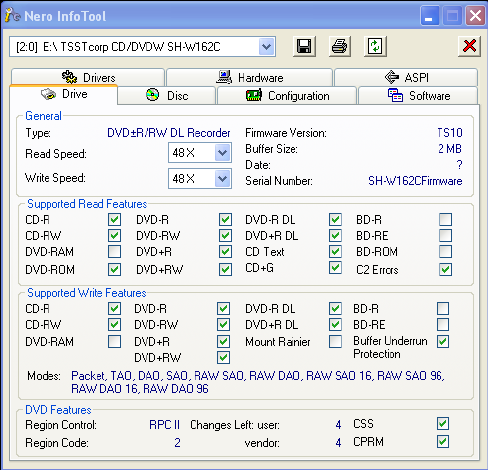 - DVD InfoPro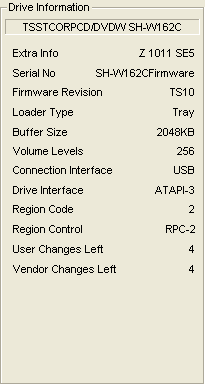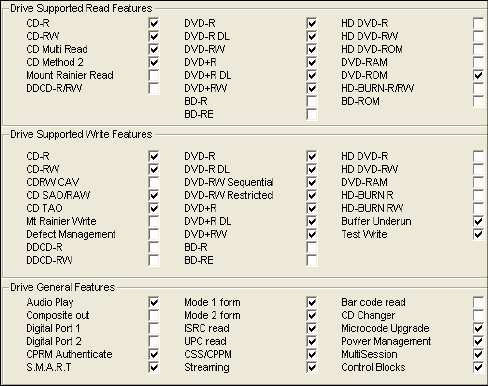 - Retail Package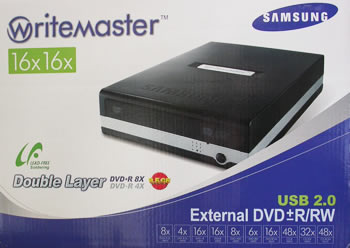 The Retail package includes: the SE-W164C external USB 2.0 burner, a USB 2.0 cable, a power supply, a vertical stand, a comprehensive Quick Installation Guide and bundled software including Nero Express 6, InCD4, Nero Showtime, and a wide collection of Nero Utilities. The drive did not contain any blank media but the accompanying software more than makes up for it..
-The Drive
The front panel is different from the ordinary Samsung front panels. It is black with a slim metal silver band running all the way around. On the left of the tray loader, there is the DVD R/RW logo, while the DVD+Rewritable and Compact Disc Rewritable Ultra Speed logos are on the right.
The top side is quite plain, with the SAMSUNG and WriteMaster TM logos.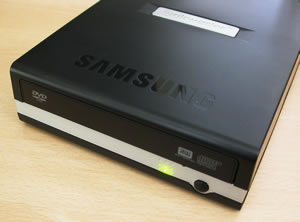 green indicator light...
On the rear panel you can see the USB connector, power connector and power on/off button. You simply connect the USB cable to your PC, then the external power supply and you are ready to roll. Turn on the power button and your system should automatically recognize the drive.
At a first glance, we would say that the Samsung SE-W164C is an eye catching, stylish external drive.
Throughout this review, we will be comparing the Samsung drive with two others, the internal LG GSA-5160D and the external Philips ED16DVDR.
Having looked over the main features of the drive and its retail box, let's move on to the rest of the review and beginning with the tests.