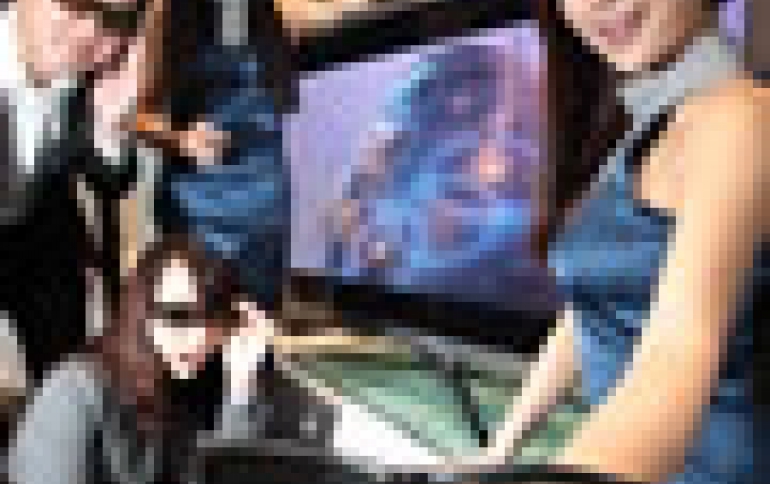 Samsung Ships First 3D LED TVs in South Korea
Samsung released its first "3D LED TV 7000/8000 series" in the S.Korean market, which includes a 46" and a 55" model. Samsung plans to sell a 46-inch HD LED-backlit LCD TV set for 4.2 million won ($3,640), while its 55-inch model will sell at 5.8 million won in the South Korean market. The models don't include the cost of the glasses.
In comparison, Samsung's 46-inch conventional LCD TV without LED backlighting technology costs about 1.5 million won.
Both new models are employing Samsung's exclusive true 240Hz technology. The technology delivers full-HD viewing in 2D, and also smooth full-HD 3D images. By incorporating true 240Hz technology, operating at 240 frames per second, Samsung's panels promise to deliver a more lifelike picture with alternating left and right eye images through the use of 3D Active Glasses technology.
All of Samsung's Full HD 3D products also pose Samsung's built-in 3D processor and emitter that enable compatibility with multiple 3D standards.
Samsung has reduced the response time of its LCD and LED panels, eliminating any interference between left and right eye images. With this improved response time, Samsung is able to achieve 3D images and also deliver 2D pictures. The company has developed technology that converts 2D content to 3D in real time, by pressing a single button at the TV's remote control.
Samsung's new 3D Active Glasses technology first blocks the left and then right lens, causing a momentary lag when images are shown to each eye to achieve more lifelike 3D images. The term, '3D Active Glasses,' was selected as an official term by the Glasses Standardization Working Group of the Consumer Electronics Association (CEA) earlier this year.
The polarized glass method previously used in 3D glasses produced separate images for the left and right eyes, resulting in half the resolution of two-dimensional pictures as only half of the screen can be viewed through each polarized filter. Brightness was also lowered because of the polarized filter.
The new 3D LED TVs are also very thin. The company's 7000 series was 26.5mm thick. The new 8000 is even thiner at 23.9mm, while the upcoming 9000 series will be just 10mm thick, Samsung said.
The Samsung LED 7000 and 8000 series televisions include Samsung's free Internet@TV service, which allows access to select online content. Consumers who connect the TVs to the Internet can attach a FREETALK TV Camera for Samsung provided by In Store Solutions (ISS), available at www.skype.com/store, making it possible to place and receive voice calls and High Quality Video calls.
USB 2.0 ports are also available allowing users to directly record content to an external storage device. Featurign a new interface, users can watch news, weather, stock information streamed though internet, and download applications and multimedia content from Samsung Apps. Last but not least, the new TVs support the DLNA function.
In 2009, it had struck an exclusive 3D content deal with Dreamworks Animation of the United States.
According to a market research firm, DisplaySearch, the 3D display market is expected to grow from $902 million in 2008 to $22 billion in 2018. Specifically, the 3D TV market is expected to expand to a $17-billion market, with sales increasing from 200,000 units in 2009 to 64 million units 2018.
The world's top manufacturer of flat-screen television sets said Thursday that it aims to sell over 2 million 3D LED-backlit LCD TVs globally this year.
Of the total 35 million LCD TV sales it has targeted for 2010, Samsung plans to sell 10 million LED-backlit LCD models, which is almost quadruple the 2.6 million it sold in 2009.
Despite the optimistic sales targets, the required use of glasses and high prices are cited as the major hurdles facing the penetration of 3D TVs into the market. The introduction of 3D TVs without glasses is highly unlikely over the next five years due to technology drawbacks. Theoritically, the resolution of panels must be increased by nine-fold to watch 3D programs without glasses. This means that 3D without glasses is simply not possible to see anytime soon.