Samsung Targets iPad Mini With New Galaxy Note 8.0
Samsung Electronics today announced the launch of the 8-inch tablet, the GALAXY Note 8.0; a competitor to Apple's ipad mini that sports a pen for writing on the screen. The Galaxy note 8.0 will have an 8-inch screen, putting it close in size to the Apple's iPad mini tablet , which features a 7.85-inch screen .
The device boasts an 8-inch 1,280 x 800 TFT display with a pixel density of 189ppi and a 210.8mm x 135.9mm x 7.95mm (8.3 x 5.4 x 0.31 inches) footprint. It is powered by Samsung's Exynos 4 Quad processor clocked at 1.6GHz and paired with 2GB RAM, radios for WiFi a/b/g/n, Bluetooth 4.0, A-GPS, GLONASS and HSPA+ 21 (850/900/1900/2100MHz), up to 32GB of internal storage (microSD expansion available), in addition to a 4,600mAh battery. The Note 8.0 will ship with version 4.1.2 of Jelly Bean onboard.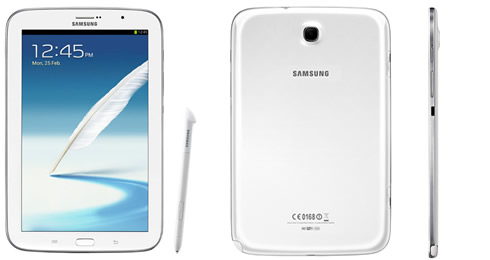 At the core of the GALAXY Note 8.0's solutions are functions including multi-window options to split the portable 8-inch screen and allow easy access to a number of live applications; a new generation of Samsung's intelligent S Pen with advanced usability; access to a suite of S Note templates and tools that allow you to create, edit, manage and share everyday documents; the Samsung "reading mode" technology to enjoy e books with optimized resolution, video and voice calls. In addition, a suite of new content and services are pre-loaded for users including the Flipboard, and Awesome Note.
Practical S Note templates and S Planner feature help to manage everyday tasks, including meeting notes, to-do lists and even personal diary entries. All content can be entered and updated with detail thanks to the intelligent Samsung S Pen. Enhanced precision is offered with Handwriting-to-Text conversion and Productivity Tools that support formula and shape recognition are now available at the touch of your S Pen.
GALAXY Note 8.0 is packed with pre-loaded content and apps. Upgraded Chat-On provides instant messaging and group chatting in multiple formats - images, video, voice, contacts. Awesome Note, an integrated application that is introduced in android tablet for the first time with NOTE 8.0, is capable of unlimited note-taking uses including Memo, Diary and Must-remember lists. With Flipboard, your news, social network and other feeds come together in one flippable format. Flipboard developed a customized version of its application exclusively for Samsung that allows users to take the S Pen's hover feature and preview article headers beneath Flipboard's main screen tiles. Finally, Smart Remote, gives you a universal remote control and electronic programming guide allowing you to manage TV and video watching.
Embedded within the tablet, the S Pen is an extension of the GALAXY Note 8.0. Removing the S Pen from the device will automatically launch features such as Pen Detection that will suggest adapted menus that it thinks you'll need and Page Buddy, a feature that will activate your most recently adapted S Note home screen.
S Pen technology is now so advanced that it doesn't even have to touch the screen. With Air View, the S Pen needs only to hover over the screen to see previews of videos, emails, photos and appointments on SPlanner without opening the file or application in full. S Pen Gesture allows images and content to be edited and cropped, whilst Paper Artist and Photo Note allow photos to be artistically personalized.
In addition, for the very first time in GALAXY NOTE category, you can use S Pen to control the physical menu/back buttons on the device with WACOM technology.
With the Dual View feature, two multi window options allow you to facilitate multi-screen usage. Dual View's split screen accommodates optimal operation of different apps, such as launching the S Note on the web browser screen and allowing content to be resized, dragged and dropped as required.
Multi-tasking is extended to phone calls. Pop Up Note allows you to access S Note at any time to keep track of key actions and Pop Up Video ensures you can keep surfing the web whilst chatting - content windows can be resized by pinching to enlarge or reduce.
Reading Mode transforms the GALAXY Note 8.0 into an e-Book reader. You can even turn it into a universal remote control with Smart Remote, to manage TVs, set-up boxes, DVD & Blu-ray players.
The Korean company will start selling the new tablet sometime between April and June, at an as yet undetermined price.
Specifications
Network 
HSPA+ 21Mbps 850/900/1900/2100
Processor
1.6GHz A9 quad-core processor
Display
8" WXGA (1280x800, 189 ppi) TFT
OS
Android 4.1.2 (Jellybean)
Camera
Main(Rear): 5 Megapixel CameraSub(Front): 1.3 Megapixel Camera
Video
Codec: MPEG4, H.263, H.264, WMV, DivX (1080p Full HD video @ 30fps)
Audio
Codec: MP3, AAC, AAC+, eAAC+, WMA, AC3, FLAC3.5mm Ear Jack, Stereo Speaker
S Pen Optimized Features
S Pen Experience - S Note, S Planner, Email with hand-writing integration- Quick Command, Easy Clip, Photo Note, Paper Artist
Air View
Popup Note, Popup Video
Shape Match, Formula Match, Idea Sketch
Sharing Features
Samsung AllShare Play Samsung AllShare Cast(WiFi Display) – Mirroring & ExtensionSamsung AllShare Framework
Content Features &Services
Samsung Apps
Samsung Kies /Samsung Kies Air
Samsung TouchWiz / Samsung L!ve Panel
 Samsung Hub - Game Hub- Learning Hub / Readers Hub / Music Hub / Video Hub / Media Hub(US only)
Samsung ChatOn mobile communication service (version 2.0)
Smart Stay, Direct Call
Page Buddy / Tag Buddy / Word Buddy
Google Search, Google Maps, Gmail, Google LatitudeGoogle Play Store, Google Play Books, Google Play MoviesGoogle Plus, YouTube, Google Talk,Google Places, Google Navigation, Google Downloads
Awesome Note
Flipboard
GPS
A-GPS + GLONASS (3G Version)
Connectivity
Wi-Fi 802.11 a/b/g/n (2.4 & 5 GHz), Wi-Fi Direct, AllShareCast, BT4.0, USB2.0
Sensor
Accelerometer, Digital Compass, Proximity
Memory
2GB (RAM), 16/32GBmicroSD (up to 64GB)
Dimension
210.8 X 135.9mm, 338g (3G Version)
Battery
Standard battery, Li-ion 4,600mAh