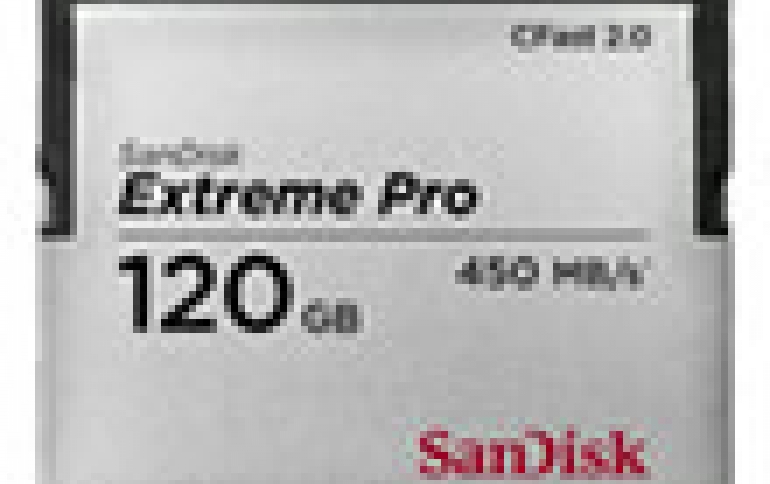 Sandisk Launches First CFAST 2.0 Memory Card
Following yesterday's
announcement
of a 256GB SanDisk Extreme Pro CompactFlash memory card, SanDisk today unveiled at IBC the SanDisk Extreme Pro CFast 2.0 memory card, designed for professional broadcast and professional photography. The 120GB SanDisk Extreme Pro CFast 2.0 memory card is the world?s fastest memory card, with read speeds of up to 450MB/s (3000X) and write speeds up to 350MB/s (2333X). - up to double the shot speed of today's fastest cards.
The SanDisk Extreme Pro CFast card is the first to utilize the CFast 2.0 specification. This specification was a collaboration of CompactFlash Association members to meet the requirements of professional video and photography applications. Early adopters and endorsers include SanDisk, Canon, ARRI and Codex. The result of this alliance is the CFast 2.0 specification.
The cards are created to withstand real-world exposure to temperature, shock and vibration, and include a pinless design, which lessens the chance of damaging the card or camera while changing cards. The cards will also be marked with a unique individual serialization number that can be registered into SanDisk Pro Care Customer Support. Additionally, a lifetime limited warranty and a downloadable offer for a one year subscription to RescuePRO media recovery software are available.
SanDisk Extreme Pro CFast 2.0 memory cards are available in the U.S. and Europe at select photo specialty stores and at ARRI authorized storefronts in 60GB and 120GB capacities.
Also available is the SanDisk Extreme Pro CFast 2.0 Reader/Writer. Small enough for field work, the reader supports USB 3.0 interface transfer speeds up to 500MB/s.
Basic specs:
- Available in capacities: 60GB, 120GB
- 30 years warranty in Germany, Canada and regions not recognizing lifetime warranty
- Performance
120GB: Up to 450MB/s read speed; Up to 350MB/s write speed.
60GB: Up to 450MB/s read speed; up to 225MB/s write speed.
- Card dimension: 1.7" x 1.4" x 0.13" (43 mm x 36 mm x 3.3 mm)
- Tested Under Extreme Temperature Conditions (-5°C to 70°C, 23°F to 158°F)