Sandisk Launches New Solid State Drives For Tablets
SanDisk today introduced the U100 and the iSSD solid state drives (SSDs) for the mobile computing market. The U100 drive, successor to the SanDisk P4 modular SSD seriesahs been designed for ultra-thin notebooks. The SanDisk iSSD integrated storage device series' i100 drive is probably the world's smallest, fastest 128 gigabyte (GB) (SATA III) BGA (ball grid array) SSD designed for slim tablets and ultra-thin notebooks.
The new SSDs utilize the SATA III interface and employ a low-power architecture that reduces power consumption to as low as 10mW.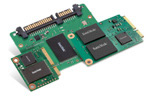 The U100 drive supports an array of design needs and is available in a variety of form factors, including Half-Slim SATA SSD, mSATA, mSATA mini, 2.5" cased, as well as customized modules. It delivers fast SATA III performance with up to 450 megabyte per second (MB/sec) sequential read and up to 340MB/sec sequential write speeds. The drive is available in 8GB to 256GB capacities.
The i100 drive is available in 8GB to 128GB capacities and it measures only 16mm x 20mm x 1.4mm (for up to 64GB) and 16mm x 20mm x 1.85mm (for 128GB). The drive's SATA performance achieves up to 450MB/sec sequential read and up to 160MB/sec sequential write speeds.
Sandisk plans to initiate volume production of the i100 and U100 drives in Q3 2011.