SAPPHIRE GearBox Thunderbolt 3 eGFX Released
SAPPHIRE Technology introduces the GearBox Thunderbolt™ 3 eGFX – a new expansion chassis for Mac Pros, Ultrabooks and Small Form Factor Computers.
The new chassis allows users of light weight, portable laptops to turn their devices into powerful gaming and professional systems. The small form factor design of the chassis can accommodate up to a 300W full length PCI-Express x16 Graphics Cards from both AMD and Nvidia's consumer and professional GPU families.
The chassis comes equipped with a maximum 40 Gb/s Thunderbolt 3 port that can connect to laptops or small form factor computers. It is also a choice for Mac users as an eGFX Expansion chassis officially recommended by Apple.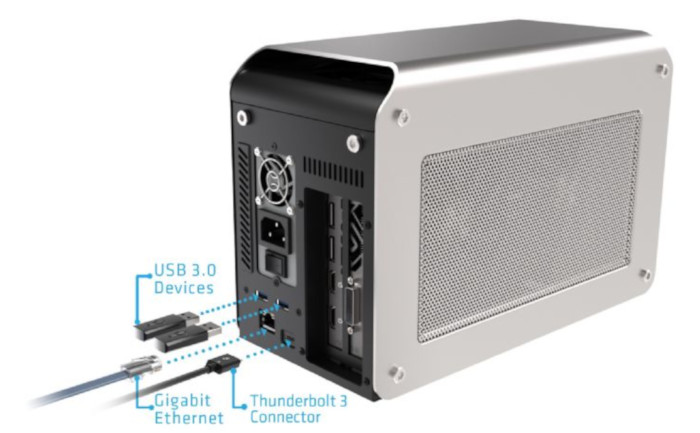 It comes with a 500W internal power supply featuring Power Delivery Charging, which fully charges a laptop of up to 60 Watts, as well as Gigabit Ethernet, and dual USB ports.
The SAPPHIRE GearBox Thunderbolt 3 eGFX Expansion Chassis is available as a barebone system with an MSRP of $339.00 USD.
Specifications
Connect to PC
Thunderbolt 3 using 40Gbps cable

Enclosure Dimensions

300mm x 138mm x 204mm / 11.8" x 5.43" x 8.03" (L/W/H)

GPU Support
(Graphics Cards
are not included)

GPU Type: Single / Double Slot, Full Length, PCI-Express x16 Graphics Cards
GPU Max. Dimension: 266 mm (L) x 125 mm (H) / 10.5" (L) x 4.9" (H)
GPU Max. Power support: 300 Watts
Graphics Outputs:Depends on the capabilities of installed graphics card

PCI-Express Bus
PCI-Express x16 Gen 3.0
Input
Thunderbolt 3 (USB-C for connection to PC)
Outputs

2 x USB 3.0
Gigabit Ethernet 10/100/1000

Internal Power Supply
500 watts