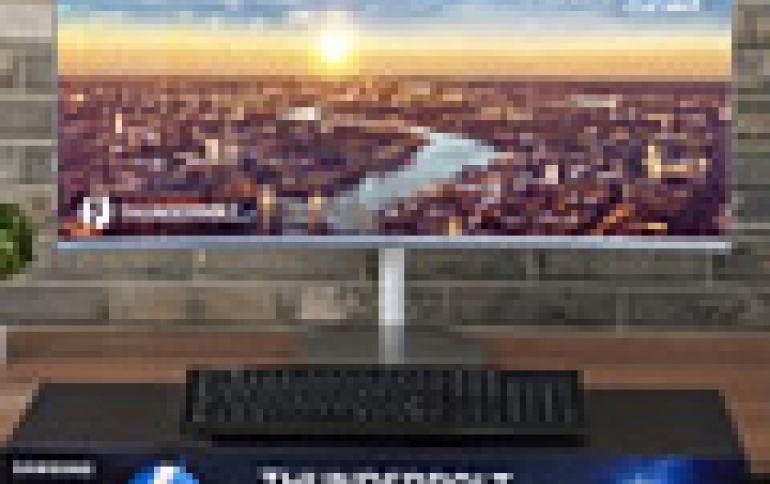 Samsung Launches First Thunderbolt 3 QLED Curved Monitor at IFA2018
Samsung Electronics has expanded its curved display line-up upon the launch of the new CJ79 (Model name: C34J791) monitor at IFA 2018.
The CJ79 34-inch curved monitor is the first of its kind to feature Intel's Thunderbolt 3 connectivity and is designed for creative and business audiences.
Compatible with Macs and PCs, the CJ79 features two Thunderbolt 3 ports that transmit display, data and power at a processing speed of up to 40 Gigabits per second (Gpbs), eight times faster than USB 3.0, and simultaneously charges devices up to 85 watts(W), all through a single cable.
The 3440?1440 ultra-wide curved display has a 21:9 aspect ratio to provide users with the workspace needed to multi-task. With the Picture-by-Picture (PBP) feature, professionals can display two sources and for optimal multi-tasking, the Picture-in-Picture (PIP) feature allows users to resize the second source to up to 25 percent of the screen and position it anywhere for a more readable format.
The 1,500R curved ultra-wide screen, is engineered to follow the natural curve of the eye. With the height-adjustable stand and tilt functionality, CJ79 lets users customize the positions meeting their most comfortable viewing parameters. Furthermore, the Thunderbolt 3 connectivity, a new level of capability to charge Mac or PC let users connect to additional Thunderbolt 3 or USB devices directly to the monitor.

Samsung?s CJ79 incorporates Quantum Dot technology with realistic detail across a 125 percent sRGB color spectrum. The curved VA panel technology produces a 3,000:1 contrast ratio.
The AMD FreeSync synchronizes the refresh rate of graphic cards for the CJ79 to reduce image tearing and stutter.
Samsung also launches the CJ89 (Model name: C43J890), a 43-inch super ultra-wide curved monitor with 3840 x 1200 resolution, 32:10 aspect ratio. The design includes a built-in KVM switch, USB-Type C ports and built-in stereo speakers.
Samsung?s CJ79 and CJ89 monitors are currently available in Europe and will be also available worldwide soon.
Model
CJ79
CJ89
Model Name
C34J791
C43J89
C49J890
Design
Curved Display
Display
Size
34" (21:9)
43" (32:10)
49" (32:9)
Resolution
3,440 x 1,440
3,840 x 1,200 (43")
3,840 x 1,080 (49")
Curvature
1,500R
1,800R
Panel Type
VA Curved
Brightness (Typ.)
300cd
Viewing Angle
178o(H)/ 178o(V)
Contrast Ratio (Typ.)
3,000 : 1
Response Time
4ms (GTG)
5ms (GTG)
Refresh Rate
100Hz
43" (120Hz)
49" (144Hz)
Input Signal
2 x Thunderbolt? 3 (USB-C)
(85W, 15W Power Delivery)
1x HDMI, 1x DP, 2x USB 3.0
2x USB-C
(95W, 15W Power Delivery)
1x HDMI, 1x DP, 1x USB 3.0, 2x USB 2.0
Speaker
7Wx2
7Wx2(49")
5Wx2(43")
Mechanical Function
HAS, Tilt, Wall Mount
HAS, Tilt, Swivel, Wall Mount