SDC 2018: Samsung Previews Foldable Smartphone, New Mobile UX, Opens Up Bibxy to Developers
Samsung Electronics today unveiled powerful new developer tools for its Bixby and SmartThings platforms, as well as new mobile experiences with One UI and Infinity Flex Display, which will found their way to the company's new foldable smartphone.
Samsung is trying to attract developers and partners to build, launch and scale new experiences to the millions of Samsung devices around the world.
"We have achieved significant advancements in AI and IoT, which will be crucial to bringing our connected living vision to life," said DJ Koh, President and CEO of IT & Mobile Communications Division, Samsung Electronics. "The progress made to Bixby and SmartThings opens a new chapter where third party products and services can be integrated to the AI and IoT platforms at scale.
"The foldable display lays the foundation for a new kind of mobile experience. We are excited to work with developers on this new platform to create new value for our customers. We cannot wait to see where the technology and collaboration takes us."
Building a Scalable Intelligence Platform
Bixby started as an intelligent interface, a practical way to use your voice to interact with your phone. Now, Samsung is evolving it into a scalable intelligence platform to support the diverse products and services. To make it easier for developers to scale services powered by Bixby, Samsung introduced the Bixby Developer Studio. The collection of tools provides an intuitive way for developers to infuse intelligence into more services and devices. Developers will be able to create Bixby Capsules – features or services created for Bixby – and make them accessible to consumers in the Bixby Marketplace. The Bixby platform will allow developers to adapt their capsules from mobile phones and televisions to home appliances and other products across the Samsung ecosystem.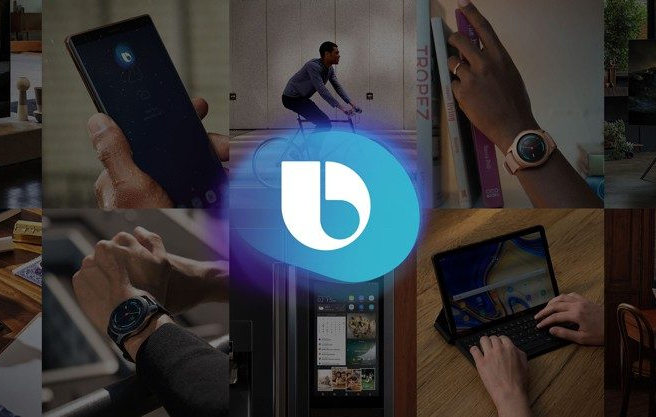 Samsung showed a demo of Bixby pulling up the various interfaces you'd need to book a hotel stay - but Samsung is promising to make Bixby so open that developers will be able to make anything that Samsung itself could.
As part of its efforts to scale Bixby services, Samsung is expanding support to five new languages in the coming months, including British English, French, German, Italian and Spanish.
Over the course of his presentation, Pedro Freitas, Samsung's Director of Smart TV Service Business, announced the launches of Samsung's Voice Media Control API, which enables Samsung TV partners to leverage Bixby to offer consumers more control over their content, as well as the new TV Plus Channel Management System (TV Plus CMS), an update to the TV Plus service that launched in 2016. He also revealed that Samsung will be opening up Ambient Mode to developers very soon; outlined how Samsung Smart TVs' SmartThings Dashboard feature allows users to easily monitor and control their connected devices and appliances; and discussed optimizing IoT devices with Tizen RT.
Delivering a Connected Lifestyle for Everyone
Samsung's connected living vision is centered around an open IoT ecosystem that unites connected devices on a single platform. Available in more than 200 markets around the world, SmartThings delivers a connected experience in a single app, bringing IoT beyond the smart home, into the car, office and everywhere in-between.
Samsung is now making it faster for developers to connect their devices and services to the SmartThings platform with a new suite of tools in the redesigned SmartThings Developer Workspace. These enhanced tools include SmartThings Cloud Connector, SmartThings Device Kit and SmartThings Hub Connector. Developers can build and launch on the platform, as well as integrate cloud-connected, Zigbee and Z-Wave devices.
Additionally, the upgraded Works with SmartThings (WWST) certification program gives developers direct access to SmartThings experts and resources.
Samsung first showed off its smart speaker over the summer at its Galaxy Note 9 launch, but talked more about the device at the conference. Still up in the air is when the speaker will actually launch. However, Samsung confirmed the speaker will get support for Spotify.
For Samsung and numerous others, artificial intelligence is the next big wave of computing. Every tech heavyweight is investing in these assistants because they're heralded as the future of how we'll interact with our gadgets. The ultimate promise for the smart technology is to predict what you want before you even ask -- but in most cases, the digital assistants just aren't smart enough yet.
The problem for Samsung is it might be too late.
Only 4 percent of US adults accessing voice assistants on a smartphone use Bixby, according to a survey by Voicebox.AI. That compares to 44 percent for Siri, 30 percent for Google Assistant and 17 percent for Alexa.
Meanwhile, Amazon's devices account for 63 percent of the smart speaker market in the US, with its Echo and Echo Dot leading the pack, according to an October report from Strategy Analytics. Google claimed 17 percent, with its Home and Home Mini in the next two spots. Apple also has a lead on Samsung with its HomePod, which launched last year for $349.
User Experience and Display Innovation
Samsung introduced a new interface design called One UI. Its clean and minimal design keeps the most relevant content on the bottom half of the screen – making it more natural and comfortable for one-handed use. The experience was reengineered to reduce clutter and distractions, allowing the user to better focus and quickly navigate their phone.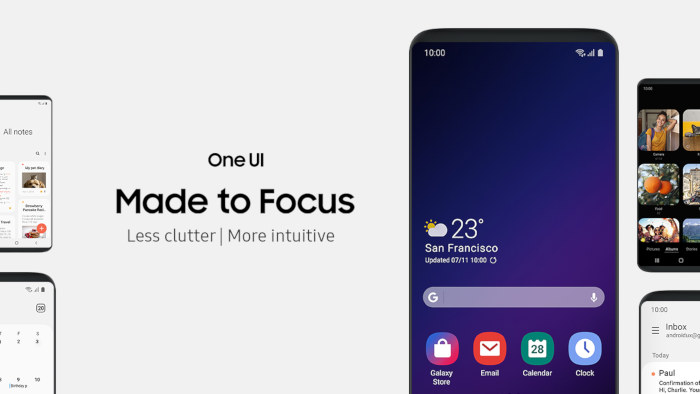 Samsung also talked about its highly-anticipated foldable smartphone form factor. Samsung calls the new display tech "Infinity Flex Display", and together with One UI, it delivers a new kind of mobile experience allowing users to do things they couldn't do with an ordinary smartphone.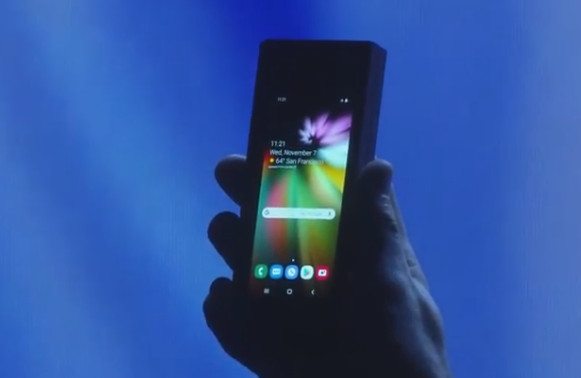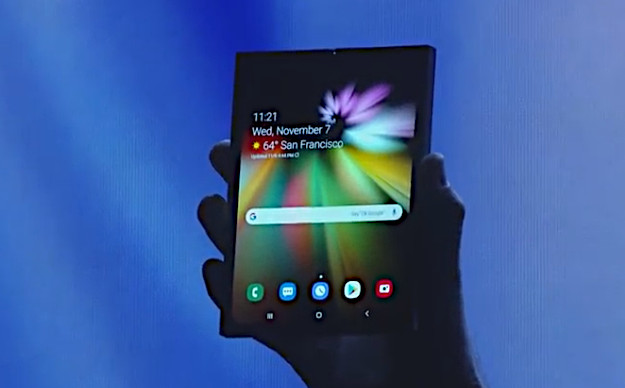 Users now have the best of both worlds: a compact, pocket-sized 4.5-inch smartphone that unfolds to reveal a larger 7.3-inch display for multitasking and viewing content. Samsung also briefly showcased an actual foldable smartphone, which features a touchscreen when folded that allows you to operate the device as a normal smartphone. When unfolded, you get a 7.3-inch inner display, which can be used to multitask with up to 3 apps to operate simultaneously, in what Samsung calls Multi Active Window. A Google executive who took the stage said Android will support the new foldable display technology.
Here is what Samsung said about the smartphone's screens:
7.3-inch display
Resolution: 1,536x2,152
Screen density: 420 dpi/ppi
Aspect ratio: (4.2:3)
4.5-inch display spec
Resolution: 1,960x840
Screen density: 420 dpi/ppi
Aspect ratio: (21:9)
Samsung also disguised the rest of the phone's design by covering everything beyond the screen with extra casing.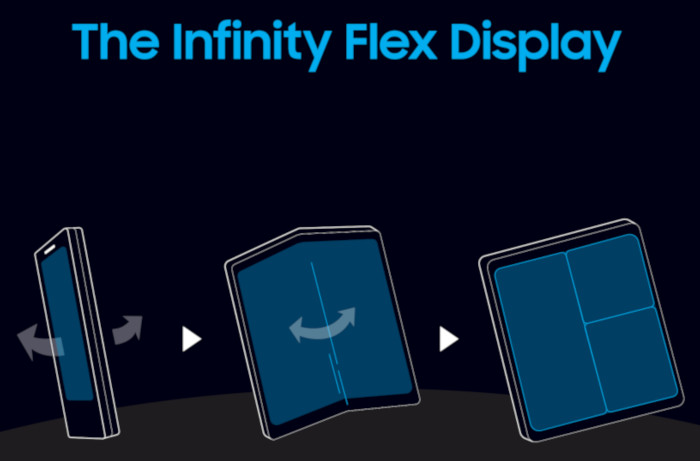 The app experience seamlessly transitions from the smaller display to the larger display as the device unfolds. In addition, users can browse, watch, connect and multitask without losing a beat, simultaneously using three active apps on the larger display.
Since glass is not plicable, Samsung says it developed a new material for the cover windows that's flexible adn durable. And to ensure the reliability of the display, Samsung found a unique adhesive that enhances the display's elasticity and keeps its strength even when it's folded and unfolded over and over again.
Because the Infinity Flex Display is a next generation platform, Samsung invited developers to participate in this journey from the beginning. Working collaboratively with Google and the Android developer community, Samsung will try to maximize the potential of this new form factor to create an optimized foldable user experience.
Huawei Technologies has also said it is planning to launch a 5G smartphone with a foldable screen in mid-2019. Lenovo and Xiaomi have also started teased their own prototypes, and LG is also working on flexible OLED displays and TVs that roll up into a box.
Both Samsung and Huawei, however, have been beaten to the market by Royole, a Chinese display making start-up, which last week unveiled a foldable phone with a 7.8 inch screen, priced from around $1,300. Royole said it will start filling orders from late December.
High price tags are expected to prevent foldable phones from immediately becoming big hits, and some analysts doubt there is huge appetite for such products.
Samsung did not provide details on pricing of its new phone on Wednesday. The company said it would launch in early 2019.
Samsung also confirmed that we will see notches to its upcoming smartphones. A slide during the keynote showed several notch designs that are almost certainly coming to Samsung-branded devices in 2019 and beyond.
Hassan Anjum, a director of product marketing at Samsung, said that Samsung will keep reducing smartphone bezels and maximizing their display size. "We're going to push the limits with our new lineup: the Infinity U, V, and O displays. These are new concepts that are just around the corner, and I can't wait to tell you more about them," he said, with a picture behind him to show what you see below.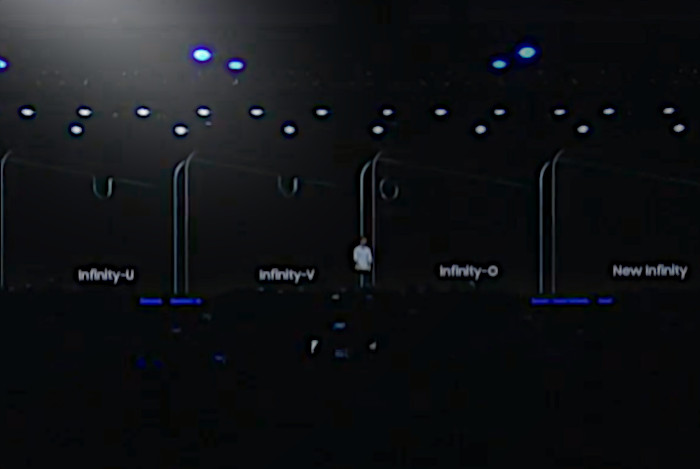 As you see, the 'Infinity U' notch design has a small half oval that cuts down into the top middle of the display. The 'Infinity V' look ssimilar to Infinity U, but with four edges instead of a curved half-oval. The 'Infinity O' is a full circular cutout of the display and not so much a "notch" the top edge of the screen. Lastly, the 'New Infinity' looks to be a completely notchless display.