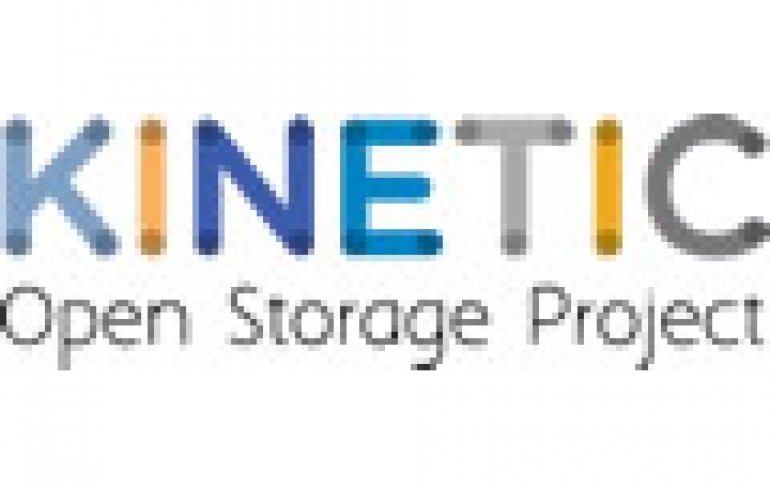 Seagate Teams with Toshiba, WD for Kinetic Open Storage Project
Seagate is leading an effort to drive open-source standards for Kinetic hard drives. The company is joined by storage competitors Toshiba and WD, as well as Red Hat, Cisco, Dell, NetApp, Huawei and other tech powerhouses. The Linux Foundation on Monday announced a new collaborative effort, the Kinetic Open Storage Project, which also includes Swiftstack, Cleversafe, DigitalSense, OpenvStorage, and Scality among its founding members.
The Seagate-created Kinetic Open Storage Platform is the first Ethernet-connected drive with an open-source object API (application program interface) designed for hyperscale and scale-out environments. Kinetic is an approach to storage in that it can eliminate the need for traditional storage architectures-storage applications can talk directly to disk drives via Ethernet. That means simplified storage environments, with fewer servers and reduced costs.
The goal of the project is to create an open-source model for accessing and managing Kinetic drives, allowing other companies to more easily introduce Kinetic technology and develop applications to leverage the advantage of Kinetic drives.
The idea is to make the Kinetic technology "the de facto standard for Ethernet cloud drives and develop a thriving ecosystem," said Shai Tsur, senior business development manager at Seagate.
"The Kinetic drives rely on an ecosystem of companies," Tsur explained. "You need all the pieces working together in order for people to make use of the drives. This will make it easier to build out that ecosystem."
David Burks, director of product management for Kinetic products at Seagate, said the company had always planned on getting its Kinetic technology into the collective hands of the open-source community to accelerate its adoption.
Burks added that the Linux Foundation is a good fit for hosting the Kinetic technology because of its deep experience in managing open-source projects, with a licensing structure that "accommodates a lot of different companies—both hardware and software."
The new project will manage open-source libraries, APIs, and drive simulators.
Having hard drive competitors like WD and Toshiba as contributing members is "good for the entire ecosystem," added Burks. Toshiba has its own version of the Kinetic drive and will contribute new features, code fixes and more to the project.