Sex Toys and Wild Gadget at the Las Vegas Tech Show
Besides the bigger, brighter TVs, mock smart homes and 5G applications, futuristic sex toys that allow the user to control a vibrator from across the country along with smart products baed on innovative technology grabbed attention at CES 2020.
Companies who sell sexual wellness-related products said they have not always found it easy to find a home at the show.
OhMiBod, which makes a music-driven vibrator, has a booth in the Health and Wellness section of the CES floor.
The company dempntrated the blueMotion NEX|3 —a Bluetooth enabled, vibrating couples ring. The OhMiBod Remote App features new functionality that allows users to "feel the music" while listening to their favorite songs, inspiring a true dual-sensory experience.
The vibrator is Bluetooth enabled and connects to an app.
OhMiBod is more than an innovator; we're a trailblazer," said founder Suki Dunham. "In 2010 we fought for a place at CES and became the first sex tech exhibitor. Ten years later, we're a global brand and 'Best of CES' award winner that continues to push the evolution of technology for sexual health and wellness."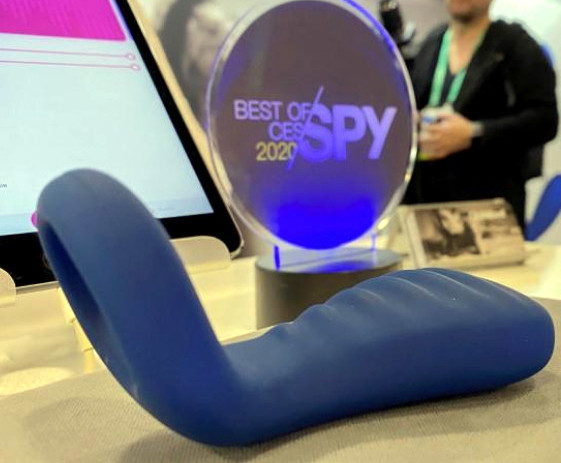 With the blueMotion NEX|3, OhMiBod takes a fresh approach to the traditional couples ring. Unlike the classic version, the NEX|3 promises greater satisfaction for the receiving partner, providing more consistent body contact and increased stimulation thanks to OhMiBod's new Extended Touch design with Velvet Wave, a cushioned, ridged silicone that delivers both comfort and pleasure.
The wearable massager, which will retail in March for $109, features a rumbly motor, body-safe silicone and convenient USB recharging. The OhMiBod Remote App's updates allows users to listen to music on a mobile device while enjoying the beat and rhythm of songs through their vibrator. The app also features a Bluetooth integration for AirPods and speakers, as well as independent volume and vibrator intensity controls.
OhMiBod also showcased Rev, the latest addition to its Lovelife lineand. Released in fall 2019, Rev is a compact, lightweight massager designed to meet the needs of adults of all ages and abilities, particularly those with dexterity challenges. It comes with a manualprinted in larger font for improved readability and retails for $69.
Seperately, Avery Smith, an engineering assistant at Lora DiCarlo, explained the company's new 'Ose' product ($290), which uses microrobotics, to an enthusiastic-looking show attendee.
"It's basically a dual stimulation sexual wellness product, so it's a personal massager for internal and external stimulation to achieve a blended orgasm," she said.
Lora DiCarlo, the company's founder, said sex tech was intended to help people.
"It's done in a very healthy way. It's done tastefully. And we really just want to see innovation that is truly innovative... and is still not demoralizing female bodies or objectifying anyone," she said.
There was no need for shame, said Candace Thome, a marketing assistant at Ergo-Fit, a company that debuted an inflatable, strapless strap-on device.
"No one likes to talk about things they don't understand or they don't know. But I think the more sex tech that is here, people are going to get comfortable with that," she said.
Beyond sex toys, CES brought to visitors some innovative gadgets, with some of them to be smart and affordable too.
Affordability is not exactly the wird that describes the $7,500 Manta5 HYDROFOILER XE-1. The company brings electric bikes into deep water. The hydrofoiling ebike is already shipping in New Zealand and comes to the United States in a few months.
Fast and maneuverable, it features a variable pedal assist that can be dialed up or down to fit your needs. The bike has a top speed of up to 12 mph (similar to traditional sailboats) and its modular design offers quick assembly and transport to and from the water. It offers 60 watts of pedal assist power
and up to 60 minutes run time on maximum assist level.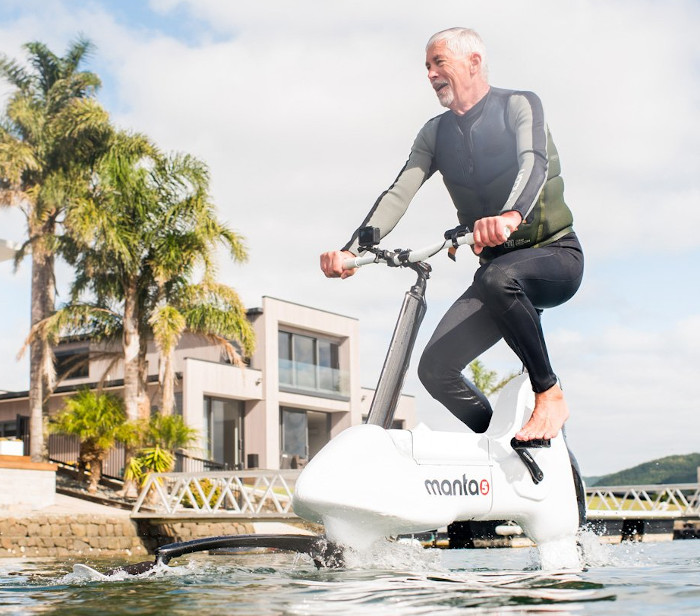 Reliefband's line of motion-sickness-prevention wearables has been available for a few years. Reliefband's FDA-cleared, patented technology uses accurately programmed pulses with a highly specific waveform, frequency, and intensity to stimulate the median nerve on the underside of the wrist. This precise activity uses the body's natural neural pathways to block waves of nausea produced by the stomach.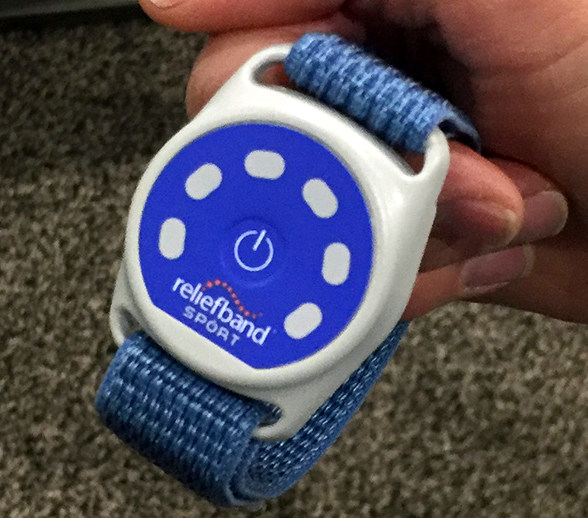 The new Reliefband Sport, the company says, solves a few of the issues with previous products. It's waterproof and particularly useful for motion sickness sufferers traveling on boats.
Reliefband Sport also includes an automatic shutoff and it can share a band with an Apple Watch, reducing wrist clutter.
Six intensity levels can be toggled allowing users to find the precise setting that's optimal for their needs at any moment.
The Reliefband Sport will be priced at $149.99 and will be available for purchase in mid-2020.
Nite Ize debuted the Radiant Rechargeable LED Glow Stick with Disc-O Select, arriving at retail in early Spring 2020.
With no chemicals to worry about or batteries to replace, this LED glow stick blends the convenience of rechargeability with a waterproof body.
This long-lasting, waterproof (IPX7) glow stick is designed for outdoor adventures, emergency kits and backyard fun. With Disc-O Select technology, users may leave it in color-changing Disc-O mode or choose from four different color options. The included S-Biner also allows users to clip the glowstick onto their backpack or straps for safety lighting. MSRP $11.99
Internet-connected locks are designed to replace your front door's key-turned deadbolt lock. Tapplock's latest is a smart padlock that could also be used on a storage shed or on a bicycle. The gadget will open with a fingerprint (it stores up to 500 prints for the heavy duty Tapplock One, 100 for Tapplock Lite), a Bluetooth signal (that can be shared for time-restricted use), or a Morse code pattern communicated via a button or the lock shank.
A capacitive fingerprint sensor allows unlocking the Tapplock One + in under 0.8 seconds. You can also manage users and fingerprints via the Tapplock app.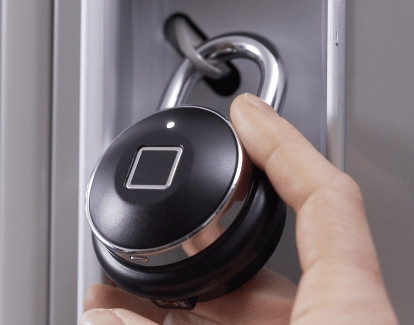 Intel is will soon ship a relatively inexpensive consumer-grade, small, lidar camera. The company expects developers to jump on the chance to build products around this technology. The company demonstrated an application that uses the lidar to quickly measure boxes for shipping—something Intel thinks will make the lidar a must-have gadget for neighborhood shipping storefronts—as well as applications involving joint tracking, full body scanning, and small robot navigation.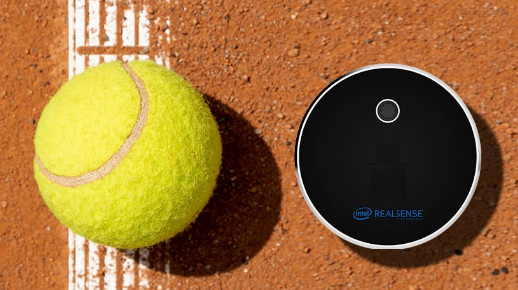 The L515 is a solid state LiDAR depth camera which uses a proprietary MEMS mirror scanning technology, enabling better laser power efficiency compared to other time‑of‑flight technologies. It covers a maximum distance of 9m, supports 23 million pixels per second and its weigh is just 100 g. With less than 3.5W power consumption for depth streaming, the Intel RealSense LiDAR camera L515 is also very power efficient.
The gadget will start shipping to developers in April for $349.
AO Air's wearable (350) goes in front of the wearer's nose and mouth, but doesn't seal tightly against the skin. Instead, it protects the user from hazards in the air by pulling in dirty air from behind the wearer, filtering it, and blowing it in front, as positive pressure keeps unfiltered air away.
AO's patented PositivAir technology utilizes fans to create a positive pressure clean air environment for you to breathe freely. This system allows clean, cool air to escape the mask around the face creating a continuous, one way outflow that keeps outside air out.
RayShaper has designed modular video cameras that can be snapped together into arrays. The company says its secret sauce is its algorithms that enable the decoding of multiple images into a single high-quality image in real time at video frame rates. The system can turn foggy, out-of-focus objects in the distance into sharp, high-resolution pictures. The company is aiming its technology at professional photographers covering sporting and other unscripted events, starting with ski races this year. A version with three to four modules will likely cost around $50,000.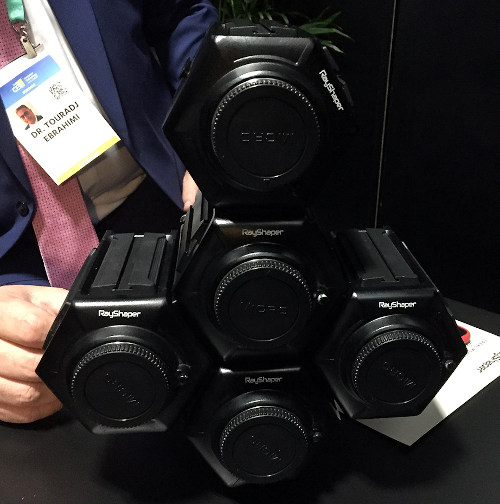 RayShaper team is composed of Prof. Touradj Ebrahimi from EPFL , (chairman and CTO), Prof. Gene Wen from Tsinghua University (CEO) and Prof. Erica Han, from South China Agriculture University (COO).
PicoBrew, the manufacturer of computer-controlled, home brewing machines, introduced an automatic distilling system as an accessory to its brewing systems.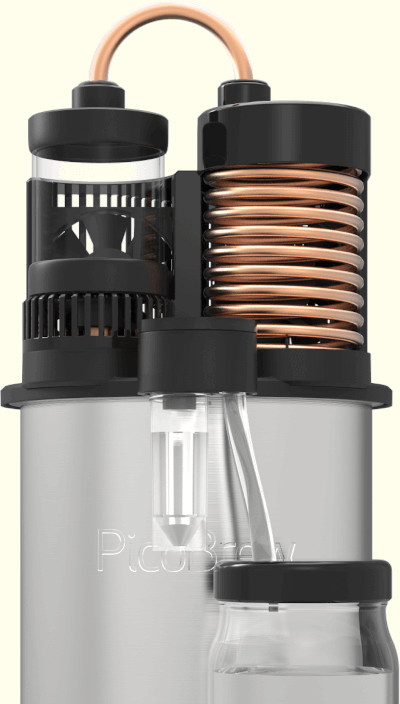 The $349 PicoStill promises to elevate craft brewing for professional distillers and homebrewers alike. You can distill pilot batches of spirits safely and more precisely, or use PicoStill to capture the essence of hops and other oils and imbue food and beverages with unique flavors and aromas. Its patent-pending design reduces the dangers inherent in distilling spirits by automatically separating the methanol from the heads.
Sunflower Labs's system is an autonomous residential drone designed for home security: smart motion and vibration sensors distributed around a property call in an autonomous drone when they sense something amiss. The drone sends a live video stream to a smartphone. Interestingly, the drone can fly for about half an hour, but is designed to head back to its self-charging station after about 15 minutes. The complete system would cost you $10,000.
Sunflower's sensor-powered system provides continuous insights, while keeping privacy in your full control. You choose when to deploy the camera, as well as where and how to store your data. The system's drone, the "Bee", supports advanced features like ultrasonic object-avoidance technology and infra-red landing cameras. It's also geofenced to your property, ensuring it never flies astray.

The system also includes the "Sunflowers" - each contains an array of motion and vibration sensors, for continuous activity detection in a 20-foot radius.
Finally, the "Hive" not only houses and charges the Bee— it's the brains of the entire system, processing and analyzing sensor data using embedded AI computing.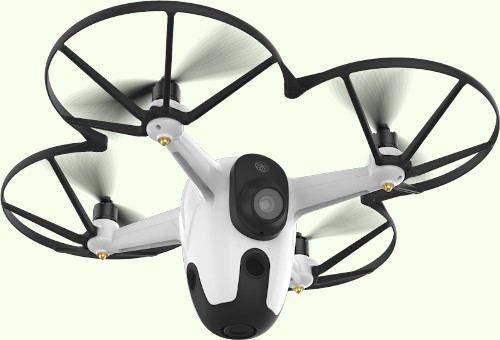 OxiCool's HomeCool room air conditioner has chemical coolant. The system uses water and a clay filter that, the company says, has nanopores sized for water vapor molecules. When the filter absorbs water vapor, the remaining water in the sealed chamber boils, pulling in heat from the room and lowering the room's temperature. A gas heater drives the water out of the filter to reset the cycle, and the heat it generates vents to the outdoors.

The company says its system is vastly more environmentally friendly than those that use coolants, and it uses natural gas along with 10 percent of the electricity of a standard room air conditioner, reducing its overall operating cost by 20 to 30 percent.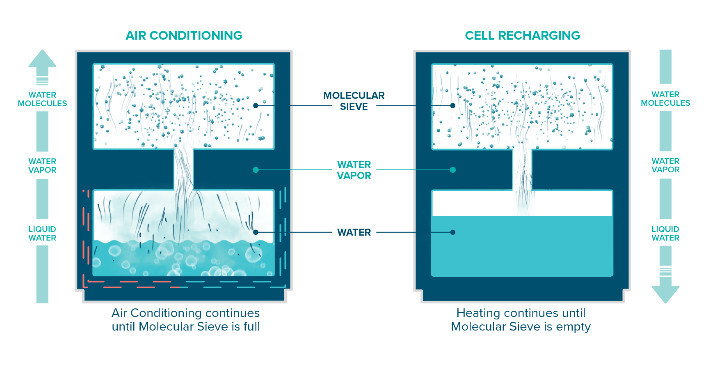 OxiCool is powered by OxiCell. OxiCells are closed loop, maintenance free molecular sieve cells that are manufactured to precision in a clean room. Not even a single water molecule can escape through the life of the system. So, you never have to add or change the water, or the molecular sieves inside. There's also no refrigerant to top off, because there is NO refrigerant other than pure water.
And, since OxiCool has no compressor, the entire system is virtually maintenance free. The only thing you have to do is change filters as you normally would.