Sharp Showcsed Ultralight Dynabook Portégé Notebook, 8K Video Editing System and More at CES
Among the interesting products at Sharp's booth at CES 2020 were the the world's lightest, 13-inch Portégé X30L laptop, an 8K video editing system poewred by a Dynabook laptop, along with a 90-inch transparent LCD.
The 13-inch notebook Portégé X30L laptop is weighing in at just 1.9 lbs or 0.86 kilograms. It comes equipped with a 13.3-inch, 1080p IGZO display with a peak brightness of 470 nits. At its core, the Portégé X30L-G uses Intel's 10th generation of Core processors -- the Core i7-10710U for the top model of the line. Onboard is also Intel's WiFi 6 standard for faster internet speeds, up to 24GB DDR4 and up to 1TB of MVNe / PCIe SSD. Biometric authentication function can be installed through a face recognition camera as well as a fingerprint authentication sensor on the touch pad. The I/O is petty decent as well with two USB-A, one USB-C, one HDMI and one Ethernet port.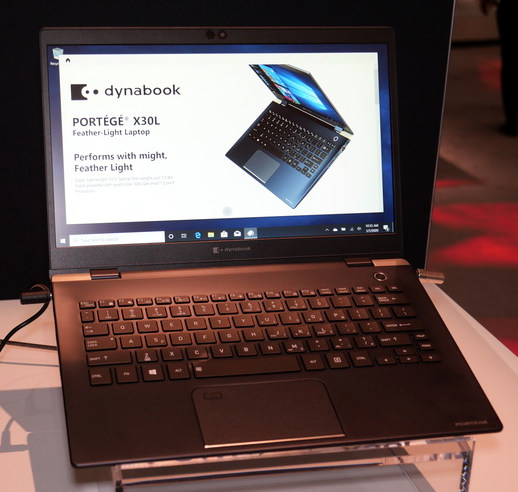 The laptop's chassis is made out of magnesium alloy and it features dust and drops resistance per military testing methodologies. Additionally, there is a battery capable of jeeping the laptop up for up to 14.5 hours. The X30L-G is going to arrive in February for the price of $1600.
8K dynabook for 8K video editing
Sharp also showcased a prototype dynabook notebook PC that could power editing of 8K video in real time. However, the video editing was also performed by an external GPU box (Quadro RTX 4000) connected to the laptop via a Thunderbolt 3 cable.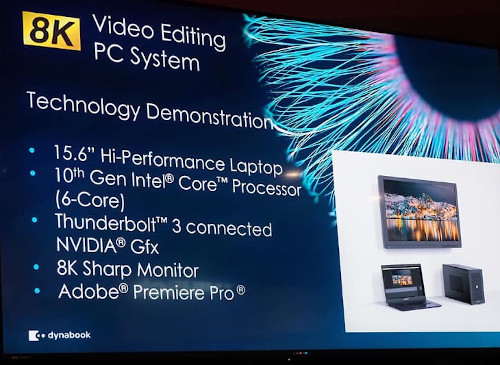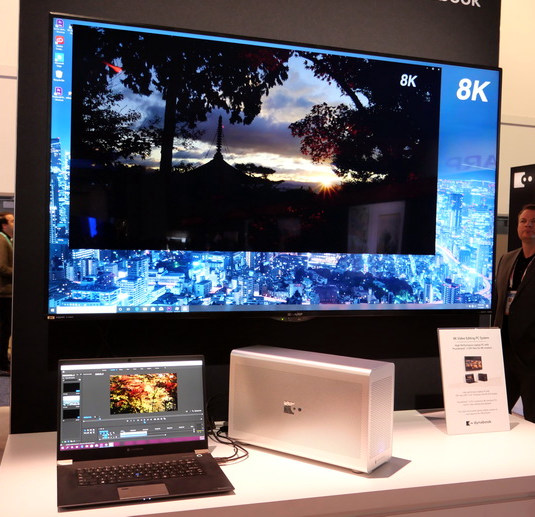 Nevertheless, it was a demonstration of real-time editing of 8K video using Adobe Premiere.
The 15.6-inch laptop (4K LCD) prototype was based on the dynabook Z series. It used a 10th generation Core i7-10710U processor, 32GB of memory, and a 2TB SSD.
A concept Sharp 5G smartphone equipped with a 8K camera as well as a 90-inch transparent liquid crystal display were also on display.