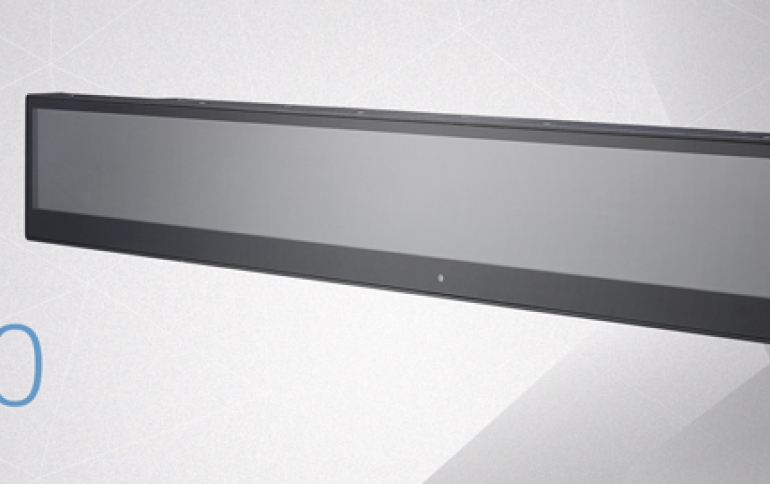 Shuttle presents digital signage display with biometrics technology
Shuttle expands its product range for vertical markets to include a digital signage display with an elongated bar-type format. Under the name D230, the turnkey signage player has been designed specifically for shelf advertising in retail stores. An integrated camera allows target-group-specific content to be played using biometric recognition. The bright 23.1" screen can be divided into up to four segments which communicate different advertising messages directly at the POS.

- Easily transfer content to the device via app
- Configured in just a few steps
- Alternatively available as a server-based version with precise visitor analysis

The D230 is regarded as another milestone, and in Shuttle's long product history it is the first digital signage display in the special bar-type format measuring 29 × 603 × 75 mm (DWH). Its 23.1" screen has a resolution of 1920 x 158 pixels and can convey up to four different advertising messages simultaneously. The front meets protection class IP54 and is thus protected from dust and splashing of water. The target group for this product is the retail trade.

The D230 houses a hexa-core ARM processor with up to 1.8 GHz, integrated graphics and 16 GB of eMMC flash memory. Memory for content can be expanded by using the provided micro SD card reader. The D230 also features a camera, WLAN, network with PoE support, speaker as well as audio and USB interfaces. Thanks to the D230 being fanless, it is particularly robust, low-maintenance and suitable for constant 24/7 operation at the same time.

Easy operation

With its mobile apps and browser-based control, Shuttle relies on intuitive operation which allows easy management without any prior knowledge. Content can be handled and transferred by LAN or WLAN. Free apps for mobile devices make it easy to configure the D230 on the go.

"Our solution enables information and advertising messages to be targeted exactly where the decision to make a purchase is frequently made, at the shelf and without major scatter losses," explains Tom Seiffert, Head of Marketing & PR at Shuttle Computer Handels GmbH. "It is a smart addition to Shuttle's established products in the areas of signage and POS."

As well as the stand-alone version with app management that was presented in the beginning, the D230 is also available as a server-based solution with enhanced functions which is able, for example, to carry out an analysis of customer behaviour, taking account of eleven age levels, via the network.

Server-based product version

The advantage of the server-based version of the D230 is that it allows content to be displayed in a much more targeted way, taking account of biometric factors such as gender and age. It is also possible to analyse how often and by which group of potential customers the various advertising messages have been viewed. An additional Linux server can be used to edit content in a browser via a web interface. The extra features of the server-based version include the possibility of grouping multiple clients, the integrated media library on the server for content management, and the possibility of transmitting manually launched, time-limited advertising messages to the groups of machines via the web interface. This version can also optionally be expanded via the M.2 slot with a 4G modem for WLAN-independent internet access.

Flexible shelf mounting

The D230 supports flexible screw mounting and can be hung up using universal shelf hooks. The optional accessory PD230 can be used to concatenate multiple D230 devices. The kit includes a connecting cable for the voltage supply, metal brackets and matching screws. This means that up to five D230 can be powered with just one power supply.

The recommended retail price from Shuttle for the D230 is EUR 517.00 (ex VAT). The price for the server version has not yet been fixed. The stand-alone version of the D230 is available from specialist retailers Europe-wide as of now.