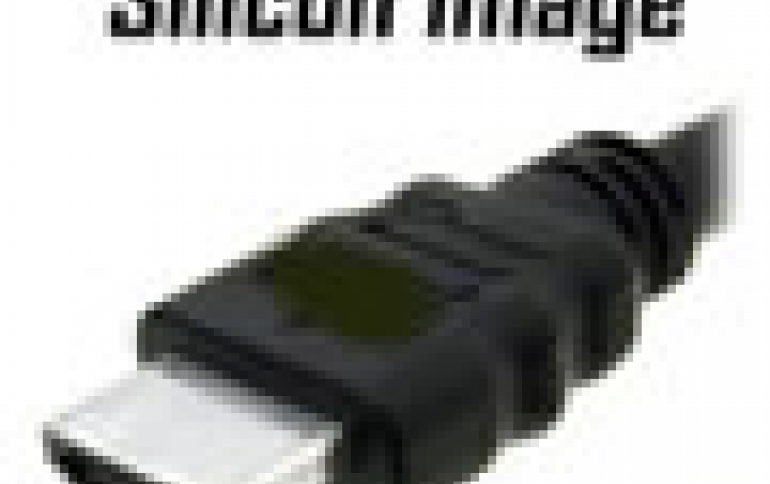 Silicon Image Delivers First HDMI 1.3 Semiconductors
New chips will enhance image quality of PlayStation 3, Blu-ray Disc and HD DVD and enable deep color output from next-generation DVD players/recorders. Silicon Image, Inc. announced the world?s first High-Definition Multimedia Interface (HDMI) 1.3 transmitters and receivers, which will enable the next generation of DVD players and HDTVs to transmit and receive content in billions of colors with high accuracy.

The VastLane SiI 9133, a dual-input HDMI receiver, will enable HDTVs to display Deep Color content transmitted by a new generation of consumer products, such as the Sony PlayStation 3 and high-definition DVD players. The VastLane SiI 9134 transmitter may be integrated into HD DVD and Blu-ray Disc DVD players and recorders to transmit Deep Color content for the highest-quality image for the end consumer. The SiI 9134 also supports new high-bit rate audio formats, delivering a rich audio experience.

The SiI 9133 and SiI 9134, which are part of Silicon Image?s VastLane family of HDMI products, support 30-bit and 36-bit color depths (4:4:4 RGB or YCbCr), up from the 24-bit color depths displayed in the current generation of HDTVs. Next-generation HDTVs with Deep Color support will be able to display content from Blu-ray Disc and HD DVD players in their highest resolutions.

Silicon Image has now completed the Deep Color pipeline from source device to display panel glass. Deep Color content can now travel from a DVD player or game console via a SiI 9134 transmitter, over an HDMI cable, to a SiI 9133 receiver in an HDTV, through the SiI 7170 and SiI 7171 internal links, to the display panel glass.

The SiI 9133 and SiI 9134 deliver a significant boost in bandwidth, from 4.95 gigabits per second to 6.75 Gbps, over previous HDMI chips. This lets them support Deep Color displays with video resolutions of up to 1080p at 60Hz and 36-bits per pixel color depth, matching the output of the PlayStation 3.

The higher bandwidth also lets the chips support the latest-generation of fast-refresh displays used for gaming and other demanding applications. The SiI 9133 and SiI 9134 will support resolutions of 1080i and 720p at 120Hz and 36-bits per pixel color depth, providing a crisper image with fast moving video. The two chips support true 12-bit video processing (with 14-bit internal processing for greater accuracy) for RGB to YCbCr and YCbCr to RBG color space conversion and 4:4:4/4:2:2 up/down sampling.

The SiI 9133 is an advanced dual-input HDMI receiver that fits directly into digital televisions such as rear projection microdisplays, LCD-TVs, plasma displays and front projectors. It is backward-compatible with previously-released HDMI receivers from Silicon Image. The SiI 9134 transmitter is designed for HD DVD and Blu-ray Disc players/recorders and audio-visual receivers. The SiI 9133 and SiI 9134 have both HDCP Built In Self Test (BIST) and One Time Programmable (OTP) keys for the highest level of security. To test for plug-and-play compatibility with a broad range of high-definition devices, the SiI 9133 and SiI 9134 have been submitted for verification to the Simplay HD interoperability testing program offered by Simplay Labs, LLC.

New Lossless Audio Formats, Power Management

The SiI 9134 can transmit the new, lossless compressed digital audio formats supported in HDMI 1.3: Dolby TrueHD and DTS-HD Master Audio. The two chips also handle other HDMI-supported audio formats, including high-bandwidth uncompressed digital audio and compressed formats such as Dolby? Digital and DTS. The SiI 9133 and SiI 9134 also support SACD and DVD audio formats. Both products provide flexible power-down modes.

The SiI 9133 is currently in production, and is priced at $9.70 in 10K quantities. The SiI 9134 is currently sampling to customers with production scheduled for October, and is priced at $5.25 in 10K quantities. The SiI 9133 is packaged in a 404-pin BGA and the SiI 9134 is packaged in a 100-pin TQFP.