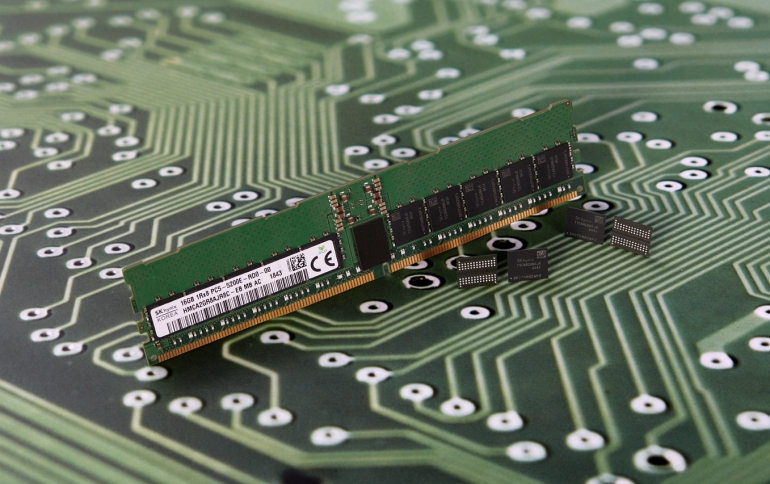 SK Hynix Announces 1Ynm 16Gb DDR5 DRAM
SK Hynix Inc. has developed 16Gb (Gigabits) DDR5 (Double Data Rate 5) DRAM, the first DDR5 to meet the JEDEC standards.
SK hynix, which earlier unveiled the second-generation 10-nano class 8 gigabit DDR4, said it developed the 16 gigabit DDR5 using the same processing technology.
DDR5 is a next-generation DRAM standard that offers ultra-high speed and high density with reduced power consumption as compared to DDR4, for use in data-intensive applications such as big data, artificial intelligence, and machine learning.

SK Hynix lowered the operating voltage from 1.2V to 1.1V, achieving 30% lower power consumption compared to the previous generation, DDR4 DRAM. The new 16Gb DDR5 DRAM supports a data transfer rate of 5200Mbps, about 60% faster compared to 3200Mbps of the previous generation, with which it can process 41.6GB (Gigabytes) of data—11 full-HD video files (3.7GB each)—per second.
SK Hynix also demonstrated the industry's first DDR5 Registered DIMM. The DDR5-5200 RDIMM module offers a peak memory bandwidth of 41.6 GB/s. The RDIMM features 288 pins and it looks like its design does not allow you to accidentally mount it in a DDR4 slot.
The company says it provided a major chipset maker with RDIMM (Registered Dual In-line Memory Module) and UDIMM (Unbuffered DIMM) for server and PC platforms, with more memory banks—doubled from 16 to 32 banks—in accordance with the JEDEC DDR5 standards.
"Based on technological advancements that allowed the industry's first DDR5 DRAM to meet the JEDEC standards, SK Hynix plans to begin mass producing the product from 2020, when the DDR5 market is expected to open, to actively respond to the demands of clients," said vice president Joohwan Cho, the Head of Volume Product Design Group.