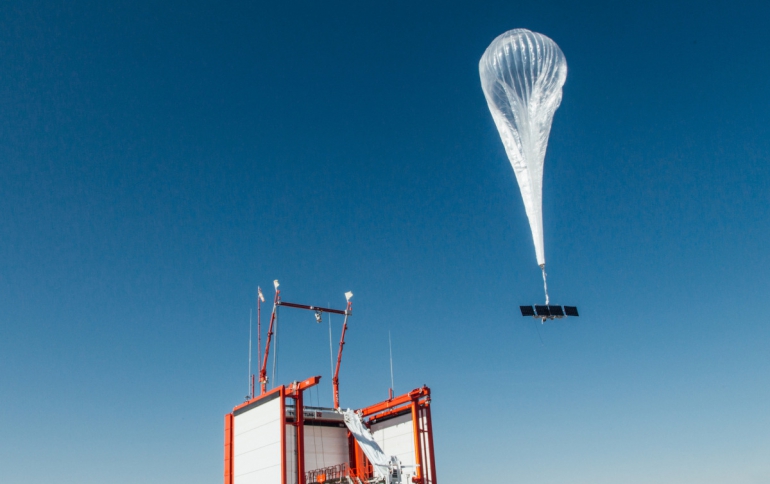 SoftBank Unit Invests $125 Million in Google's Loon Balloons
An affiliate of SoftBank Corp. is investing $125 million in Loon, a subsidiary of Google parent Alphabet Inc.
The SoftBank unit and Loon will share technology and ground stations, and form "an alliance to promote the use of high altitude communications solutions with regulators and officials worldwide," according to a statement from the two companies.
The deal gives the SoftBank affiliate, HAPSMobile, an undisclosed minority stake in Loon. And in the future, Loon has the right to invest $125 million in the unit, a joint venture between SoftBank and Aerovironment Inc. that designs telecommunication aircraft. The partnership will initially target service in countries near the equator, eyeing proximity to developing markets as well as abundant solar energy.
While the idea of using aircraft as a flying base station has been around for decades, it's only this year that the efficiency of solar panels and battery capacity have advanced enough to make that practical.
Junichi Miyakawa, Representative Director & CTO of SoftBank Corp., also President & CEO of HAPSMobile Inc. said, "Building a telecommunications network in the stratosphere, which has not been utilized by humankind so far, is uncharted territory and a major challenge for SoftBank. Working with Alphabet's subsidiary Loon, I'm confident we can accelerate the path toward the realization of utilizing the stratosphere for global networks by pooling our technologies, insights and experience. Even in this current era of coming 5G services, we cannot ignore the reality that roughly half of the world's population is without Internet access. Through HAPS, we aim to eliminate the digital divide and provide people around the world with the innovative network services that they need."
Hawk 30 aircraft developed by HAPSMobile have a wingspan of 78 meters, 10 propellers and can travel at speeds of 110 kilometers an hour. They will eventually operate at an altitude of 20 kilometers for six months at a time.
SoftBank and Loon plan to offer connectivity services to carriers in countries where building a physical network is difficult. SoftBank will offer terrestrial gateway stations for Loon's balloons starting this year, before introducing its own aircraft in 2023. The network could also make use of low-Earth-orbit satellites operated by OneWeb Ltd., a SoftBank Vision Fund portfolio company.
Loon retreated from an initial plan to blanket the globe with its internet-beaming, stratospheric helium-filled balloons. Instead, it has been negotiating more targeted deals with industry partners, including a telecom company in Kenya and satellite firm in Canada. Facebook last year decided to shut down its own program, called Aquila, after about four years in development.