Sony Debuts New Cybershots Including The a6000 Interchangeable Lens Camera
Sony today introduced a variety of exciting Cyber-shot cameras that pack imaging power and range into travel-friendly packages.
The new a6000 is a mirrorless camera boasting possibly the world's fastest AF performance at just 0.06 seconds.
The speedy new camera (model ILCE-6000) is also equipped with a 24.3 MP image sensor and the BIONZ X processor.
The high autofocus speed of the a6000 camera is powered by Sony's Hybrid AF system. The new model features a focal plane phase-detection AF sensor with a very wide autofocus coverage area – 179 focal points – that is teamed with high-precision contrast-detection AF. This potent combination allows the camera to track and respond to a subject moving through nearly the entire frame, and to shoot at a speed of up to 11 frames per second with continuous autofocus.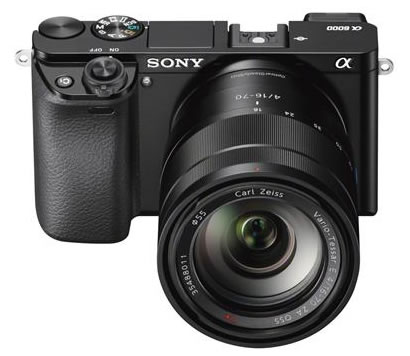 The a6000 is also equipped with an OLED Tru-Finder, mode and control dials on top of its body along with a 'Function' button and two additional customizable buttons, which give quick access to any one of 47 assignable functions.
The a6000 camera has built-in Wi-Fi and a single touch also activates Smart Remote Control, linking the camera with a smartphone or tablet for a live image preview, to fire the shutter from a distance and to review shots.
The Sony a6000 will be available in April 2014 in black and silver in a kit with a 16-50mm motorized zoom lens (model SELP1650) for about $800. It will also be offered separately as a body for about $650.
Sony has also announced the price of its previously announced full frame E-mount 70-200mm F4 G OSS telephoto zoom lens (model SEL70200G). This lens will be available in March for about $1500.
Sony also introduced a new Cybershot line-up, which features the 63x optical zoom H400 model, as well as the HX400V and H300 models, which boast 50x and 35x optical zoom, respectively.
It also includes the new WX350 camera and the competitively priced W800 model.
New to the Cyber-shot camera line in 2014, Sony has utilized its BIONZ X processor – the same processor used in the Cyber-shot RX10 and the a7/7R full-frame mirrorless cameras – in the new HX400V and WX350 cameras.
The new HX400V and WX350 cameras are also Wi-Fi and NFC enabled and feature improved optical image stabilization technology with new Intelligent Active mode for blur-free images and full HD videos at all focal ranges.
Additionally, these two cameras offer "Motion Shot" video, which creates a sequence of fast-action, superimposed images to demonstrate motion of a subject or object through the frame. They also have 4K still image output for viewing images in full 4K resolution on compatible televisions.
Unique to the new HX400V high-zoom model, Sony has added full HD video shooting at a frame rate of 1080@24p for a more "cinema-like" feel to movies. The HX400V is also compatible with the popular platform of downloadable PlayMemories Camera Apps.
Below you see key product information for each model:
Cyber-shot HX400V - Available in black in March for about $500
Exmor R CMOS sensor with approximately 20.4 effective megapixels and BIONZ X image processing engine
50x optical zoom ZEISS Vario-Sonnar T lens (100x Clear Image Zoom)
Optical SteadyShot with Intelligent Active Mode
DSLR-style handling and manual controls in a compact body
Wi-Fi and NFC allows instant connection with smartphone for image sharing between devices and remote control from phone
Full HD video shooting (1080p) with ability to shoot at 60p, 60i and now 24p frame rates
Compatible with Sony PlayMemories Camera Apps platform
Cyber-shot H400 - Available in black in March for about $320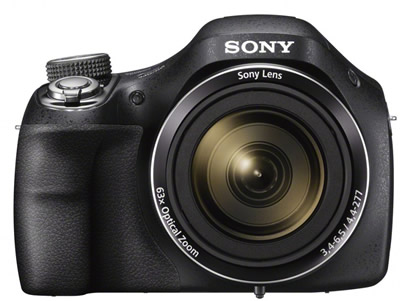 63x optical zoom lens with Optical SteadyShot for improved image stabilization at all focal lengths
20.1 megapixel CCD sensor for still photos and HD video (720p)
DSLR-style body, electronic viewfinder, Intelligent Auto and dedicated movie button
Cyber-shot H300 - Available in black in February for about $220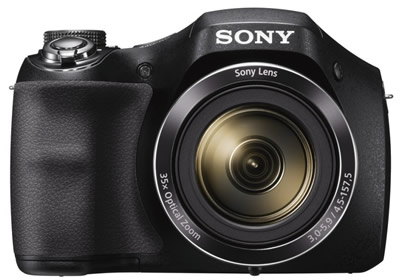 35x optical zoom lens
20.1 megapixel CCD sensor for still photos and HD video (720p)
DSLR-style body, electronic viewfinder, Intelligent Auto and dedicated movie button
Cyber-shot WX350 - Available in black and white in March for about $320
20x optical zoom lens (40x Clear Image Zoom)
Exmor R CMOS sensor with approximately 18.2 effective megapixels and BIONZ X image processing engine
Optical SteadyShot with Intelligent Active Mode
Wi-Fi and NFC enabled
Full HD video shooting (1080p) with ability to shoot at 60p, 60i frame rates
Cyber-shot W800 - Available in black and white in March for about $80
5x optical zoom lens
20.1 megapixel CCD sensor