Sony Develops SmartEyeglass, Launches SDK
Sony today officially announced the development of "SmartEyeglass," a transparent lens eyewear that connects with compatible Android smartphones to superimpose information such as text, symbols, and images, onto the user's field of view. SmartEyeglass - which was earlier this month showcased on our booth at IFA in Berlin - is transparent lens eyewear that superimposes fun and useful information onto a natural eyeline, within a slim and light device. SmartEyeGlass works by wirelessly connecting to your Android phone or tablet and uses apps to collect sensor data and produce visual output back to the eyewear.
Sony leveraged hologram optics technology to develop a lens that achieves high transparency of 85% and thickness of just 3.0 mm, without the use of half or monocular mirrors that obstruct vision. In addition, the monochrome display ensures that while energy consumption is lower than a color display, high luminance (up to 1,000 cd/m2) is achieved, to deliver a screen with clear readability that allows a user to easily read text in a wide range of environments.
It is equipped with a diverse range of sensing tech, including a CMOS image sensor, accelerometer, Gyroscope, electronic compass, brightness sensor and mic. SmartEyeglass utilizes these features, together with GPS location info from the connected smartphone, to provide information optimized for a user's circumstances and activity.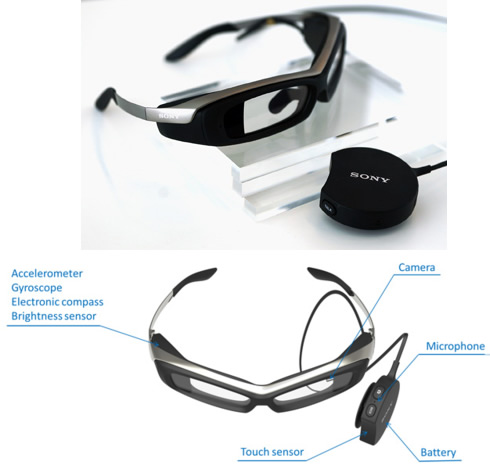 Some of the experiences from Sony's partners already exploring the SmartEyeglass prototype's potential include: a pedestrian navigation app from Zenrin Datacom, an international travel companion; the brainchild of Wikitude and K-Opticom's (marathon) running platform.
Sony also launched the SDK "Developer Preview" – the software development kit for the SmartWear prototype.
The software development kit will enable developers to build apps for the SmartEyeglass platform.
Sony plans to offer SmartEyeglass for sale to developers by the end of FY2014, with the intention of further promoting the development of applications and accelerating the commercialization of the product for consumer use.
Software Development Kit contents (Developer Preview)
Emulator
Sample code
Tutorials to get started
In-depth developer guides
Design guidelines
API references
Test instructions
Publishing guidelines
SmartEyeglass prototype specifications
Item

Specifications

HMD type

Binocular see-through with a separate controller

Resolution

419(H) X 138(V) pixel

Image color

Monochrome green with 8bit color depth

Brightness (Max.)

1,000 cd/m2

See-through transmittance

More than 85%

Sensors

Accelerometer, Gyroscope, Electronic compass, Brightness sensor, Microphones

Camera

Still: 3M pixel, Movie: VGA (640 X 480 pixel)

Sound

Speaker in controller

Connectivity with Smartphone

Bluetooth v3.0, IEEE802.11b/g/n

Smartphone OS version

Android 4.1 or above
Android 4.3 or above (in case of movie function use)

Weight

Approximately 77g (glasses excluding cable), approximately 44g (controller)