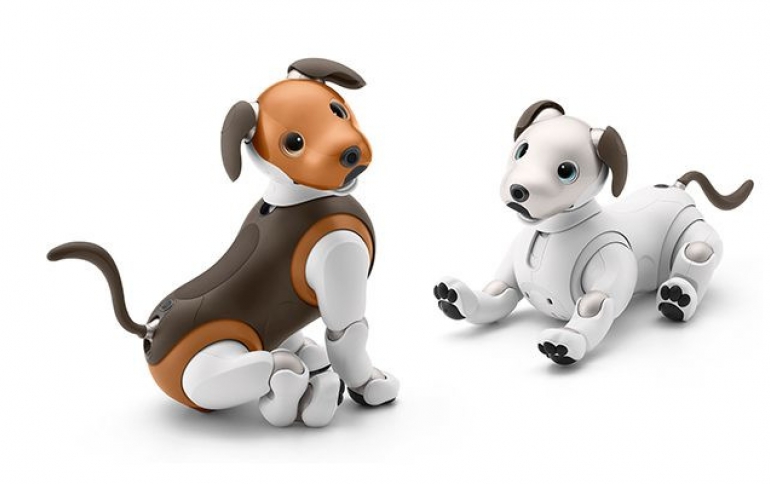 Sony to Launch the "aibo Patrol" Service in Japan
Sony announced the launch of "aibo Patrol," a new service for the company's autonomous entertainment robot aibo that will enable users to watch over their children or elderly family members at home from remote places through videos sent to their smartphones from the pet robot.
The new service will be released following a system software update to version 2.0 currently scheduled for mid-February, 2019.
aibo Patrol is a new service built on the concept of "securitainment" (security and entertainment), which provides peace of mind in addition to the everyday fun of living with aibo. When the service launches, aibo will become able to patrol a room and report on its condition free of charge. Sony plans to expand and add new features to aibo Patrol post-launch. Additionally, the "aibo Premium Plan" scheduled for a June 2019 release plans to add even more new features to aibo Patrol, remove the limit for the number of photos aibo can store, provide original photo album designs, and more.
The following features will be provided free of charge through the aibo version 2.0 system software update:
Person of Interest Registry: The faces and names of up to 10 people can be registered to "My aibo" for aibo to find.
Maps and Patrol Routes: The map of the house created by aibo will now be viewable through My aibo. This map can be used to select locations for aibo to patrol and to assign names to the patrol routes. At the pre-registered time of day, aibo will play the "Puppy Patrol" melody and make its way to the selected location, find the "Person of Interest," and show off its adorable moves.
Reports: Use My aibo to check reports about aibo's patrol status and daily interactions with aibo.
The aibo Premium Plan is scheduled to launch from June 2019 for a monthly subscription fee of 1,480 JPY. At the time of launch, it is scheduled to have the following features, with more additional features to be added continuously post-launch:
Adds a number of handy new features, such as using my aibo to remotely send aibo on patrol even from outside the house, receiving patrol status updates from aibo in real-time, and getting convenient push-notification alerts from aibo's Target Person Registry.
Removes the current limit of 500 saved pictures, allowing aibo to capture as many family memories as owners like without worrying about storage space.
Provides a service that owners can create an original aibo design photo album, combining owner's pictures of aibo and pictures taken by aibo into one.
Stores photo memories from aibo Patrol and aibo Cameraman as well as records of interactions between owners and aibo, and allows owners to revisit these happy memories in diary form through My aibo.
Sony has kicked off a partnership with SECOM to make Securitainment a reality. SECOM boasts a home security network in Japan as well as security services that utilize IoT. This partnership will begin with proof-of-concept feature collaboration between SECOM's home security and aibo Patrol.
Aiming to bring about even more diverse use-cases for aibo, Sony will begin a licensing program that makes aibo's software API generally available in order to promote collaboration with other companies, organizations, and individuals on products and services. As the first step of this program, Sony plans to make aibo's development environment (web API) publicly available and free of charge starting summer 2019.