Sony Releases The AS20 Action Cam, New Cyber-shots
Building on its line of Action Cam POV (point of view) cameras, Sony today has introduced the new AS20 model along with the compact DSC-WX220 and DSC-W810 Cyber-shot cameras to the US market. Featured on the new AS20 model, Sony's SteadyShot electronic image stabilization works to control camera shake and vibration.
The AS20 camera also features a high-quality ZEISS Tessar lens with a huge 170° field of view, a built-in stereo microphone and a back-illuminated Exmor R CMOS sensor. It also features high bit-rate recording at up to 28Mbps and has built-in Wi-Fi functionality. Available as an optional accessory, the waterproof RM-LVR1 accessory displays a live image preview on its LCD screen, makes it easy to frame and record shots in tough conditions.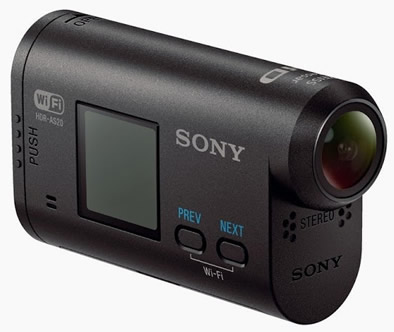 The Sony HDR-AS20 Action Cam will be available in August for about $200.
Sony's new Cyber-shots are the DSC-WX220 and DSC-W810 models.
The pocket-sized DSC-WX220 model has a 18.2 megapixel Exmor R CMOS sensor and 10x optical zoom G Lens. The high-resolution sensor and lens are paired with Sony's BIONZ X processor, ensuring that all images and full HD (1920×1080 @60p) videos are captured with detail and low noise.
The new camera also features advanced SteadyShot image stabilization for video, high speed AF for capturing moving subjects and has built-in Wi-Fi functionality.
The easy-to-use DSC-W810 features a 20.1MP CCD sensor and 6x optical zoom lens, and can shoot HD movies at 720p. It also has the fun Party Mode setting, which automatically adjusts sensitivity, exposure and color in low light social social settings to get party shots with minimal effort.
The flash on the W810 model is useful for indoor or dusk shots, as it boosts the camera's overall sensitivity and effectively extending flash range to make far-away subjects appear brighter.
The new Sony Cyber-shot WX220 will be available in August in black and gold for about $200, and the new Cyber-shot W810 will be available in September in silver for about $100.