Sony Releases New Digital Paper
Professionals overwhelmed with paper now have a new way to read, annotate, and share documents electronically using Sony's Digital Paper. Sony's Digital Paper has a 13.3 inch display that shows full-screen views of letter-sized documents in the PDF format, eliminating the need to zoom or scroll when reading a page. The device has a touch panel that enables users to operate the menu or turn pages by touching the screen. Using the included stylus, professionals can write directly on the panel, and also highlight and erase text.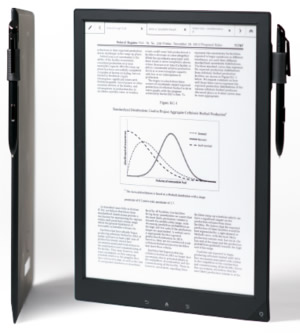 The device has a light body (approximately 12.6 oz.) and it is slightly thicker than 30 sheets of paper. It has a 13.3-inch, 16-level grayscale display (1200 x 1600 dots) incorporating the "E Ink Mobius" technology. Built-in Wi-Fi functionality allows file sharing over a wireless network. Sony's Digital Paper is powered by a rechargeable lithium-ion battery, which offers up to 3 weeks use on a single charge. Its 4 GBinternal memory is coupled with micro SD card slot for additional storage.
In addition to PDF source files, Microsoft Word, PowerPoint and Excel files can be converted to the PDF format and saved, viewed and annotated on the Digital Paper device.
Sony is showcasing Digital Paper at this week's American Bar Association Tech Show in Chicago along with Worldox, which serves more than 5,500 law firms, financial institutions, and other enterprises. Worldox is integrating Digital Paper with its Document Management Solution (DMS), so legal professionals can access documents, upload handwritten notes and annotated documents, and share with other individuals or groups.
Sony will start offering the Digital Paper in May, initially through a select group of Worldox agents, with a suggested list price of $1,100.