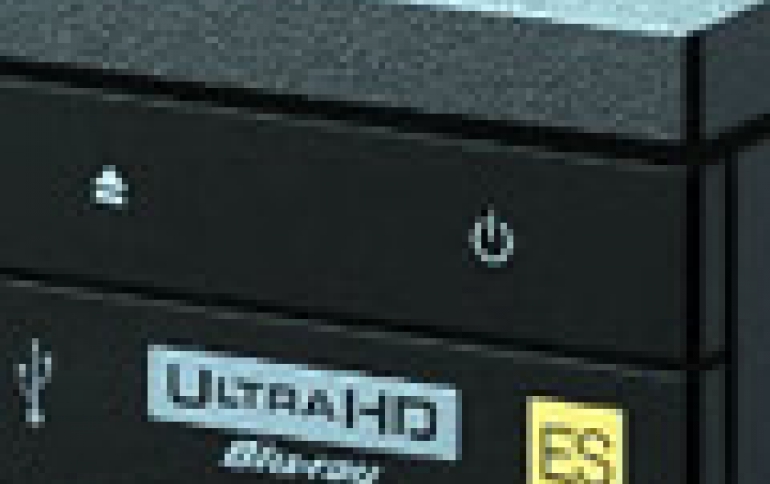 Sony Showcases 4K Ultra HD Blu-ray player, 4K Projector And New Audio-video Receivers At CEDIA
Sony held its annual press briefing at CEDIA Expo today and its UBP-X1000ES 4K Ultra HD Blu-ray player shipping this next spring, the TVPL-VW675ES 4K Home Cinema projector and four new audio-video receivers .
UBP-X1000ES Blu-ray player
The new ES Series Blu-ray player (UBP-X1000ES) offers full Custom Installation (CI) compatibility.
It is compatible with Ultra HD Blu-ray discs as well as video streaming in full 4K resolution and High Dynamic Range (HDR).
In addition, the X1000ES utilizes a Sony developed Precision HD drive to help maintain consistent performance with virtually every optical disc format, including DVD Video and DVD Audio; CD and SA-CD; and Blu-ray 3D, and BD-ROM media. The player further incorporates a variety of video codecs that can deliver 4K streaming from video streaming services like Amazon Video, YouTube and others.
A dedicated picture mode for HDR content is provided, along with Sony's video processing that upscales 1080p content to near 4K 60p resolution. Additionally, when playing 4K HDR content on a 4K SDR television the X1000ES utilizes a Sony algorithm to reproduce the proper brightness and color gradations to provide the best picture possible.

The UBP-X1000ES is also a good match to Dolby Atmos and DTS:X object-oriented audio compatible receivers. Plus its 32-bit processing DAC is compatible with both native DSD (at up to 11.2 MHz) and LPCM (at up to 192kHz) Hi-Res Music files, which are available in a number of different formats.
The X1000ES offers dual HDMI outputs with separate audio and video signal paths and its HDMI, 2ch analog and coaxial digital outputs are gold evaporated for better conductivity.
Furthermore, The UBP-X1000ES provides connectivity options required for today's custom installations, including IP Control over CAT 5 cable or Wi-Fi networks; RS232C two-way control and IR-IN. A web browser interface is also offered, along with support for ihiji, a cloud-based network management solution used by custom installers for remote maintenance.
The UBP-X1000ES is being offered exclusively to the custom installer channel and comes with a 3-year limited parts and labor warranty. It will be available from authorized Sony AV dealers and custom installers in spring 2017. Pricing was not announced.
VPL-VW675ES 4K projector
The VPL-VW675ES is a new, compact native 4K resolution Home Cinema projector supporting the latest 4K standards and compatible with HDR.
The VPL-VW675ES will be amongst the first home cinema projectors to support Hybrid Log-Gamma (HyLG) for HDR broadcasting services and user generated content – through a firmware update to be provided soon after the new HDMI specification is standardized. Sony's newest home projector joins the existing ES line-up with home cinema standard HDR 10 support and is compatible with streamed HDR content from Amazon, Netflix and video streaming services, as well as Ultra HD Blu-ray players. The projector also includes a feature which enables customers to adjust the average screen brightness, depending on their environments or preferences, while maintaining accurate HDR reproduction.
Like Sony's other 4K HDR home theater projectors, the VPL-VW675ES uses native 4K SXRD panels, with no artificial manipulation of pixels. Responsible for color reproduction is Sony's TRILUMINOS engine design, while Motionflow picture technology serves to deliver less blurry images when watching fast-paced, cinematic or sports action.
With its native 4K resolution panel, the VPL-VW675ES provides precise images with improved Reality Creation function for 4K signals and supports HDR capability both for 4K 24P and 4K 60P. It delivers a 1,800 lumens brightness, a dynamic contrast ratio of 350,000:1 and Sony's 4K technology for further improvements on picture quality.
Other features include a low fan noise and reduced maintenance thanks to Sony's long-lasting lamp technology, which provides up to 6,000 hours of operation (in Low Mode). A built-in RF 3D transmitter makes it easy to provide further adaptability with a strong wireless signal for wider coverage and 3D synchronisation stability, while a built-in auto calibration function resets the projector colorimetry to original factory levels. And, the VPL-VW675ES allows users to enjoy up-to-date 4K content services through the latest connectivity options using the latest HDMI standard and HDCP 2.2 on both inputs.
The VPL-VW675ES home theater projector will be available in November 2016. MSRP is $14,999.99.
New ES Family of Audio-Video Receivers
Sony has added four new audio-video receivers to their current ES flagship model, the STR-ZA5000ES. Designed specifically to meet the needs of custom installers, the STR-ZA3100ES, STR-ZA2100ES, and STR-ZA1100ES support 4K HDR capability and incorporate both Dolby Atmos and DTS:X audio.
The ES receivers feature compatibility with control systems, web-based configurability, native HDCP 2.2 support and more.
All of the expanded family of ES Audio-Video Receivers support network updates and include a multi-function Remote Commander that supports a variety of discrete operating codes. Also, all include Sony's Auto Calibration technology, D.C.A.C. EX with Speaker Relocation. Utilizing a stereo microphone and 31 bands, D.C.A.C. EX compensates for less than ideal listening environments by closely simulating the sound field produced using optimally positioned and angled speakers. And a new feature called Phantom Surround Back provides a 7 channel surround experience with a 5 channel speaker configuration.
The STR-ZA1100ES and above models support ihiji, a cloud-based network management solution, and are compatible with most common controllers, including Crestron Connected. The STR-ZA3100ES and STR-ZA2100ES models can decode up to 9 channels.
All of the new ES receivers are compatible with both Dolby Atmos and DTS:X and support legacy surround formats, including Dolby TrueHD and DTS-HD Master Audio. The receivers incorporate three DSPs, which reduce noise and provide sound localization and ambience. These processors are mounted, together with a high-grade electrolytic capacitor, on the receiver's power line.
To further enhance sound quality, the new ES models utilize high capacity transformers with localized power supplies, low phase noise precision crystal oscillators, and sonically tuned audio grade resistors.
Each of the new ES models includes six HDMI inputs (except the-ZA1100ES, which has 5) and two outputs that provide full HDCP 2.2 compliance and supports the latest 4K 60p (4:4:4) Ultra HD content pass-through such as Ultra HD Blu-ray discs as well as video streaming in full 4K resolution and High Dynamic Range (HDR). It can also distribute both 4K video and multichannel audio simultaneously to two different zones. These new ES receivers are compatible with the new BT.2020 wide color gamut standard for future applications.
Additionally, the four new ES receivers can upscale video to 4K 24p.
The new receivers are exclusive to the custom installer channel and with a 5-year limited parts and labor warranty. All four models will be available to dealers and the custom installer channel in spring 2017. The manufacturer's suggested retail price and high-level specifications are as follows:
STR-ZA5000ES (current model), $2,799.99 msrp, 9 x 130w, 11ch Decode, HDMI (6/2), Dolby Atmos/DTS:X, HDR/HDCP2.2, 8 port switch (2 POE), Pre out, Aluminum panel, Crestron Connected, Supporting ihiji
STR-ZA3100ES (new in 2017), $1,699.99 msrp, 7 x 110w, 9ch + Phantom 2ch Decode, HDMI (6/2), Dolby Atmos/DTS:X, HDR/HDCP2.2, 8 port switch (2 POE), Pre out, Crestron Connected, Supporting ihiji
STR-ZA2100ES (new in 2017), $1399.99, 7 x 105w, 9ch + Phantom 2ch Decode, HDMI (6/2), Dolby Atmos/DTS:X, HDR/HDCP2.2, 1 Ethernet, Crestron Connected, Supporting ihiji
STR-ZA1100ES (new in 2017), $999.99 msrp, 7 x 100w, 7ch + Phantom 2ch Decode, HDMI (5/2), Dolby Atmos/DTS:X, HDR/HDCP2.2, 1 Ethernet, Crestron Connected, Supporting ihiji
STR-ZA810ES (new in 2017), $799.99 msrp, 7 x 100w, 7ch + Phantom 2ch Decode, HDMI (6/2), Dolby Atmos/DTS:X, HDR/HDCP2.2, 1 Ethernet