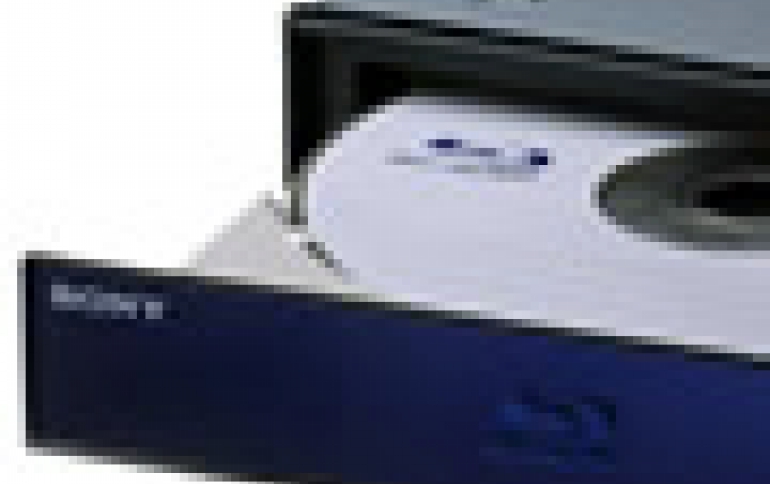 Sony Unveils First Blu-Ray Disc Drive
Sony Electronics officially unveiled its first internal Blu-ray Disc rewritable drive, the BWU-100A, for the computer aftermarket. The new BWU-100A Blu-Ray drive supports up to 50 GB of data on BD-R (write once) or BD-RE (rewritable) discs or up to four hours of high-definition video using HDV 1080i on a BD-RE 50GB disc. The new drive is capable of burning a full 25GB disc in about 50 minutes.
For personal content captured on a HDV camcorder, the BD drive is optimized for keeping the video in the native HDV 1080i for playback on home players compatible with BD-AV format and PCs with BD drives installed.
Playback of Blu-ray movies will be supported with the BWU-100A, however, an HDCP compliant graphics card and display is required to playback protected AACS content. A high definition display is also required to experience the full 1080 lines of high definition content.
Recording speeds of up to 2x are supported with Blu-ray media which is typical for a first generation drive. DVD recording is limited to a maximum of 8x with DVD+R and DVD-R media, 8x for DVD+RW, 6x for DVD-RW, 4x for DVD+R/-R DL, 5x for DVD-RAM while CD recording is limited to a maximum speed of 24x.
"Now consumers, professional videographers and filmmakers can store, record and experience the highest capacity of high-definition video available - from capture to playback," said Bob DeMoulin, marketing manager for branded storage products in Sony Electronics- IT Products Division.
The BWU-100A drive comes bundled with the CyberLink BD Solution from Cyberlink, which provides a software application for capturing, authoring, editing and burning high-definition personal content captured by a HDV 1080i format camcorder onto BD discs. Video can also be "down-converted" to standard-definition resolution for burning onto DVDs.
The internal drive features an IDE (ATA/ATAPI) interface and standard 5.25-inch form factor for easy installation inside a PC.
The drive will be available in August for about $750. The price of Sony BWU-100A burner is lowest in the industry. Panasonic and Pioneer have already released their LF-MB121JD and BRD-101A Blu-ray disc burners, which cost $900 and $1000, respectively. Additionally, BenQ Europe is expected to start selling its BW1000 burners in late August for €799 ($1023), and LG its LG GBW-H10N at the same time.
Pre-orders of the Sony BD drive are now being accepted at sonystyle.com.