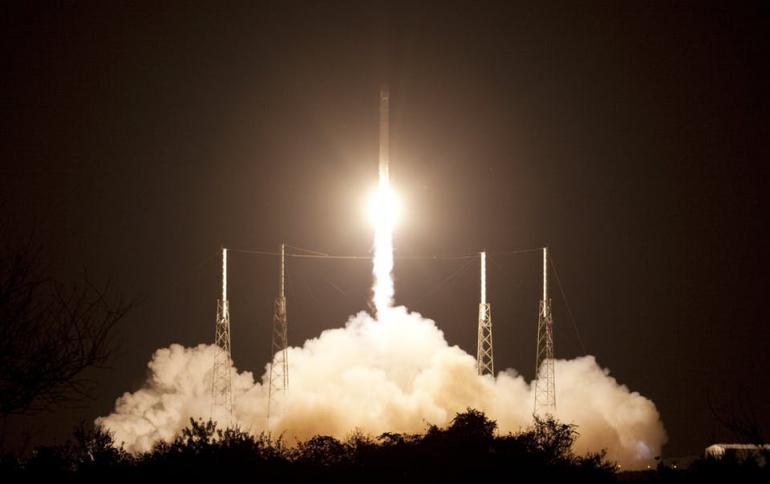 SpaceX To Launch First Reused Rocket
SpaceX on Thursday plans to launch a Falcon 9 rocket that has flown before, a key step in Elon Musk's quest to cut the cost of space flight.
The rocket is scheduled to blast off at 6:37 p.m. EDT from the Kennedy Space Center in Florida to deliver a communications satellite into orbit for satellite operator SES SA.
SpaceX made history in December 2015 when it landed an orbital rocket for the first time, a feat it since has repeated seven times.
By reusing rockets, SpaceX aims to cut its costs by about 30 percent, the company has said. But reusable rockets will not only drive down the launch cost, they will also allow a higher launch frequency, which will bring a new agility and competitive edge to the satellite industry.
The rocket will carry SES-10, the first SES satellite dedicated exclusively to the markets of Latin America. With 55 Ku-band transponder equivalents, SES-10 will be one of SES's biggest satellites covering the region.
Falcon 9 is a two-stage rocket designed and manufactured by SpaceX for the transport of satellites and the Dragon spacecraft into orbit. Falcon 9 features nine Merlin first-stage engines, offering a total thrust greater than five 747s at full power (over 1.8 million pounds of thrust in the vacuum of space). These engines are burning for about 162sec. Then a single Merlin vacuum engine (210 thousand pounds of thrust) takes over to power the second stage and delivers Falcon 9's payload to the desired orbit. The second stage engine ignites a few seconds after stage separation, and can be restarted multiple times to place multiple payloads into different orbits.
Falcon 9 made history in 2012 when it delivered Dragon into the correct orbit for rendezvous with the International Space Station, making SpaceX the first commercial company ever to visit the station.
SpaceX also is working on a passenger spaceship, which will first fly in an orbit around the moon, and a long-term goal to fly people to and from Mars.