T-Mobile Un-leashes Wi-Fi Worldwide With New Program
T-Mobile will sell more than 100 smartphone models that tap into Wi-Fi networks to make phone calls and send texts when customers can't connect to the wireless carrier's cellular network. T-Mobile today announced Un-carrier 7.0 "Wi-Fi Un-leashed," breaking several major announcements that together deliver coverage where no cellular network has gone before. The company's customers will be able to to use any public or private Wi-Fi connection they can access like a T-Mobile tower for calling and texting.
With Wi-Fi Un-leashed, T-Mobile announced that it's lighting up Wi-Fi calling and texting for every 'Simple Choice' customer on every new smartphone it sells. Now 100% of new smartphones in T-Mobile stores will be Wi-Fi calling and texting capable, and 100% of T-Mobile customers will be able to get a Wi-Fi calling and texting capable smartphone if they don't already have one. T-Mobile is opening an exclusive enrollment window in JUMP!, the Un-carrier's upgrade program, so its customers can immediately upgrade to a new Wi-Fi calling ready smartphone.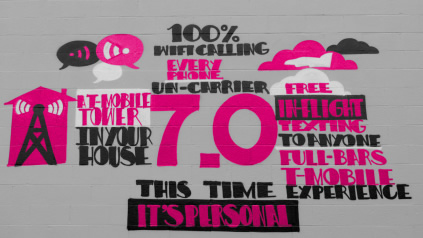 Apple's iPhone 6 latest options include the ability to begin a call on a Wi-Fi network and then automatically transfer the conversation to a cellular network without interruption when the device is on the move. T-Mobile is the only U.S. carrier offering this versatility on the iPhone 6. While other phones sold by T-Mobile will be able to start calls on Wi-Fi, they won't be able to switch over to cellular network in mid-conversation. That means any call begun through a Wi-Fi connection on a device other than the iPhone 6 will have to be completed on the same Wi-Fi network.
The list of smartphones equipped to call and text over Wi-Fi includes popular Android devices made by Apple rivals Samsung, Motorola, LG Electronics and HTC.
In addition, the Un-carrier has rolled out next-generation Wi-Fi calling and texting on its network. This new technology is designed to deliver high-quality HD voice, fast call setup times, fewer dropped calls and voice coverage between T-Mobile's nationwide Voice over LTE (VoLTE) network and Wi-Fi with compatible smartphones.
With Wi-Fi Un-leashed, all T-Mobile customers can also make free Wi-Fi calls to the United States from anywhere outside the country - all using their existing T-Mobile number with no app to install and no additional IDs or numbers to manage - wherever they have Wi-Fi.
T-Mobile's customers can also personalize their coverage wherever they choose. The Un-carrier unveiled the T-Mobile Personal CellSpot, a new device that enables everyone to put the capabilities of a personal T-Mobile tower in their house. It can completely replace your existing Wi-Fi router or operate right alongside it.
Starting September 17, every Simple Choice customer with a broadband connection and a Wi-Fi-calling ready smartphone can get a T-Mobile Personal CellSpot free of charge with a $25 refundable deposit.
In a related move, T-Mobile extended "Wi-Fi Un-leashed" to the skies through a partnership with Gogo, an in-flight connectivity service. Through the partnership, T-Mobile customers will be able to send and receive unlimited text and picture messages, and even get visual voicemail, on any Gogo-equipped flight on U.S.-based airlines.