Tesla Delivers First Model 3 Cars
Tesla's affordable electric car is a reality. Tesla Chief Executive Officer Elon Musk said on Friday the Model 3 had over half a million advance reservations as he handed over the first 30 to employee buyers.
The company delivered the Model 3 small car to its employees at a company party Friday night. CEO Elon Musk acknowledged that supply issues and other complexities will make it tough to reach his goal of making 500,000 cars next year. Fourteen-year-old Tesla has never made more than 100,000 cars in a year.
"We're going to go through at least six months of manufacturing hell," Musk told reporters Friday at Tesla's Fremont factory. "It's going to be quite a challenge to build this car."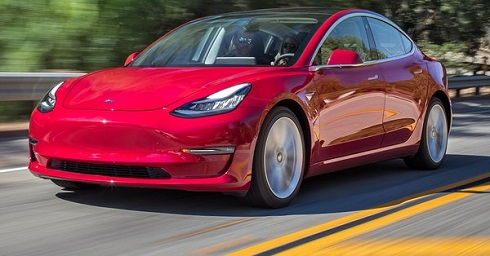 With its $35,000 starting price - half the cost of Tesla's previous models - and range of up to 310 miles (498 km), the Model 3 could attract many new customers as the company is moving from a niche luxury brand to the mainstream.
Musk said around 500,000 people worldwide have already put down a $1,000 deposit to reserve a Model 3. People ordering a car now likely won't get it until late 2018.
For the base price, customers will get a Model 3 with 220 miles (322 km) of range. A longer-range version of the car is priced at $44,000 and will drive 310 miles (500 km) on a single charge. But the price can rapidly increase from there. Black is the only standard color, for example; any other color is $1,000 extra. A fully loaded Model 3 with 310 miles of range and Tesla's full semi-autonomous Autopilot system costs a hefty $59,500.
The cars feature a streamlined dashboard devoid of buttons or knobs, with a 15-inch touchstream display to the right of the driver.
The Model 3 is simpler and cheaper to make than Tesla's previous vehicles. It doesn't have the fancy door handles or the gull-wing doors of the Model X SUV. It's made primarily of steel, not aluminum. It has no instrument panel; the speed limit and other information normally there can be found on the center screen. It doesn't even have a key fob; drivers can open and lock the car with a smartphone or a key card.