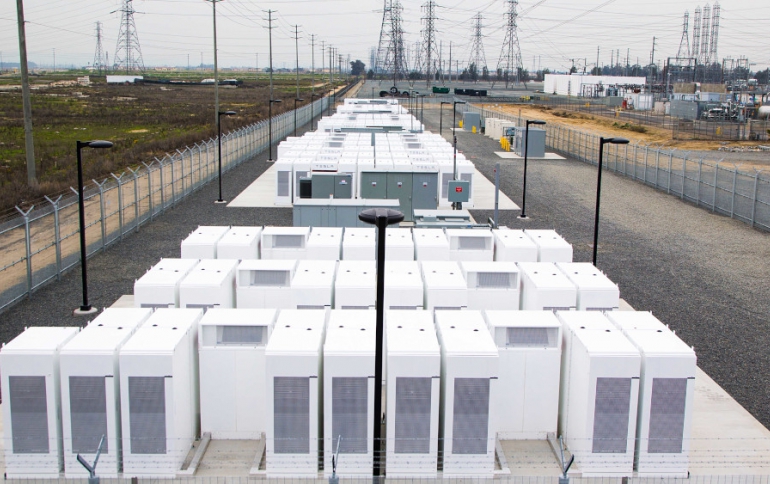 Tesla to Increase Capacity of the World's Largest Lithium-Ion Battery Site
The world's biggest lithium-ion battery will soon get even bigger, with Tesla set to beef up capacity at the Hornsdale site in South Australia.
The system will be expanded by 50% to 150 megawatts, according to an announcement from Neoen SA, the French company that operates the site.
Since its 2017 installation, the battery has helped to stabilize the grid, avoid outages and lower costs by offsetting the intermittency of renewable power generation.
"The Hornsdale battery is a ground-breaking project that has proven what batteries can do for our electricity system," said Darren Miller, head of Arena, the government's renewable energy agency, which is helping to fund the expansion.
Storing cheap solar and wind power has been a headache for the industry, since the cost of utility-scale batteries is high.
Another French company, Total Eren SA, is looking to build a 270 megawatt storage system for its Kiamal solar farm in Victoria, while EPS Energy is looking to tap into the proposed South Ausralia-New South Wales interconnector with a 280 megawatt solar farm and 140 megawatt battery at Robertstown.
Neoen has also outlined plans to build a giant renewables complex in South Australia, including battery storage that could dwarf Hornsdale. The Goyder South project will include up to 1,200 megawatts of wind generation, 600 megawatts of solar and 900 megawatts of battery storage, with an initial investment of up to A$1 billion, Neoen said in September.