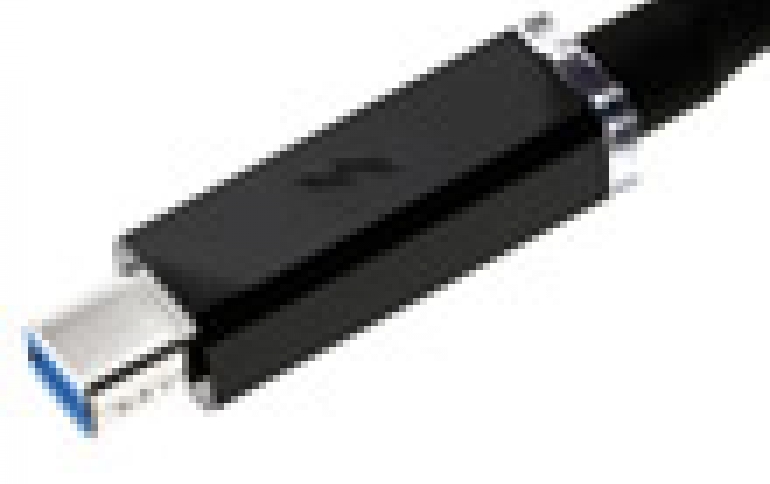 Thunderbolt 2 Products Come Into Focus At IDF
One of the new technologies shown at Intel Developer Forum (IDF) was Thunderbolt 2, the next generation of Intel's Thunderbolt technology. Thunderbolt burst onto the scene in 2011, as the first interconnect technology to enable bi-directional, dual channel speeds up to 10Gbps, deliver data and display over a single cable, and daisy-chain up to six devices. Thunderbolt 2 combines the dual channels into a single 20Gbps channel that?s still capable of delivering data and display over a single cable. Thunderbolt 2 supports higher PCIe data rates and DisplayPort 1.2 resulting in the first connection technology that can transfer and display true uncompressed 4K video simultaneously.

The improvements that come with Thunderbolt 2 bring new possibilities for enhanced media creation processes and workflows.

Apple has announced they are capitalizing on these enhancements, previewing its upcoming version of the Mac Pro with six Thunderbolt 2 ports, expected to be available in Fall 2013.

Hewlett-Packard announced it will include Thunderbolt 2 in its new line of desktop workstations, including one that was demonstrated within the Advanced Technology Zone (ATZ) at IDF.

Other OEMs, including ASUS, Gigabyte, and ASRock also announced new Thunderbolt 2 enabled motherboards, which were shown in the Thunderbolt Community at IDF.

Peripheral device manufacturers also announced the first Thunderbolt 2 devices expected to hit the market this year, including the Pegasus2 Series storage from PROMISE Technology, the Echo Express III Series expansion chassis from Sonnet, and Professional Video/Audio I/O from AJA.

Lenovo is adding to its lineup of Thunderbolt-enabled computers as well, with the ThinkPad W540 mobile workstation.

At IDF, Intel announced that the Thunderbolt device ecosystem is now over 100 certified devices, with a majority supporting both Mac and Windows OS environments. New usages and form factors continue to emerge; including new high-resolution docks, such as the CalDigit Thunderbolt Station, as well as palm-size drives and dongles, all which were demonstrated or shown at IDF. Even premium displays are getting in on the act, as evidenced by LG?s support of Thunderbolt in their future monitor line.

The DSL5520/5320 Thunderbolt 2 controllers are currently in production and available to PC and device manufacturers, and Intel expects to see a steady stream of Thunderbolt 2 systems and devices as the technology ramps into 2014.