Toshiba Launches dynabook Notebook With 512GB SSD
Toshiba expaned its "dynabook SS RX2 series" of notebook PCs with the introduction of the top-of-the-range "dynabook SS RX2/WAJ," the first PC integrating 512GB SSD (Solid State Drive). The new model is available in two versions from today at Toshiba's on-line shop for the Japanese market.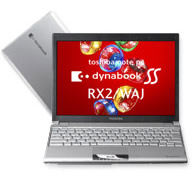 The new, Toshiba-developed 512GB SSD employs a 2-bit-per-cell multi-level NAND flash memory to offer the world's largest capacity SSD, with four times the density of SSD integrated into currently available products. Furthermore, a new controller that realizes high-speed parallel processing with the multi-level NAND flash memory boosts data access speeds by approximately 230% for read (max. 230MB per sec) and 450% for write (max.180MB per sec), compared with SSD integrated into current PCs. It also boosts data access speed by approx. 300% for read and 250% for write, compared to a hard disk drive (HDD). SSDs are free of mechanical structures such as a rotating disc, and ideal for integration into mobile notebook PCs, making them more resistant to vibration and shock.
The dynabook SS RX2 is a mobile notebook PC created to the design concept of "true mobility". Its light (approx.1,095g), thin (19.5mm to 25.5mm) design integrates capabilities essential for mobile notebook PCs, including long-time battery operation (12 hours) and ruggedness. The RX2 also achieves an energy-saving design that cuts power consumption by adopting an ultra-low voltage CPU, a transreflective LCD that uses natural sunlight to make screen images more visible even without switching on the backlight.
Basic specifications:
Operating system: Windows Vista Business with SP1
CPU: Intel Core2 Duo Processor Ultra low-voltage version SU9400 Operating Frequency 1.40GHz
Chipset: Intel GS45 Express
Memory 3GB
SSD: 521GB
DVD SuperMulti Drive
Display: 12.1" WXGA (1280 x 800)
Connectivity: 1000Base-T/100Base-TX/10Base-T, IEEE802.11n, BlueTooth Ve.2.1, USB x2, eSATA
Battery life: Approx. 12.0 hours
Weight: 1,059g
Launch in Japan: May, 14
Price:
PARX2WA JLD10W3 423,000 Yen
PARX2WA JLA10W3 398,000 yen