Toshiba Launches First 14TB HDD with Conventional Magnetic Recording
Toshiba is launching the MG07ACA Series, the first Helium-Filled 14TB Conventional Magnetic Recording (CMR) HDD for enterprises, featuring nine platters.
Using a 9-disk, helium-sealed design, the new MG07ACA Series provides power-efficient capacity and storage density needed by cloud-scale and enterprise storage solution providers.
The new HDD platform supports the most number of platters, features up to 18 heads, and also has the highest areal density. Toshiba's flagship MGA070ACA 14 TB hard drive incorporates nine PMR platters with ~1.56 TB capacity each. The 14TB drive uses Showa Denko's new disks that are 0.635 mm thick. In addition, the distance between the platters has been decreased to just 1.58 mm and the drive uses TDK heads featuring its 2nd generation dual-stage actuator.
In addition, the new storage devices support Toshiba's persistent write cache (PWC) with power loss protection (PLP).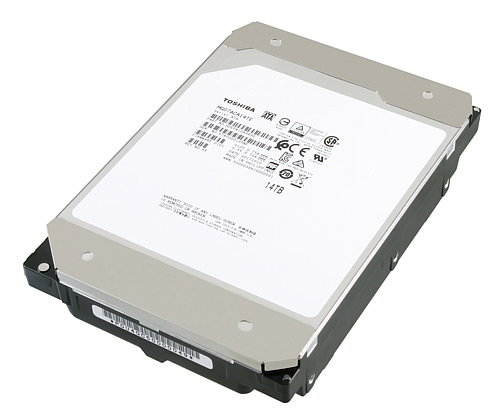 Toshiba rates the new HDDs for 550 TB average annualized workload, 2.5 million hours MTBF and covers them with a standard five-year warranty.
The MG07ACA Series features both 14TB 9-disk and 12TB 8-disk models. The 14 TB one uses nine platters with the highest areal density, whereas the 12 TB variant has eight. Both drives feature a 7200 RPM spindle speed, a 256 MB cache buffer, and a SATA 6 Gbps interface. Toshiba says that the 14TB drive has a maximum sustained transfer rate of 260 MB/s, whereas the 12 TB model is slightly slower at around 250 MB/s. The company says the drives can perform up to 167 read IOPS, and, up to 70 write IOPS (4 KB blocks) when subject to random accesses.
In terms of power consumption, the 14 TB variant does not exceed 7.6 W when performing read/write operations and drops to 4.6 W in idle. While at idle, the 14 TB MG07ACA is consuming just 0.32 W per TB.
The helium-sealed 3.5-inch mechanical design realises better storage density and a lower HDD operating power profile than the previous MG06ACA Series for optimal TCO in cloud-scale infrastructures. The MG07 Series also utilises Toshiba Group's laser welding technology to ensure the helium remains securely sealed inside the drive enclosure. The drives support a SATA 6Gbit/s interface and 7,200rpm access performance. The 9-disk 14TB models achieve a 40% increase in maximum capacity over previous MG06ACA 10TB models. Additionally, the 14TB models improve power efficiency by over 50% (W/GB).
The sample delivery of MG07ACA Series drives to Toshiba's customers began today.