watchOS 4 Brings Fitness Features, iOS 11 Coming this Fall
Apple today previewed watchOS 4, featuring a Siri watch face that displays the information users need most throughout the day, personalized Activity coaching and new music features. Apple also today previewed iOS 11, a major update to its mobile operating system, bringing new features to iPhone and iPad this fall.
watchOS 4
The watchOS 4 update features an enhanced Workout app and introduces GymKit, a technology platform that will offer customers connected workouts with cardio equipment.
Siri intelligence extends further into Apple Watch with the new Siri watch face. With each raise of the wrist, the information on the display dynamically updates based on the time of day, daily routines and pertinent data from apps such as Activity, Alarms, Breathe, Calendar, Maps, Reminders and Wallet, as well as headlines from the new Apple News app for Apple Watch.
With watchOS 4, the Activity app delivers intelligent coaching and tailored encouragement to help close Activity Rings more often and achieve longer success streaks. Every morning, users will receive a personalized notification if they're close to earning an Achievement, or suggest what they can do to match yesterday's activity levels. If needed, toward the end of the day, they'll be told exactly how long they should walk to close their Activity Rings before the day is over. Users will also receive unique Monthly Challenges designed just for them.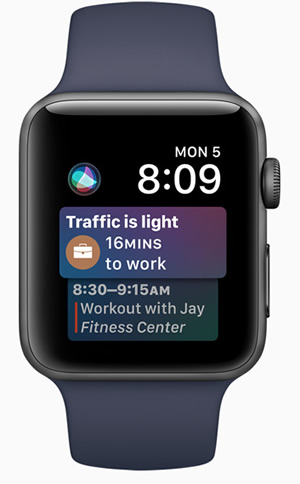 A redesigned Music app that automatically syncs your New Music Mix, Favorites Mix and most listened to music.
The updated Workout app now includes auto-sets for pool swim workouts and new motion and heart rate algorithms for High Intensity Interval Training (HIIT) workouts. With watchOS 4, customers doing back-to-back workouts or training for a triathlon can combine multiple workouts to capture overall calorie and time measurements.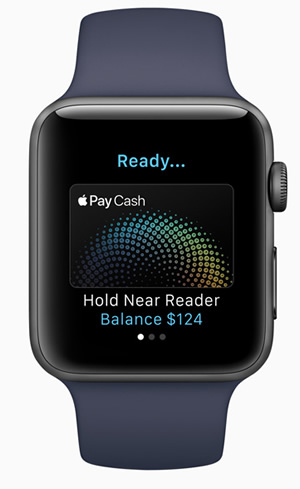 With GymKit, customers using their favorite cardio equipment will soon be able to pair their Apple Watch directly to treadmills, ellipticals, indoor bikes or stair steppers from global manufacturers such as Life Fitness and Technogym with a simple tap. Data not previously communicated between smartwatch and fitness machine will sync - including calories, distance, speed, floors climbed, incline and pace.
In addition to the Siri watch face, new Toy Story watch faces bring to life favorite Pixar characters including Woody, Jessie and Buzz Lightyear, while the Kaleidoscope watch face turns static images into mesmerizing patterns. New complications include Now Playing and Apple News.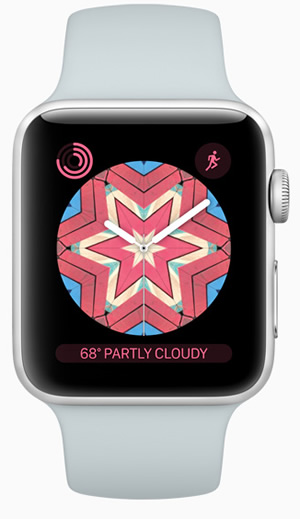 Today, Apple also introduced new band colors.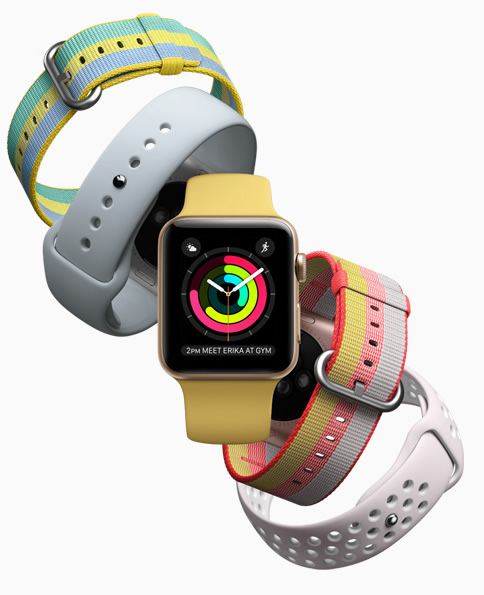 With watchOS 4, Apple Watch users can make and receive person to person payments easily and securely with friends and family with Apple Pay within Messages or using Siri. When users get paid, they receive the money in their new Apple Pay Cash account and can use it instantly to send to someone or make purchases using Apple Pay in stores and apps, or transfer it to their bank account.
watchOS 4 will be available this fall as a free update to Apple Watch paired with iPhone 5s and later on iOS 11. WatchKit for watchOS 4 is available immediately for iOS Developer Program members at developer.apple.com.
My Favorites Mix and My New Music Mix require an Apple Music subscription. Person to person payments and Apple Pay Cash will be available in the US on iPhone SE, iPhone 6 and later, iPad Pro, iPad 5th generation, iPad Air 2, iPad mini 3 or later and Apple Watch.
iOS 11
Apple previewed iOS 11, a update to its advanced mobile operating system. The update is available as a developer preview today and will be a free software update for iPhone and iPad this fall.
iOS 11 makes multitasking on iPad even more powerful with a new customizable Dock that provides quick access to frequently used apps and documents from any screen, and a redesigned app switcher makes it easier to move between pairs of active apps, used in Split View and now Slide Over. The new Files app keeps everything in one place, whether files are stored locally, in iCloud Drive or across other providers like Box, Dropbox and more, and with Drag and Drop available across the system, moving images and text is easier than ever. Apple Pencil is more deeply integrated into iPad with support for inline drawing and a new Instant Notes feature opens Notes from the Lock Screen by simply tapping Apple Pencil on the display.
Apple is introducing a new platform for developers to help them bring AR experiences to iPhone and iPad using the built-in camera, powerful processors and motion sensors in iOS devices. ARKit allows developers to tap into the latest computer vision technologies to build virtual content on top of real-world scenes for interactive gaming, shopping experiences, industrial design and more.
Using the latest advancements in machine learning and artificial intelligence, Siri's new male and female voices are more natural and expressive, adjusting intonation, pitch, emphasis and tempo while speaking, and can translate English words and phrases into Chinese, French, German, Italian or Spanish. Siri extends beyond voice, using on-device learning to deliver more personal experiences and offers suggestions based on personal usage of Safari, News, Mail, Messages and more. For example, as Siri learns topics or places a user is interested in while browsing Safari, they will be suggested when typing in Mail, Messages and other apps.
With iOS 11, Portrait Mode images can be taken with optical image stabilization, True Tone flash and HDR, so every shot looks even more professional. Live Photos are more expressive with new Loop and Bounce effects that create continuous video loops, while Long Exposure can capture time and movement. In Photos, Memory movies are optimized to play in both portrait and landscape orientation, and more memories, such as photos of pets or birthdays, are automatically created. With iOS 11, Apple introduces a new technology called High Efficiency Image File Format (HEIF) that reduces the file size of every photo taken with iPhone 7 and iPhone 7 Plus.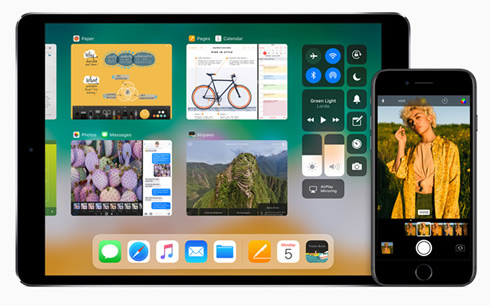 Apple Pay users will be able to make and receive payments with friends and family. They can send money and get paid right in Messages, or tell Siri to pay someone, using the credit and debit cards they already have in Wallet. When users get paid, they receive the money in their new Apple Pay Cash account. They can use the money instantly to send to someone, make purchases using Apple Pay in stores, apps and on the web, or transfer it from Apple Pay Cash to their bank account.
iOS 11 introduces a new way to help drivers stay more focused on the road with Do Not Disturb while driving. iPhone can detect when you may be driving and automatically silence notifications to keep the screen dark. Users have the option of sending an auto reply to contacts listed in Favorites to let them know they are driving and cannot respond until they arrive at their destination.
Additional iOS 11 Features:
App Store is redesigned to make discovering apps and games easier. Through features and interviews, App Store editors will uncover the stories behind iOS developers, and the apps and games they create.
App Store for iMessage has a redesigned app drawer for more convenient access to apps and stickers, so it's easier to decorate messages, share a song and more.
Control Center offers more customization, enabling quick access to frequently used controls all on one page, and a new Lock Screen delivers a more convenient way to see Notifications all in one place.
Apple Maps adds indoor maps for major airports and shopping centers around the world and lane guidance to avoid missing a turn or exit.
Home supports more categories of accessories including AirPlay 2 speakers and more ways to automate your home with new triggers.
AirPlay 2 offers multi-room audio enabling users to easily control speakers using Control Center, the Home app or Siri.
Apple Music offers more ways to discover music with friends. Subscribers can create a profile so their friends can follow them, listen to playlists they've shared and see the music they listen to most.
Apple News is even better at keeping readers informed and entertained with personalized top stories and suggestions from Siri, stories curated daily by Apple News editors in the new Spotlight tab and the best videos of the day in Today View.
One-handed keyboard mode on iPhone makes typing on the go even easier and a new QuickType keyboard on iPad delivers quick access to numbers, symbols and punctuation.
The developer preview of iOS 11 is available to iOS Developer Program members at developer.apple.com starting today, and a public beta program will be available to iOS users later this month at beta.apple.com. iOS 11 will be available this fall as a free software update for iPhone 5s and later, all iPad Air and iPad Pro models, iPad 5th generation, iPad mini 2 and later and iPod touch 6th generation.
Person to person payments and Apple Pay Cash will be available in the US on iPhone SE, iPhone 6 and later, iPad Pro, iPad 5th generation, iPad Air 2, iPad mini 3 and Apple Watch this fall.
Amazon Prime Video to come to Apple devices
Apple Chief Executive Tim Cook also said that Amazon Prime Video would be available on Apple TV and other Apple devices starting later this year, without providing any additional details.
Apple has already about 50 media partners that supply content to its Apple TV and on the television app on its popular iPhone.