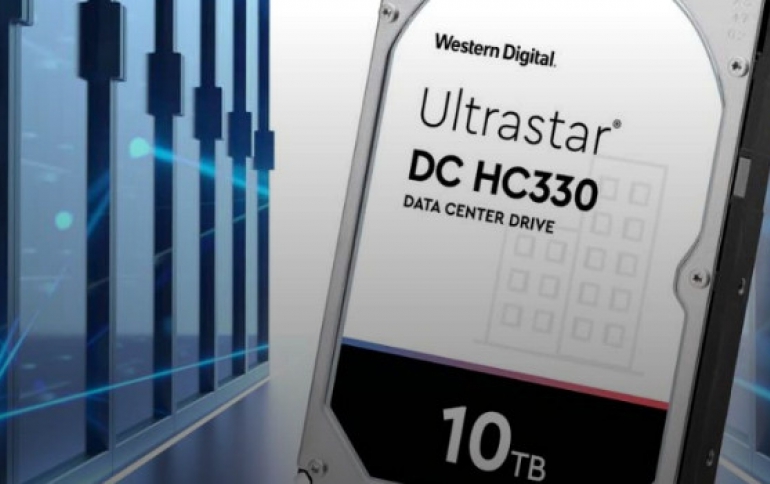 WD Adds 10TB Model to Ultrastar DC HC300 HDD Family
WD is pushing the boundaries of what's possible for HDDswith the addition of the 10TB Ultrastar DC HC330 HDD to the company's DC HC300 family.
The new air-based Ultrastar DC HC330 is based on Western Digital's mature HC300 family of products. At 10TB, the Ultrastar DC HC330 provides you with the same capacity as the company's previous Helium-based 10TB, but uses fewer disks and heads to deliver even better value.
WD's OEM customers will have the chnce to provide an even broader range of system options and price points to better serve their traditional IT customers, who will now be able to scale capacities even more effectively for a variety of mid-cap enterprise applications. This is beneficial for storage servers, traditional RAID arrays, and distributed storage systems like Apache Hadoop clusters.
Compared to WD's 10TB Helium drive (Ultrastar DC HC510), the Ultrastar DC HC330 provides up to 40% performance gains on low queue depth, small block random writes. These performance improvements are possible with the addition of the Media Cache Plus feature, which was previously only available on the SAS SKUs of the Ultrastar DC HC510, but is now featured on every SKU of the Ultrastar DC HC300 family.
WD's existing Media Cache feature added many small media cache locations on the disk itself. The company has also added a flash-based non-volatile cache (NVC) that improves random write performance when the queue depth is low or the transfer length is short. It is the usage of NVC that is the 'Plus' in 'Media Cache Plus.'
This enhancement in performance coupled with Western Digital's areal density enables the HDD make to offer a faster 6 disk 10TB HDD than competing 7 disk 10TB HDD solutions on the market.
The Ultrastar DC HC330 also incorporates a variety of key security features suited for enterprise applications. One of which is Dual Safe RSA-signed firmware, which means the drive keeps a backup copy of the firmware to prevent accidental data loss if a power loss event happens during a firmware update. Additionally, using our RSA-signed firmware prevents the use of rogue firmware from hijacking your device.
To help protect data from unauthorized use, both SAS and SATA models of the Ultrastar DC HC330 offer hardware-based encryption options. The SED (Self-Encrypting Drive) option combines the Sanitize Crypto Scramble / Erase functionality and TCG-Enterprise encryption (Trusted Computing Group, Enterprise SSC). Additionally, a FIPS 140–2 Level 2 validated model will be offered in a SAS configuration.
Finally, The Ultrastar DC HC330 has a 2M-hour MTBF rating, workloads up to 550TB per year, and a 5-year limited warranty.
The Ultrastar DC HC330 is expected to ship in September.
Performance data
Data buffer (MB): 256
Rotational speed (RPM): 7200
Latency average (ms): 4.16
Interface transfer rate (MB/s, max): 600 (SATA) 1200 (SAS)
Sustained transfer rate (MiB/s, typical): Up to 260
Seek time (read/write, ms, typ) 8.0 / 8.6