WD Delivers New 6 TB 3.5-Inch HDD for Datacenters
WD today introduced the WD Re+ datacenter hard drives that feature the lowest power consumption of any high-capacity 3.5-inch hard drive available today. The WD Re+ hard drive family is the newest component of WD's portfolio of high-capacity datacenter storage devices. Further expanding that portfolio will be 6 terabyte (TB) capacities for WD's WD Re and WD Se datacenter product lines.
WD says that the new SATA 6 Gb/s WD Re+ drive consumes only 6 watts for 6 TB. It features a dense five-platter platform and delivers 1.2m hours MTTF, enhanced RAFF technology to increase vibration tolerance and a high-intensity workload and reliability rating of 550 TB-per-year workload.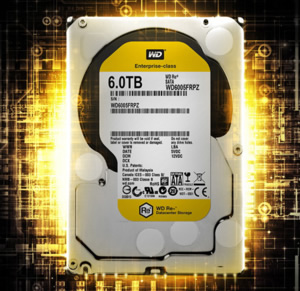 In addition, WD's Re platform now offers up to 6 TB for datacenter and cloud storage needs. WD Re hard drives also are designed to handle up to 550 TB per year in high-intensity datacenter applications. They offer SATA interface with up to 6 Gb/s transfer rates and sustained sequential data rates of up to 225 MB/s.
Other datacenter-class features with the WD Re and WD Re+ products include:
Vibration protection – Enhanced RAFF technology monitors the drive and corrects both linear and rotational vibration in real time.
Dual actuator technology – A head-positioning system with two actuators improves positional accuracy over the data track(s). The primary actuator provides coarse displacement using conventional electromagnetic actuator principles. The secondary actuator uses piezoelectric motion to fine tune the head positioning to a higher degree of accuracy
StableTrac – The motor shaft is secured at both ends to reduce system-induced vibration and stabilize platters for accurate tracking during read and write operations.
Multi-axis shock sensor – Automatically detects shock events and compensates to protect the data.
RAID-specific, time-limited error recovery (TLER) – Prevents drive fallout caused by the extended hard drive error-recovery processes common to desktop drives.
NoTouch ramp load technology – The recording head never touches the disk media ensuring significantly less wear to the recording head and media as well as better drive protection in transit.
Thermal extended burn-in test – Each drive is put through extended burn-in testing with thermal cycling to ensure reliable operation.
Dynamic fly height technology – Each read-write head's fly height is adjusted in real time for optimum reliability.
Dual processor – Twice the processing power
3D Active Balance Plus – WD's enhanced dual-plane balance control technology improves the overall drive performance and reliability. Hard drives that are not properly balanced may cause excessive vibration and noise in a multi-drive system, reduce the hard drive life span, and degrade the performance over time.
Shipping now, the WD Re+ drives are covered by a five-year limited warranty. WD Re and WD Se 6 TB hard drives will be available for qualification next quarter.
WD Re
WD Re+
 
Performance-optimized high-capacity storage for high-intensity applications.
Power-optimized, high-capacity storage for high-availability deployments.
Designed For
Datacenter storage, high-end NAS/SAN and Surveillance, and performance-oriented high capacity storage.
Power-sensitive datacenters with applications that demand high-intensity workloads.
Capacity

250 GB - 6 TB

5 TB - 6 TB

Interface

SAS 6 Gb/s
SATA 6 Gb/s
SATA 3 Gb/s


SATA 6 Gb/s

MTBF

1.2 M - 1.4 M hours

1.2 M hours

Workload

550 TB per year

550 TB per year

Format

512n / 512e / 4Kn

512e

Cache

32 MB, 64 MB and 128 MB

128 MB

Form Factor

3.5-inch

3.5-inch

Limited Warranty

5-year

5-year