WD Introduces 2-Bay Personal Cloud Storage
Western Digital expands its prosumer personal cloud solutions with My Cloud EX2, a two-bay network attached storage (NAS) system. The system offers drive management options including RAID 0, RAID 1; JBOD and spanning modes, while its data protection options include RAID 1, USB, cloud or LAN/WAN backup. The My Cloud EX2 comes preconfigured in RAID 1 mode to protect data right from the start and is configurable into other data protection modes. The system can be also used to centralize and back up computers and notebooks with WD SmartWare Pro software for PC users, and with the Apple Time Machine backup software for Mac users.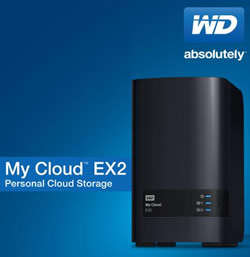 My Cloud EX2 comes in several capacity options including a diskless enclosure, as well as populated systems in 4TB, 6TB or 8TB capacities. Additionally, compatible USB 3.0 hard drives can be attached to the USB expansion ports on the My Cloud EX2 to expand the storage capacity. The populated My Cloud EX2 features WD Red hard drives, powered by NASware 2.0 technology for improved drive reliability and data protection in the event of a power loss or disruption.
The WD My Cloud mobile and desktop app provides anytime, anywhere access to the entire My Cloud product family. App users can view photos, stream video and share, save and manage files from anywhere on their iOS and Android devices. Users can email files, share files as a link, and print and open files with third party apps. The app integrates public cloud services so that users can transfer files from their Dropbox, SkyDrive and Google Drive public cloud accounts.
My Cloud EX2 includes an integrated file server, FTP server, backup server and a P2P download server. Additionally, users can download and run a host of third party apps, including aMule, Icecast, Joomla!, phpBB, phpMyAdmin, Transmission, SqueezeCenter, and more.
Users can also stream videos and photos to connected TVs, media players, gaming consoles and other DLNA/UPnP devices with the included Twonky 7.2 server, DLNA-certified 1.5 media server, and built-in iTunes server.
My Cloud EX2 is currently available at U.S. retailers and online at the wdstore.com. MAP is $199.99 USD for the diskless My Cloud EX2, $369.99 USD for 4 TB, $469.99 USD for 6 TB and $569.99 USD for 8 TB. The WD My Cloud mobile app currently is available for download for free from the App Store and Google Play. My Cloud EX2 comes with a two year limited warranty.
My Cloud EX2 is compatible with Windows 8, Windows 7, Windows Vista, Windows XP, OS X Mavericks, Mountain Lion, Lion, Snow Leopard, as well as DLNA/UPnP enabled devices.
My Cloud EX2 specifications
Interface
Gigabit Ethernet
Ethernet
10/100/1000 Mb/s capable
Capacity
8 TB (WDBVKW0080JCH), 6 TB (DBVKW0060JCH), 4 TB (WDBVKW0040JCH), 0 TB (WDBVKW0000NCH)
Height
6.75 Inches
Depth
6.10 Inches
Width
3.90 Inches
Weight

5.00 Pounds (WDBVKW0080JCH), 4.60 Pounds (DBVKW0060JCH), 3.40 Pounds (WDBVKW0040JCH), 1.80 Pounds (WDBVKW0000NCH)
Operating temperature
41° F to 95° F
Non-operating temperature
-4° F to 149° F
AC Input Voltage
100-240 VAC
AC Input Frequency
50-60 Hz
Compatibility
Windows/Mac