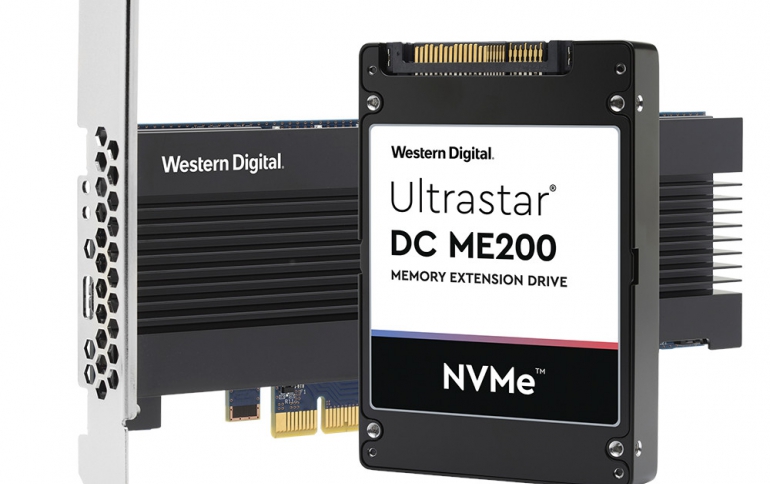 Western Digital Enters In-Memory Computing Segment with Ultrastar Memory Drive
Western Digital is extending its data center portfolio into the in-memory computing market segment, with the launch of the new Ultrastar DC ME200 memory extension drive.
This "memory drive" leverages the NVMe technology to augment physical DRAM, by creating "virtual memory" pools up to 8X the physical DRAM capacity. Up to 24TiB (1TiB, 2TiB, 4TiB and 24TiB) can be deployed in a 1U server with the U.2 form factor.
As a "drop-in" ready and PCIe-compatible device (NVMe U.2 or AIC HH-HL form factors), Ultrastar memory drive transforms NVMe storage capacity into system memory with near-DRAM performance. The solution requires no modifications to the operating system, system hardware, firmware or application stacks. For expandability, a 1U server can typically support up to 24TiB of system memory using the Ultrastar DC ME200 drive for in-memory compute clusters.
WD says that cloud and IT architects can scale memory footprints and expand faster data processing across many applications and workloads at far lower costs than traditional DRAM-based clusters.
The Ultrastar memory drive has been designed for in-memory applications such as Redis, Memcached, Apache Spark and large-scale databases, providing higher capacities over current storage-class memory products.
WD is currently sampling the Ultrastar memory drive with select customers.
Specifications
Form factors: U.2 2.5-Inch Drive, HH-HL Add-in Card
Included Software: Memory Technology (MET)
Interface: NVMe 1.2 PCIe Gen3
Software-Defined Memory Capacity: 1024 GiB, 2048 GiB, 4096 GiB
Memory Storage Type: Volatile, non-persistent
Recommended Expansion: Scale system memory up to 8x DRAM: Up to 24TiB in 2P servers (1U), Up to 48TiB in 4P servers (2U), Up to 96TiB in 8P servers (4U)
Endurance (PBW):

1 TiB model: 19.1
2 TiB model: 38.2
4 TiB model: 78

Limited Warranty: 3 Years
Requirement (DC, +/- 5%): 3.3V (aux) & 12V
Operating Power (W, typical) : 25W
Operating Power (W, idle): 9W
Dimensions (width x depth, mm)
100.45 x 69.85 U.2 2.5-Inch Drive
167.65 x 68.9
HH-HL Add-in Card