Windows XP Mode and Windows Virtual PC on Windows 7
Microsoft's Windows 7 operating system will support the "Windows XP Mode", specifically designed to help small businesses move to Windows 7. Windows XP Mode provides users with the flexibility to run many older productivity applications on a Windows 7 based PC.
According to Microsoft, all you need to do is to install suitable applications directly in Windows XP Mode which is a virtual Windows XP environment running under Windows Virtual PC. The applications will be published to the Windows 7 desktop and then you can run them directly from Windows 7.
Microsoft plans to release the beta of Windows XP Mode and Windows Virtual PC for Windows 7 Professional and Windows 7 Ultimate soon.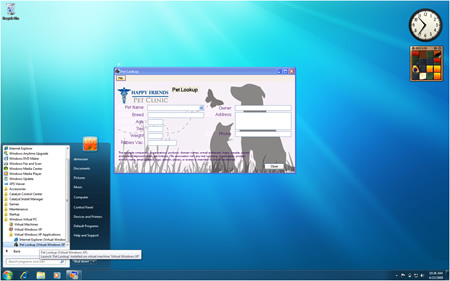 Microsoft also said that the Windows 7 Release Candidate (RC) version will be available for download by MSDN and TechNet subscribers in April 30th.Public availability will begin on May 5th.
The RC version feature an improvements in the taskbar, the behavior of Aero Peek, Touch, Windows Media Player, and much more. The changes are outlined in detail at the E7 blog entry
here
and
here
.