Xiaomi Unveils the Mi 9 Pro 5G, MIUI 11, and the Mi Full Screen TV Pro
Xiaomi today announced a trio of new products: the Mi 9 Pro 5G smartphone, MIUI 11, and Mi Full Screen TV Pro featuring an 4K panel.
Mi 9 Pro 5G
Working with China Mobile, China Unicom, and China Telecom — China's three major operators — the Mi 9 Pro 5G provides full coverage on the mainstream 5G bands used in Mainland China, includes the existing N41 and N78 frequency bands, and China Mobile's N79 5G band.
With a download speed of up to 2.02Gbps (lab) and 1.78Gbps (field test), Mi 9 Pro 5G is 10 times faster than the typical 4G standard.
Mi 9 Pro 5G features a 7-antenna design – regardless of whether the phone is being held in portrait or landscape orientation, in order to ensuresoptimal signal reception.
Powered by Qualcomm's latest flagship processor, Snapdragon 855+, Mi 9 Pro 5G achieves an AnTuTu score that exceeds 480,000 points. Built using a 7nm process technology with three CPU core clusters, its prime core clock speed increased from 2.84GHz to 2.96GHz compared to the standard Snapdragon 855. Along with an enhanced version of Adreno 640, the new processor enables a 15% increase in graphics performance compared to Snapdragon 855.
The Mi 9 Pro 5G touts up to 12GB of memory and 512GB of storage. It also sports an efficient vapor chamber (VC), along with five layers of graphite sheet, high thermal conductivity copper foil and thermal adhesive, together forming a three-dimensional cooling system. The L-shaped VC has a heat dissipation area ​​up to 1,127mm2, which accommodates faster heat transfer compared to graphite and copper tubes. Xiaomi says that the processor's core temperature can be reduced by 10.2 °C.
The Mi 9 Pro 5G also introduces 40W fast wired charging that completes a 100% charge in just 48 minutes. It also supports 30W wireless charging and high-power 10W wireless reverse charging. Developed in-house by Xiaomi, the 30W wireless fast charging solution has a 4:1 direct-charge architecture, allowing a 4000mAh battery to be charged to 100% in 69 minutes. The Mi 9 Pro 5G also features a 10W wireless reverse charging function, capable of emergent charging for Qi-compatible devices such as headphones, toothbrushes, and razors.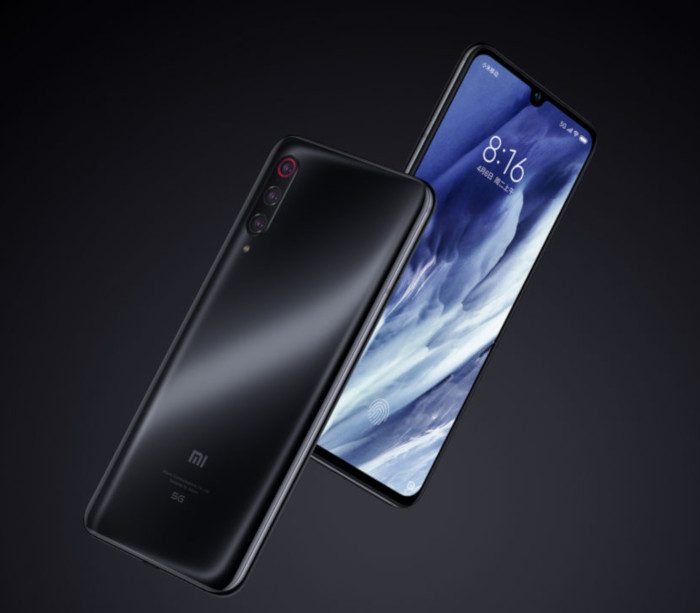 Mi 9 Pro 5G is also one of the first smartphones to acquire TÜV Rheinland Safe Fast-Charge System 3.0 certification through vigorous tests to ensure the safety of its wireless charging.
The Mi 9 Pro 5G inherits Mi 9's flagship AI triple camera setup, which consists of a 48MP main camera with Sony's IMX586 sensor, a 16MP ultra wide-angle camera, and a 12MP telephoto camera. It arrives with support for AI ultra-wide mode for shooting architecture and group photos, AI distortion correction technology, and 4cm macro photography supported by 16MP ultra-wide camera. The smartphone also supports moon mode, AI moving-objects tracking, Mimoji, and AI Skyscaping.
The Mi 9 Pro 5G adopts a 6.39-inch AMOLED FHD+ Dot Drop display. The color display will automatically detect color management information of the photo and correspond to sRGB and DCI-P3 color gamut display. Better yet, each unit is fine-tuned and calibrated to ensure high consistency of color reproduction before shipment.
The device is equipped with a customized linear motor for touch haptic feedback, providing a stronger vibration and shorter response time, along with multiple vibration effects. MIUI features over 150 interactive haptic feedback modules for typing, gestures, camera zoom, and fingerprint recognition. Collaborating with CrossFire, Mi 9 Pro 5G also supports in-game haptic experience for different weapons, close combat and ranged combat.
Layering on to the supported NFC functions with bank cards, access cards, and public transport cards, Mi 9 Pro 5G now expands support for activities such as eID airport check-in, smart hotel check-in and more. A collaboration with XPeng motors also means Mi 9 Pro 5G allows vehicle keyless entry by placing the phone on the recognition area.
Mi 9 Pro 5G retails for RMB 3,699, RMB 3,799, RMB 4,099, and RMB 4,299 respectively for 8GB+128GB, 8GB+256GB, 12GB+256GB, 12GB+512GB variants via official Xiaomi sales channels. The 30W Fan-cooled Wireless Charging Stand is available for RMB199.
MIUI 11
MIUI 11 revamps Xiaomi's visual design by offering a new font, "Milan Pro," and introduces a dynamic font scaling feature. Xiaomi also integrates new dynamic sounds effects that resemble ambient sounds from nature.
MIUI 11 also delivers two new suites of office apps, Mi Work and Mi Go, aiming to provide business solutions for on-the-go situations. Mi Work suite includes file sharing, large document transfer, smart screen cast, wireless printing features etc., while Mi Go has a smart travel assistant as well as extreme power saving mode, which allows for a stand-by time of up to 24 hours with only 5% battery life.
Capping off its new design and tools, MIUI 11 touts the fastest roll-out in MIUI history. Closed beta will be available for sign up immediately after launch on WeChat, while MIUI will launch its open beta on September 27 for 17 different Chinese devices. MIUI 11 stable Chinese ROM will be rolled out mid-October onwards.
Mi Full Screen TV Pro: An 8K-capable TV

The Mi Full Screen TV Pro series adopts a 4K panel with quality metal design in an aluminum frame and carbon-fiber patterned back and features a screen-to-body ratio of up to 97%. Mi Full Screen TV Pro is powered by a 12nm Amlogic T972 processor with a quad-core A55 architecture (up to 1.9GHz) and features a 2GB+32GB storage. With a processor co-developed by Mi TV and Amlogic, Mi Full Screen TV Pro supports 8K video playback (in 4K output).
The Mi Full Screen TV Pro is available in three sizes: 43", 55" and 65" and priced at RMB 1,499, RMB 2,399 and RMB 3,399, respectively. Pre-orders start at 18:00 September 24, and open sales via Xiaomi official sales channels start at 10:00 on September 27.