Laptops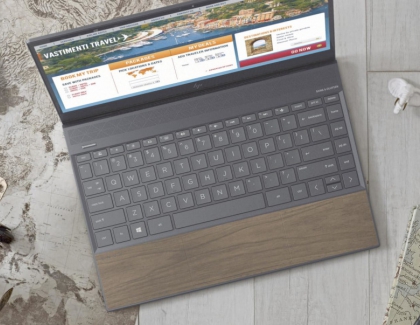 At Computex in Taipei, HP introduced new additions to its Personal Systems portfolio.
HP Elite x2 G4
The Elite...
MSI shows off its latest gear for extreme gamers at Computex 2019: the new GT76 Titan and GE65 Raider.
The GT76 Titan proves it can...
At Computex 2019 in Taipei, Taiwan, ASUS unveiled a lineup of ZenBooks with new versions of its ScreenPad and a refreshed lineup of laptops from...
Qualcomm Technologies, in conjunction with Lenovo, unveiled the world's first 5G PC2 today at its COMPUTEX Press Conference.
Project Limitless is powered by the...
Acer announced ahead of Computex Taipei 2019, support for 2nd Gen AMD Ryzen Mobile Processors with Radeon Vega Graphics on the Nitro 5 gaming notebook...
Today at the HP Gaming Festival in Beijing, the company unveiled a lineup of OMEN and HP Pavilion Gaming products, including the OMEN X 2S...
Lenovo is holding its Transform 3.0 at Accelerate event in Orlando, FLorida, and announced a new sub-brand dedicated to small and medium-sized businesses (SMBs) called...
Lenovo has announced the latest additions to its ThinkPad portfolio: the T495, T495s and X395.
These new Windows 10 laptops come with up to...
Intel today revealed plans for Project Athena Open Labs in Taipei, Shanghai and Folsom, California, to support performance and low-power optimization of vendor components for...
Fujitsu is launching four Fujitsu Notebook LIFEBOOK models from two product series and three Fujitsu Tablet ARROWS Tab models of Windows tablets.
The new notebooks...
Pages