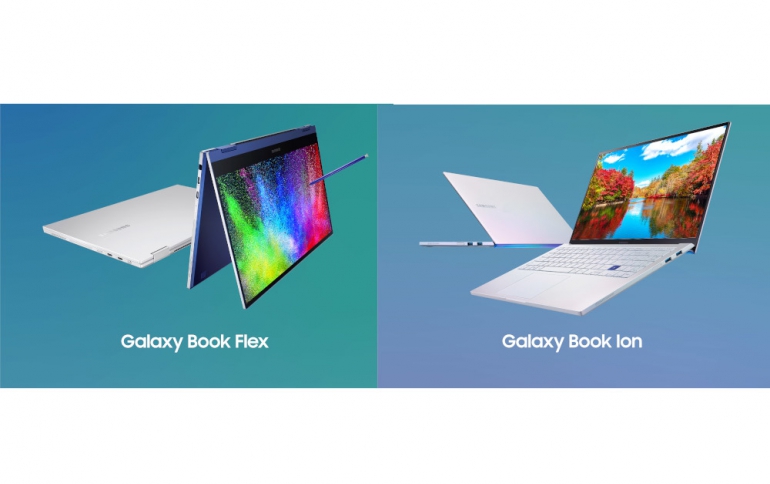 SDC19: Samsung Galaxy Book Flex and Galaxy Book Ion Laptops Come WIth QLED Displays
Samsung Electronics today introduced Galaxy Book Flex and Galaxy Book Ion laptops at the Samsung Developer Conference 2019 (SDC19).
Galaxy Book Flex and Galaxy Book Ion feature the first QLED Display on a laptop. Outdoor Mode, enabled by a maximum 600-nit display capability, ensures every detail is clear even under bright sunlight. Both devices make it easy to go cordless thanks to batteries and power-conserving displays. Samsung's Wireless PowerShare feature can also charge any of your Qi-compatible smartphones, Galaxy Buds or wearables with the laptop's touchpad.
Co-engineered with Intel as part of the Project Athena program, Galaxy Book Flex and Galaxy Book Ion passed testing to meet the program's targets for and specifications to enable responsiveness, high efficiency battery life and instant action. Galaxy Book Flex and Galaxy Book Ion also boast 10th Gen Intel Core processors and Intel Wi-Fi 6 (Gig+) and Thunderbolt 3 wireless and wired standards.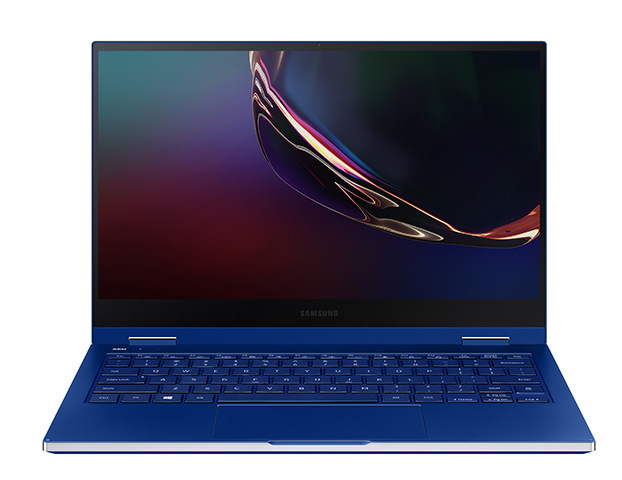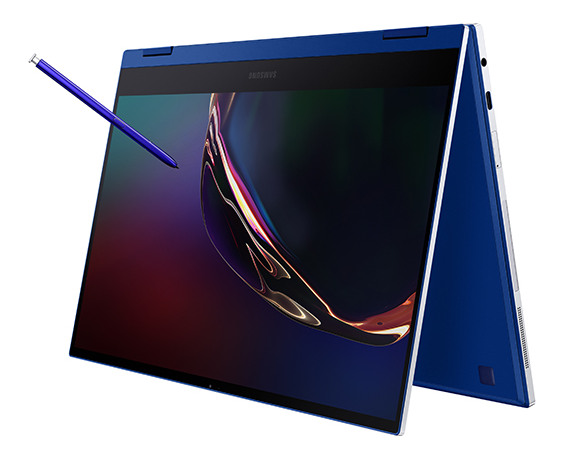 Galaxy Book Flex's 360-degree hinge lets the user experience the device both as a tablet and a PC. It sports an aluminum body for added protection with a "Royal Blue" finish. With the enhanced S Pen's new gesture controls, you can quickly switch slides in PowerPoint during a presentation, or rewind a video you're showing to friends using just your hand. Access to the PENUP community is also available for the first time ever on a laptop, allowing users to create and share their favorite sketches. And built-in biometric credentialing, powered by Windows Hello, provides peace of mind even in the most unfamiliar places.
Galaxy Book Ion was built for the on-the-go professional. Made with magnesium, its clamshell frame and ultrathin design were engineered specifically with portability in mind, measuring just 12.9/14.9mm thick and weighing less than a kilogram. Galaxy Book Ion's 15.6-inch version comes with an additional SSD and DDDR4 RAM slot. It is featuring a luxurious "Aura Silver" color.
Both Galaxy Book Flex and Galaxy Book Ion will be available in two sizes, 13.3-inch and 15.6-inch, starting from December in select market.
|   | Galaxy Book Flex 13 | Galaxy Book Flex 15 |
| --- | --- | --- |
| Dimensions | 302.6 x 202.9 x 12.9 mm | 355.0 x 227.2 x 14.9 mm |
| Weight | 1.15kg | 1.52kg / 1.57kg (Discrete graphics model)  |
| Display | 13.3" QLED FHD Display (1920 x 1080) | 15.6" QLED FHD Display (1920 x 1080) |
| CPU | 10th Generation Intel® Core™ Processor (Ice Lake) | 10th Generation Intel® Core™ Processor (Ice Lake) |
| Graphics | Intel® Iris Plus Graphics or Intel®UHD Graphics | NVIDIA® GeForce® MX250 Graphics with GDDR5 2 GB Graphic Memory / Intel® Iris Plus Graphics / Intel® UHD Graphics |
| Memory | Up to 16GB (LPDDR4x) | Up to 16GB (LPDDR4x) |
| Storage | Up to 1TB SSD (NVMe) | Up to 1TB SSD (NVMe) |
| WLAN | Wi-Fi 6 (Gig+), 802.11 ax 2x2 | Wi-Fi 6 (Gig+), 802.11 ax 2x2 |
| Camera / Mic | 720p HD / Dual Array Mic | 720p HD / Dual Array Mic |
| Audio | AKG Stereo Speakers with Smart Amp | AKG Stereo Speakers with Smart Amp |
| Security | Fingerprint | Fingerprint |
| S Pen | Built-in S Pen | Built-in S Pen |
| Keyboard | Backlit | Backlit |
| Battery | 69.7Wh (Typical) | 69.7Wh (Typical) |
| Ports | Thunderbolt™ 3 (2) | USB-C | UFS/MicroSD Combo | HP/Mic | Thunderbolt™ 3 (2) | USB-C | UFS/MicroSD Combo | HP/Mic |
|   | Galaxy Book Ion 13 | Galaxy Book Ion 15 |
| --- | --- | --- |
| Dimensions | 305.7 x 199.8 x 12.9 mm | 356.1 x 228.0 x 14.9 mm |
| Weight | 0.97 kg | 1.19kg / 1.26kg (Discrete graphics model)  |
| Display | 13.3"QLED FHD Display (1920 x 1080) | 15.6"QLED FHD Display (1920 x 1080) |
| CPU | 10th Generation Intel® Core™ Processor (Comet Lake) | 10th Generation Intel® Core™ Processor (Comet Lake) |
| Graphics | Intel® UHD Graphics | NVIDIA® GeForce® MX250 Graphics with GDDR5 2 GB Graphic Memory / Intel® UHD Graphics |
| Memory | Up to 16GB (DDR4) | Up to 16GB (DDR4) + 1 Sodimm |
| Storage | Up to 1TB SSD (NVMe) | Up to 1TB SSD (NVMe) + 1 SSD expandable slot |
| WLAN | Wi-Fi 6 (Gig+), 802.11 ax 2x2 | Wi-Fi 6 (Gig+), 802.11 ax 2x2 |
| Camera / Mic | 720p HD / Dual Array Mic | 720p HD / Dual Array Mic |
| Audio | AKG Stereo Speakers with Smart Amp | AKG Stereo Speakers with Smart Amp |
| Security | Fingerprint | Fingerprint |
| Keyboard | Backlit | Backlit |
| Battery | 69.7Wh (Typical) | 69.7Wh (Typical) |
| Ports | Thunderbolt™ 3 | USB 3.0 (2) | HDMI | UFS/MicroSD Combo | HP/Mic | Thunderbolt™ 3 | USB 3.0 (2) | HDMI | UFS/MicroSD Combo | HP/Mic |