Accessory Line-up for the Samsung Galaxy S8 and Galaxy S8+
Samsung Galaxy S8 and Galaxy S8+ launched with a collection of accessories that allow users to protect their phones in style.
2017's accessory lineup includes a variety of covers crafted from textured materials with a variety of colors, along with new wired & wireless charging devices.
The new Alcantara Covers are fashioned from genuine Alcantara - a material often used in the automotive, fashion and design industries. Alcantara cases offer durable, suede-like looks with a texture that's soft to the touch. Also new for 2017 are the silky matte Silicone Covers.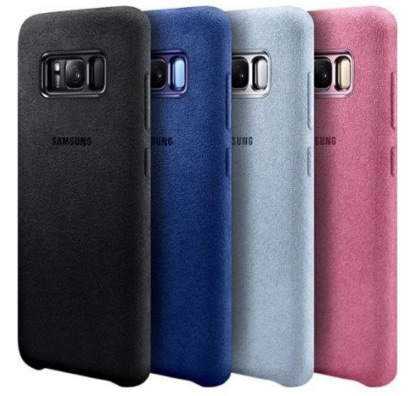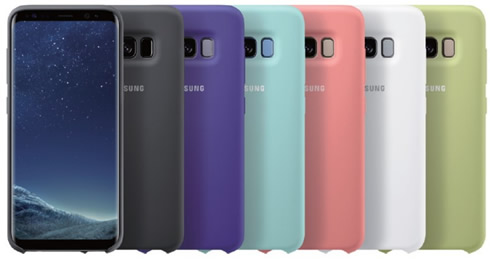 The Clear View Standing Cover and LED View Cover for the Galaxy S8 are both covers that allow users to swipe to control calls, music and more, without having to open it up. The dedicated set of theme curations and designs, including backgrounds and apps that come along with the cases, offer further opportunities for users to personalize their phones.
The translucent matte Clear View Standing Cover also doubles as a kickstand that props the device up into a widescreen position. LED View Cover displays pertinent information through 54, customizable LED notifications.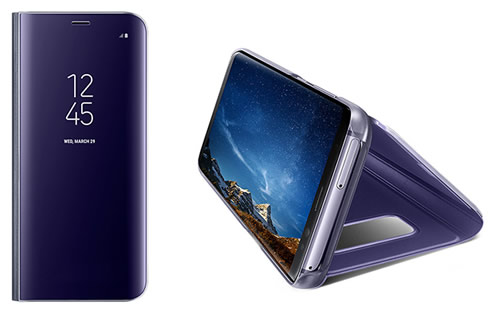 Other new covers include the 2Piece Cover and the re-designed Keyboard Cover for the Galaxy S8. The 2Piece Cover has a unique, two-piece nature, and also offers better grip and protection. The color options range from dual-color combinations to more minimalistic, single-tone designs. The Keyboard Cover requires no charging and features a detachable QWERTY keyboard that automatically optimizes the screen ratio when snapped on. Powered by Galaxy S8's extended Infinity display, the Keyboard Cover offers a mobile typing experience.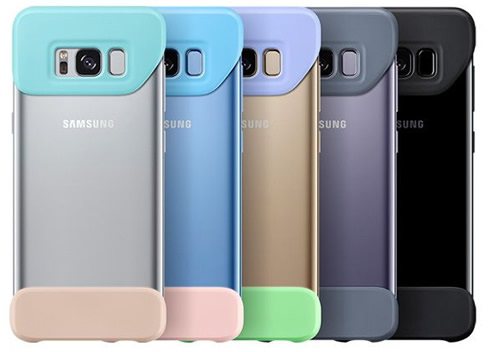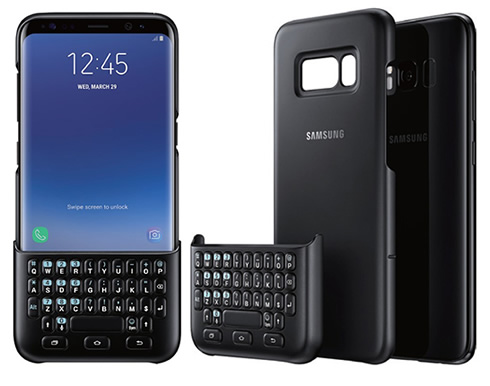 The Kate Spade NY Liquid Glitter Case combines personal style with a sophistication, thanks to the glitter that floats around inside the case, resembling a snow globe. The Adidas Performance Arm Band, with its lightweight design, provides adjustable protection for the Galaxy S8. The TUMI Leather CoMold Case, available in black and red, features a slim coated canvas with raised edges to provide additional drop protection for your S8 or S8+.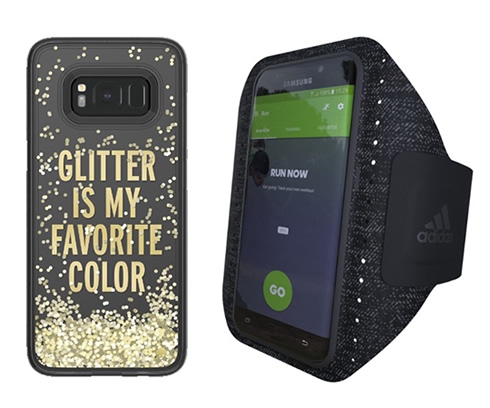 Crafted from soft materials coupled with a minimalist touch, Samsung's Wireless Charger Convertible can do more than simply charge a Qi wireless charging enabled device on its pad - it also doubles as a stand for the phone so users can view content on their device while it charges in the background.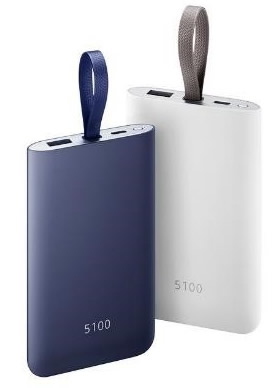 Samsung's new 5100mAh Battery Packs sport a soft exterior texture with round curves, and now feature a finger strap. With fast-charge capabilities, an indicator light and refined styling, Samsung battery packs are the perfect companion to any smartphone. The packs are compatible with both USB Type-C and micro USB, thanks to its combo-cable companion that comes included.