Affordable Crucial BX200 SSD Shipping With 16nm TLC NAND
Crucial has anounced the BX200 solid state drive (SSD), which offers affordable performance gains compared to a standard hard drive. The drive, designed for consumers and SMBs, provides sequential read and write speeds up to 540MB/s and 490 MB/s respectively on all types of data, as well as random read and write speeds up to 66k and 78k IOPS respectively.
The new drive utilizes a Silicon Motion SM2256 Controller, Micron 16nm TLC NAND and Micron verified firmware.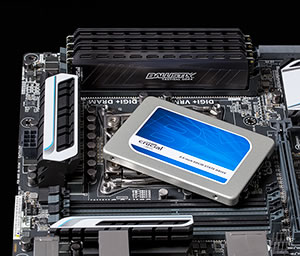 Available now in a 2.5-inch form factor, the Crucial BX200 SSD is offered in 240GB, 480GB and 960GB with MSRPs of $84.99, $149.99 and $299.99, respectively, and is available at crucial.com. The new drive is supported by the Crucial Storage Executive tool, is backed by a limited three - year warranty, and is compatible with both PC and Mac systems.
The BX200 also comes standard with Acronis True Image HD data migration software.
Features and specs
Life Expectancy (MTTF): 1.5 million hours
Endurance: 72TB total bytes written (TBW), equal to 40GB per day for 5 years
Warranty: Limited three-year warranty
Operating Temperature: 0°C to 70°C
Firmware: User-upgradeable firmware
Multistep Data Integrity Algorithm
Thermal Monitoring
SLC Write Acceleration
Data Path Protection
Active Garbage Collection
TRIM Support
Self-Monitoring and Reporting Technology (SMART)
Error Correction Code (ECC)
Device Sleep extreme low power mode (DEVSLP)
Data Transfer Software
Includes activation key for Acronis True Image HD software for easy data migration
Capacities: 240GB, 480GB and 960GB
Sequential read: 540MB/s
Sequential write: 490MB/s
Random read: 66K IOPs
Ramdpm write: 78K IOPs