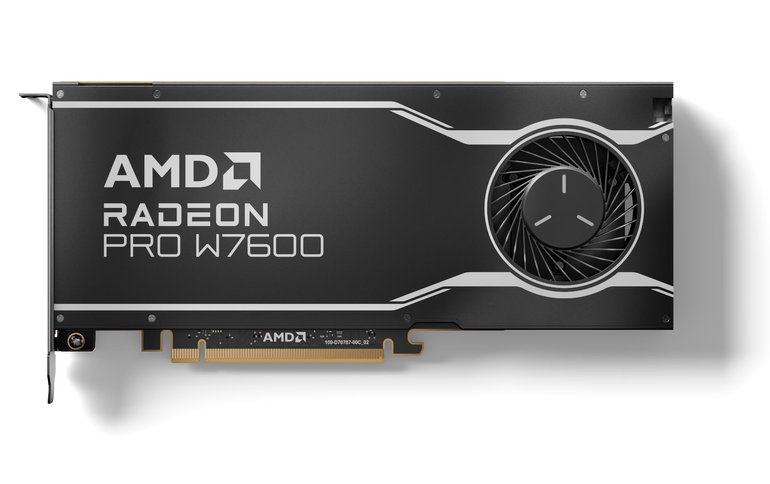 AMD announces Radeon PRO W7000 Series Workstation Graphics Cards
AMD (NASDAQ: AMD) today announced two new additions to the AMD Radeon™ PRO W7000 Series product line: the AMD Radeon™ PRO W7600 and AMD Radeon™ PRO W7500 workstation graphics cards. The new graphics cards are designed to tackle mainstream workloads across a range of professional industries, including Media & Entertainment, Design & Manufacturing, and Architecture, Engineering & Construction.
AMD Radeon PRO W7600 and Radeon PRO W7500 graphics cards accelerate everyday professional workflows by focusing on efficiency and increasing performance. The new graphics cards leverage the breakthrough AMD RDNA™ 3 architecture and are optimized to deliver leadership price/performance, as well as outstanding stability and reliability. Both cards feature 8GB of high-speed GDDR6 memory to effortlessly support data-intensive tasks and enable ray-traced renderings with incredible detail and realism. Building upon the previously launched AMD Radeon™ PRO W7900 and AMD Radeon™ PRO W7800 graphics cards, creators and professional users now have a broader selection of AMD Radeon PRO workstation graphics offerings to support an extensive range of professional workloads.
"Our goal is to offer more choice for professional users, and these graphics cards do exactly that – built to address the largest market segment focusing on mainstream workloads," said Scott Herkelman, senior vice president and general manager, Graphics Business Unit at AMD. "AMD Radeon PRO W7600 and Radeon PRO W7500 graphics cards provide exceptional performance for a variety of professional applications, including CAD, BIM and more, while offering incredible levels of visual fidelity and setting a new performance standard for mid-range professional graphics."
"Working across multiple displays in SOLIDWORKS® while also prepping for 3D printing is flawless," said Dr. Adi Pandzic, PhD, mechanical engineer. "The new 7000 series Radeon PRO cards allow me to multi-task across all my key apps with ease."
"Outside of heavy animation rendering, typical day to day production doesn't necessarily require crazy amounts of graphics memory," said Rob Terry, senior designer/manager & 3D visualization specialist at Stantec Architecture. "These new mid-range GPUs give us even more options for our BIM design team."
AMD Radeon PRO W7000 Series workstation graphics cards are engineered to help professionals meet high-pressure deadlines under increasingly tight budgets while delivering world-class results. Key features include:
AMD RDNA 3 Architecture – Features redesigned compute units with unified raytracing and AI accelerators, second-generation AMD Infinity Cache™ technology and second-generation raytracing technology. It also offers optimizations for AEC, D&M, and M&E workflows for 3D modeling, animation, rendering, video editing and general multitasking.
Dedicated AI Acceleration – New AI instructions and increased AI throughput deliver over 2X more performance on average than the previous AMD RDNA 2 architecture3.
8GB GDDR6 Memory – Allows professionals and creators to effortlessly handle data-intensive tasks and enable amazing ray-traced renderings with incredible details and realism.
AMD Radiance Display Engine with DisplayPort™ 2.1 – With 12-bit HDR color support and over 68 billion colors, display outputs support next-generation displays and multi-monitor configuration options, creating an ultra-immersive visual environment.
AV1 Encode/Decode – Dual encode/decode media engines unlock new multimedia experiences with full AV1 encode/decode support designed for high resolutions, wide color gamut, and high-dynamic range enhancements4.
Optimized Driver Performance and Professional Application Certification – All AMD Radeon PRO workstation graphics are supported by AMD Software: PRO Edition, which provides a modern and intuitive user interface. AMD continues to work with leading professional software application vendors on a comprehensive certification program, and to ensure AMD Radeon PRO graphics cards are built for demanding 24/7 environments and tested to meet exceptional standards, delivering the ideal balance of performance and stability. The list of certified applications can be found here.
Product Specifications
Models

Compute Units & Ray Accelerators
AI Accelerators
TFLOPS
(Peak Single Precision)
GDDR6 Memory


Memory Interface
Display Outputs

Total
Board
Power
AMD Radeon PRO W7600
32


64
20 (FP32)


8 GB


128-bit
4x DisplayPort™ 2.1


130W
(6-pin connector)
AMD Radeon PRO W7500
28
56
12 (FP32)

8 GB
128-bit
4X DisplayPort™ 2.1


70W (PCIe bus)

Pricing and Availability
The new AMD Radeon PRO W7000 Series workstation graphics cards are available starting today from leading etailers/retailers. Product availability in OEM workstations and SI systems is expected to begin later this year. The AMD Radeon PRO W7600 graphics card has an SEP of $599 USD, while the AMD Radeon PRO W7500 has an SEP of $429 USD.
The AMD Radeon PRO W7000 Series workstation graphics cards will be on display August 8-10 in booth #537 (West Hall) at SIGGRAPH 2023, Los Angeles Convention Center, Los Angeles, California.
Supporting Resources