AMD Brings x86 'Zen' Architecture to the Embedded Market With new Ryzen Processors
AMD today introduced two new product families - the AMD EPYC Embedded 3000 processor and AMD Ryzen Embedded V1000 processor - bulit on AMD's 14nm FinFET process.
AMD EPYC Embedded 3000 brings the power of "Zen" to a variety of new markets including networking, storage and edge computing devices, while AMD Ryzen Embedded V1000 targets medical imaging, industrial systems, digital gaming and thin clients, as it also packs AMD's 'Vega' graphics architecture.
The AMD EPYC Embedded 3000 processor series is available in designs ranging from four cores to 16 cores, in single-thread and multi-threaded configurations. The processors's thermal design power (TDP) ranges from 30W to 100W. Integrated I/O supports up to 64 PCIe lanes and up to eight channels of 10 GbE. They also feature up to 32MB shared L3 cache with up to four independent memory channels.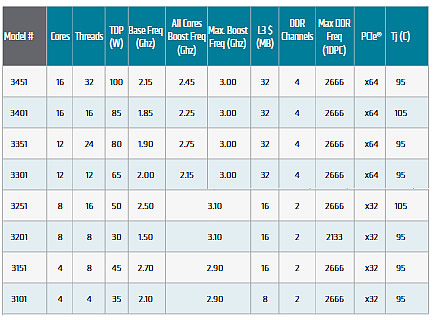 The AMD Ryzen Embedded V1000 series includes actually Accelerated Processing Unit (APU) coupling 'Zen' CPUs and 'Vega' GPUs on a single die, offering up to four CPU cores/eight threads and up to 11 GPU compute units to achieve processing throughput as high as 3.6 TFLOPS.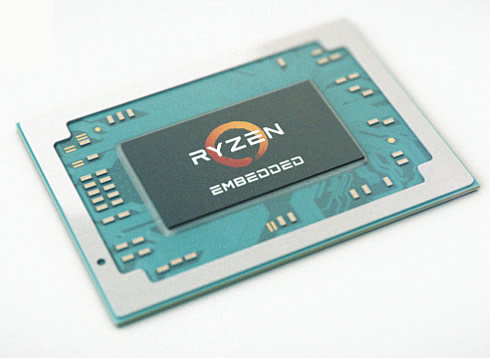 The APUs are available at TDP ranges from 12W to 54W. They support up to 16 PCIe lanes, dual 10 GbE and expansive USB options, including up to four USB 3.1/USB-C interconnects, with additional USB, SATA and NVMe support.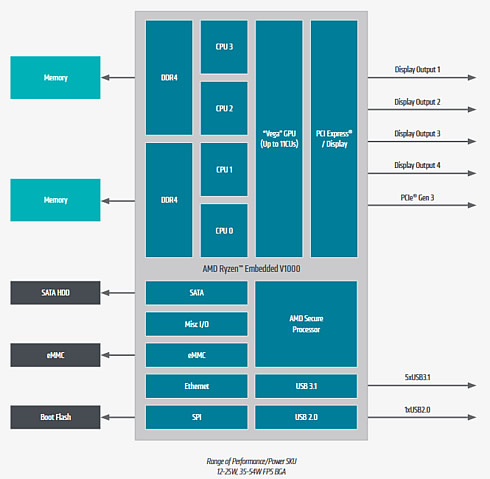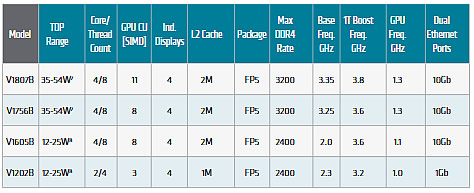 They are capable of driving up to four independent displays running in 4K, with the ability to support 5K graphics, with support for H.265 decode and encode, and VP9 decode.
Equipped with dual-channel 64-bit DDR4, the AMD Ryzen Embedded V1000 offer a performance up to 3200 MT/s.
According to AMD, the AMD EPYC Embedded 3000 processor portfolio delivers:
Up to 2.7X more performance-per dollar than the Intel Xeon D 1540
Up to 2X more connectivity than the Intel Xeon D 1587
Enterprise-grade reliability, availability and serviceability (RAS) features
AMD Ryzen Embedded V1000 processor portfolio delivers:
Up to 2X uplift in performance over previous generations
Up to 3X more GPU performance than the competition
Up to 46 percent more multi-threaded performance than the Intel Core i3 -7100U
Up to 26 percent smaller footprint than the competition for optimized board design ( Intel i7-7700HQ package size in FCBGA1440)
In addition, the AMD EPYC Embedded and AMD Ryzen Embedded processors help protect data at the hardware level with an on-chip secure processor, complemented by hardware validated boot capabilities to help ensure systems are booted up from trusted software. Additionally, Secure Memory Encryption (SME) deters unauthorized physical memory access while Secure Encrypted Virtualization (SEV) offers further deterrence by encrypting virtual machine (VM) memory, without the need to make changes at the application level.