AMD Previewed Zen 3 and Zen 4 Architecture, Milan and Genoa Roadmap
AMD has recently shared some details about its Zen 3 and Zen 4 architectures and provided some new info about the next-gen Epyc Milan and Epyc Genoa processors for data centers.
The presentation was held last month at the HPC-AI Advisory Council UK conference, and the slides were posted online by Tom's Hardare, which says that AMD's presentation was uploaded to YouTube and then taken down.
AMD's Zen microarchitecture brought to the market chiplet-based processors and enabled the company to use the same underlying design across both consumer and enterprise chips.
According to the presentation slides, it seems that Epyc Milan is already taped out (Q2 2019), and AMD is sampling with customers. This processor shares many qualities with Epyc Rome. In the roadmap graphics you can see the only real change is to Zen3 cores. However, the processor will use the Zen 3 architecture, with unified 32MB L3, and has been manufactured on TSMC's 7nm+ node. They also feature the same maximum of 64 cores as the current-gen Rome models and drop into the same SP3 socket, meaning they are backward compatible with existing platforms. They'll also come with the same support for eight channels of DDR4 and PCIe 4.0 and respect the base 120-225W TDP envelope. The chips also have two threads per core.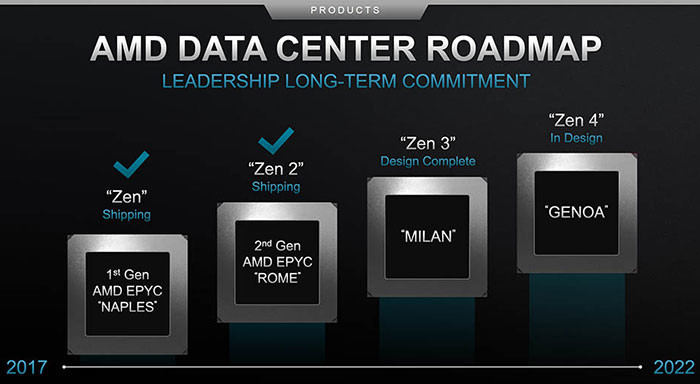 The chip based on the Zen 4 architecture for the server and data center markets seems to be coming sometime in 2021. The Epyc Genoa won't use the SP3 platform, but will be the first of AMD's SP5 platform chips. At this time, it looks set to be built on an advanced 7nm node, with up to 32 x2 SMT cores, and a TDP between 120 - 225W. At the presentation it was said that Genoa will support "new memory" which probably means DDR5, and it is also thought that AMD will include PCIe 5.0 connectivity.
Rival Intel also plans release the Sapphire Rapids chips in Q1 2021, with a rumored 8-channel DDR5 design and support for PCIe 5.0.