AMD Radeon Pro WX 8200 Delivers High Workstation Graphics Performance for Under $1,000
AMD today announced a high-performance addition to the Radeon Pro WX workstation graphics lineup with the AMD Radeon Pro WX 8200 graphics card, claiming to deliver "the world's best workstation graphics performance" for under $1,000.
AMD also unveiled updates to Radeon ProRender and a new alliance with the Vancouver Film School, enabling creators to realize their VFX visions through the power of Radeon Pro graphics.
The new turbocharged AMD Radeon Pro WX 8200 graphics card allows professionals to accelerate design and rendering. It has been optimized for design and manufacturing, media and entertainment, and architecture, engineering and construction (AEC) workloads at all stages of product development.
Based on the "Vega" GPU architecture with the 14nm FinFET process, the Radeon Pro WX 8200 graphics card offers the performance required to drive large and complex models and workloads such as real-time visualization, physically-based rendering and VR. Planned certifications for many of today's most popular applications include Adobe CC, Dassault Systemes SOLIDWORKS, Autodesk 3ds Max, Revit, among others.
Basic features of the new card include:
High Bandwidth Cache Controller (HBCC): The graphics card's memory system removes the capacity limitations of traditional GPU memory, letting creators and designers work with much larger models and assets in real time.
Enhanced Pixel Engine: The "Vega" GPU architecture's enhanced pixel engine lets creators build more complex worlds without worrying about GPU limitations. New "shade once" technology ensures only pixels visible in the final scene are shaded.
Error Correcting Code (ECC) Memory: Helps guarantee the accuracy of computations by correcting any single or double-bit error resulting from naturally occurring background radiation.
 
Radeon Pro
WX 9100
Radeon Pro
WX 8200
Stream Processors
4096
3584
ROPs
64
Boost Clock
1500MHz
Memory Clock
1.89Gbps HBM2
2.0Gbps HBM2
Memory Bus Width
2048-bit
Single Precision
12.3 TFLOPS
10.8 TFLOPS
Half Precision
24.6 TFLOPS
21.5 TFLOPS
VRAM
16GB
8GB
ECC
Yes (DRAM)
TDP
<250W
230W
GPU
Vega 10
Architecture
Vega
(GCN 5)
Manufacturing Process
GloFo 14nm
Launch Price (MSRP)
$2199
$999
Under the hood, the WX 8200 features 56 of the Vega 10 GPU's 64 CUs enabled. With a boost clock of around 1500MHz, the card offers 10.75 TFLOPS of FP32 performance or 21.5 TFLOPS of FP16 performance. Overall this still leaves a rather large performance delta between the WX 7100 and the new card.
At a high level this is another 8GB Vega 10-based card, using 2 stacks of 4-Hi HBM2 memory, and creating an important product distinction between the WX 8200 and the WX 9100, as the faster card remains the only modern Radeon Pro WX card with 16GB of VRAM. However the memory clock on the WX 8200 is not 1.89Gbps like other Vega 10 cards, but rather runs at a flat 2.0Gbps. The end result is that the WX 8200 actually has the greatest memory bandwidth of any Vega 10 card, with 512GB/sec of memory bandwidth.
The WX 8200 is using SK Hynix's "Gen 2" HBM2, which offers memory speeds up to 2.4Gbps.
Moving on, AMD's official TDP/max power consumption value for the card is 230W, which is roughly where the WX 9100 stands as well. The card does feature both a 6-pin and 8-pin external PCIe power connector - so it will require an appropriate power supply.
Meanwhile for display outputs, the WX 8200 is a bit cut down from the WX 9100 here, offering 4 Mini DisplayPort 1.4 ports.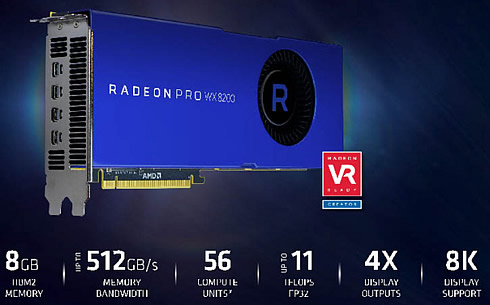 As for the competitive landscape, overall the WX 8200 is being positioned very similarly to AMD's other Pro cards. That is to say that they are significantly undercutting NVIDIA as far as pricing goes, with the WX 8200 set to retail for about half the price of its closest competitor, the Quadro P5000.
The Radeon Pro WX 8200 graphics card also features a dedicated AMD Secure Processor, which carves out a virtual "secure world" in the GPU. IP-sensitive tasks are run on the AMD Secure Processor, protecting the processing and storage of sensitive data and trusted applications. It also secures the integrity and confidentiality of key resources, such as the user interface and service provider assets.
The card will be available for pre-order at Newegg on August 13, with on-shelf availability expected in early September and an SEP of $999 USD. Radeon Pro WX Series graphics cards come equipped with the Radeon Pro Software for Enterprise Driver, as well as a three-year limited warranty and optional seven-year limited warranty on retail versions.
Radeon ProRender
AMD also introduced new plug-ins for Radeon ProRender, AMD's high-performance physically-based rendering engine. Users now have free access to new plug-ins for:
PTC Creo: Enables designers and engineers to quickly create rendered visualizations of their products and is available now in beta.
Pixar USD viewport: For developers building a USD Hydra viewport for their application, the new USD plug-in available on GitHub adds path-traced rendering for accurate viewport previews.
New features and updates have also been added to existing plug-ins, including support for Autodesk 3ds Max 2019, camera motion blur and many more.
AMD also announced a new alliance with The Vancouver Film School (VFS) to open a brand-new tech innovation lab and hub for Vancouver's professional VFX community. Powered by Radeon Pro and Ryzen' technologies, the AMD Creators Lab will inspire the creative tech community and advance the field of VFX, video game design, and virtual and augmented reality development.
Along with the new Radeon Pro grapjhics card, at SIGGRAPH AMD will also highlight the 2nd gen AMD Ryzen Threadripper desktop processors, alongside a range of technology demonstrations, including:
AI Rendering: Machine learning with AMD's ROCm and Radeon Pro WX Series GPUs can slash rendering times without sacrificing quality.
Real-time, Viewport Raytracing: Next-generation application viewport technology brings real-time ray-tracing quality directly into the editing windows of DCC and CAD applications.
Cloud ProRender: AMD Radeon ProRender users can expand their rendering capacity and horsepower by rendering in the cloud.
PIX on Windows from Microsoft: PIX is a performance tuning and debugging tool for developers for analyzing DirectX 12 games on Windows.
In addition, Blackmagic Design will showcase its new high-performance eGPU at Booth #1417, featuring a built-in AMD Radeon Pro 580 graphics card. Designed in collaboration with Apple and made for the Apple MacBook Pro, Blackmagic eGPU is optimized for professional video and graphics, such as those used in DaVinci Resolve software, 3D gaming and VR packages.