AOpen Debuts Dual-Core Chipset and ATX Pentium M Motherboards
AOpen debuts its most powerful PC motherboards, i945Ga-PLF and i945Pa-PLF, as well as the first ATX Pentium M motherboard -- i915Ga-HFS -- at Computex Taipei 2005.
i945Ga-PLF & i945Pa-PLF
The two motherboards are the first ones that support dual core CPUs, which are the fastest Intel CPUs currently on the market. Both motherboards can be installed with Pentium 4 processors with front side bus running at 1066/800/533 MHz.
The i945Ga-PLF motherboard is built with Intel's 945G chipset on which a graphics processing unit is integrated. However, game enthousiasts have the chance to install more powerful graphics card to the system, through the provided PCI Express interface.
Both i945Ga-PLF and i945Pa-PLF are designed with AOpen's Power Master Technology, which reduces power consumption of the new motherboard by 25%. This technology, implemented with hardware design, monitors the loading of CPU and supplies power to the motherboard accordingly.
The two motherboards are built with ICH7 (Input/Output Controller Hub 7). ICH7 is designed with embedded Serial ATA-II and IDE hard drive interface, Intel's High Definition Audio Interface that support 7.1 surround sound, integrated LAN Controller, and enhanced video processing capability.
The provided I/O ports (rear panel)include the 7.1 audio connectors, two PS/2 ports, two COM ports, four USB 2.0 ports, one 1394 port, one Realtek Gigabit LAN port, and one printer port are grouped together.
The motherboards support the dual channel DDR-II memory modules that operate at 667/533 MHz. Memory on the motherboards can be expanded to 4 GB.
ATX Pentium M Motherboard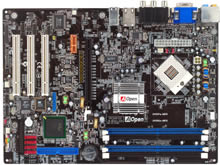 In addition, visitors of Computex, Taipei will have the chance to take a look to AOpen's ATX Pentium M motherboard -- i915Ga-HFS. The motherboard integrates Socket 479 Pentium M (Dothan) CPU, Intel's 915G desktop chipset, and ICH6 I/O controller to become the world's first hybrid model with combined features of powerful chipset performance and energy-saving CPU, which generates less heat and noise than desktop CPUs.
It is the first ATX Pentium M motherboard ever developed in the world, according to Edward Chen, channel manager of the company. Pentium M processors were originally designed by Intel to drive notebook PCs, AOpen made an innovative and bold move by driving a motherboard with a notebook processor.
Pentium M processors are more power efficient and generate less heat and noise, making it suitable to be installed in notebook PCs. AOpen's design of a Pentium M on a motherboard is to take advantage of these features.
Following Intel's concept for a platform with high definition audio and video functions, the motherboard is built with Intel's 915G chipset. The neatly designed I/O shield combines the 7.1-channel audio jack, DVI connector, the D-sub port for CRT video monitor, S-Video connector, the YPbPr port, PCI-e Gigabit LAN connector, and four USB 2.0 ports. The S-Video connector and the YPbPr port enable a user to connect the motherboard to HDTV.
According to AOpen engineers, i915Ga-HFS main board takes advantage of the latest technology by Intel that allows the board to support dual channel DDR-II memory modules of 533/400 MHz.
The system is designed to support four Serial ATA devices (hard drives) and two Ultra DMA 100/66/33 devices.
AOpen will actively promote its new product at the Computex May 31-June 4. Buyers visiting the Taipei show are welcome to visit the AOpen's booth at Booth 285 in Hall 2 of the Taipei World Trade Center (TWTC) on Xinyi Road. Extra products will be on display at the United Hotel at No. 200, Guangfu South Road, Taipei, near the TWTC.