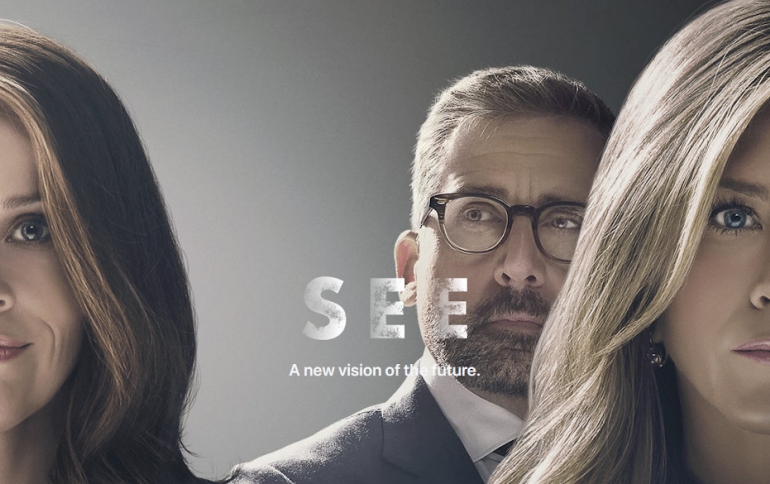 AppleTV+ Debuts Streaming TV Service
Apple TV+ subscription video service debuts on Friday with only original content, since Apple does not have rights to a back catalog of TV shows and movies.
At $4.99 per month, Apple's service is cheaper than rival Netflix, Amazon Prime Video and and Disney+, but it lacks their giant library of offerings that includes favorite movies and shows.
Apple is offering anyone who has purchased an iPhone, iPad, Apple TV device, iPod touch or Mac after Sept. 10, a free subscription for one year.
The subscription service will be available on millions of iPhones, iPads, Macs and Apple TV boxes in 100 countries beginning Friday, just days ahead of Disney+ and months before comparable services from Comcast and AT&T.
Apple TV+ will debut with four TV series for adults, an episode of "Oprah's Book Club," a nature documentary, and three children's series. Additional programming will be added each month.
Disney+ is scheduled to begin Nov. 12, and it, too, is advertising 15 titles from among its first round of originals. Similarly, Peacock from Comcast's NBCUniversal, is coming in April 2020 with 16 titles, while AT&T's HBO Max, launching at $14.99 a month in May 2020, has dozens in the works. Apple has said it plans to add new titles on a monthly basis to its service.
Apple TV+ is part of Apple's company's strategy to generate more revenue from services and provide new ways to keep its loyal customers tied to the iPhone.
Services generated sales of $12.5 billion in the fiscal fourth quarter, an increase of 18% from the period a year earlier, Apple reported on Wednesday.
However, priced at just $4.99, the service would be immaterial, at least initially, to its financial results.
Here is what to expect on day one.
"The Morning Show"
The drama series stars Jennifer Aniston alongside Reese Witherspoon and Steve Carell. The series, set behind the scenes of a morning news show, explores power dynamics between men and women in the workplace, ethics in the news business and ageism.
The first three episodes of a planned 10-episode season debut on Friday. A new episode will be released each Friday thereafter.
"For All Mankind"
This 10-episode science-fiction drama series imagines a world where the Soviet Union wins the space race. That sets the stage for an alternate history with sweeping ripple effects on everything from women's rights.
The first three episodes debut on Friday, and a new episode will be released each Friday thereafter.
"Dickinson"
Set in the 19th Century, the series is a half-hour dark comedy that reimagines poet Emily Dickinson, played by Hailee Steinfeld, as a rebellious teenager.
"See"
Starring Jason Momoa, the drama takes place 600 years in the future after a virus has decimated most of humankind. Those who have survived are blind and must adapt while fighting to protect themselves from a powerful queen. Alfre Woodard co-stars.
The first three of eight episodes debut on Friday, and a new one will be released every Friday thereafter.
"Oprah's Book Club"
In the first episode, Oprah Winfrey discusses the novel "The Water Dancer" with author Ta-Nehisi Coates.