20. DVDR DL - Page 1
The ASUS drive supports both DL formats, +R and -R DL. But unfortunately, the drive couldn't produce a working backup of the Gladiator.Iso which we use in our reviews. But it did manage to succesfully burn at 5.36x average speed, a +R DL media. Lets have a closer look then...
The source disc was "Gladiator Movie - Special Edition" Disc1 with a total size of 6.86GB. First we transferred the movie to the hard disc with DVD Decrypter in ISO format (single file).

- Verbatim DVD+R DL 2.4X@6X
The ASUS drive, achieved the "fastest DL burn ever up till now" title, managing to successfully burn a full DL in16:27mins. As we will see from the table at the bottom of this page, this is the fastest time among all known DVD-R DL drives on the market currently.
- Traxdata DVD+R DL 2.4X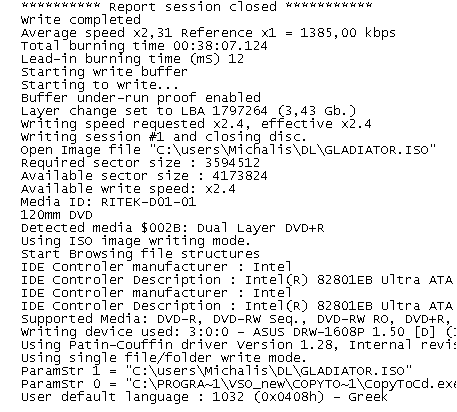 - Ridisc DVD+R DL 2.4X
Lets see what the drive reports, with other media, and with DVD-R DL media in specific.
- Verbatim DVD-R DL 4X@6X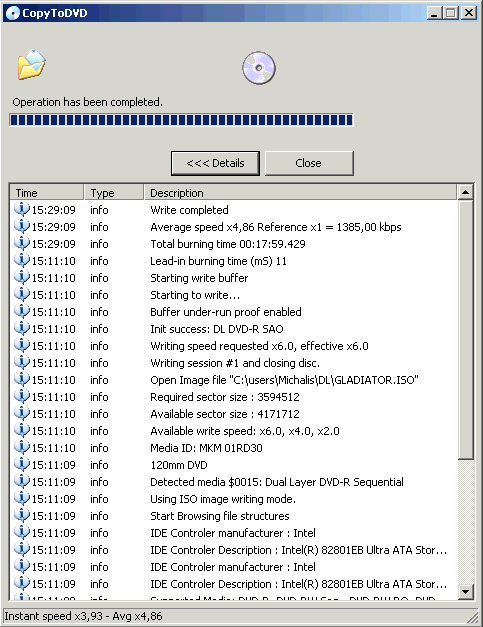 For comparison reasons, we post DL burning results from other writers, with the same disc content and same recording software. The ASUS drive, stands at the top of the table, being the fastest yet, and the list grows, with the Pioneer 109 being the second fastest.
| | |
| --- | --- |
| Drive | Time (mins) |
| ASUS 1608P | 16:27 |
| Pioneer DVR-109 (6X) | 16:29 |
| LG GSA-4163B | 22:24 |
| Plextor PX-716A | 23:33 |
| NEC ND-3520A | 22:35 |
| ASUS DRW-1604P | 23:10 |
| Philips DVDR1640P | 24:23 |
| BenQ DW1620A | 24:21 |